BEST OF THE CENTURY:
Period 1900-1909
Selection: Joe Gans.
Lightweight Champion 1902-1908.
Record: 120-8-9 16 ND (85 ko's)
By Monte Cox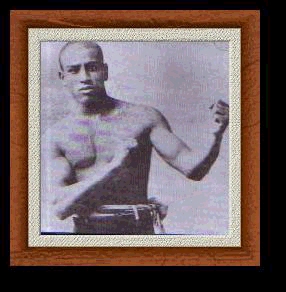 Nicknamed the "Old Master" because of his polished pro style and exqusite boxing skills. Gans had great speed and reflexes. He rarely moved more than a few inches to avoid a punch, and was a master at stopping his opponents leads. He wasted no motion and placed his punches with accuracy to vital points. He was an intelligent boxer and precise counter-puncher with great power.

In 1900 he challenged Frank Erne for the World Lightweight Championship. He was leading the fight when a head butt opened a nasty cut over Gans eye. Rather than risk permanent blindness Gans asked the fight to be stopped in the 12th round. He secured a rematch two years later. His mother told him to "bring home the bacon". He did, destroying Erne with a crushing first round knockout to become the Lightweight Champion. He was the first black American to win a world title.

Joe Gans fought some of the greatest fighters of all time. He defeated the great Jack Blackburn, who would later go on to teach Joe Louis his fighting method, on a 15 round decision. He ko'd George McFadden, Young Griffo, Dal Hawkins, Mike "Twin" Sullivan and Jimmy Britt. He drew with welterweight champion Joe Walcott in a 20 round bout. Walcott was rated as the best Welterweight of all time by Nat Fleischer in 1958. He went 15 rounds to a decision against middleweight, who fought heavyweights, Sam Langford. In a brilliant performance, in Goldfield, Nev in 1906, he scored a pair of knockdowns in defeating Battling Nelson who fouled out in the 42nd round after taking a terrific beating. It was the longest gloved championship bout under Marquis of Queensbury rules and the greatest lightweight championship fight of all time.

Joe contracted tuberculosis. Then a fatal disease. His body began to wither away. He lost a rematch, fighting sick, to Nelson in a great fight by 17th round Ko on July 4, 1908. He lost a 3rd fight, this time more dead than alive, by Ko in 21 rounds in Sept.of 1908. He won his last fight Mar. 12, 1909 defeating Jabez White. When he died 14 months later he only weighed 89 pounds. Today there is a bronze statue of a great looking fighter when one enters N.Y. MSG. The statue is Joe Gans, the best fighter among the turn of the century champions.

Honorable Mentions: Abe Attell, Jack Johnson, Stanley Ketchel, Tommy Ryan, Joe Walcott.