BEST OF THE CENTURY:
PERIOD: 1910-1919
Selection: Sam Langford
1902-1926. Record: 167-38-37, 48ND, 3NC, 117 KO's.
By Monte Cox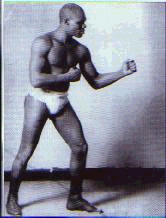 Sam Langford, "The Boston Terror", is considered one of the greatest pound for pound fighters of all time. He stood only 5'8", weighed around 168 pounds in his prime, but had the punching power to KO heavyweights! Langford was the most feared and avoided fighter of his day. He was never granted a shot at a title in any weight class. He beat Lightweight Champion Joe Gans by decision in 1903, drew with Welterweight Champ Joe Walcott in 1904, lost a 15 round decision to future Heavyweight Champ Jack Johnson in 1906. After this Sam Langford greatly improved as a fighter. He became a superb boxer-puncher, a fine defensive fighter, classic glove blocker, and master counter-puncher.

From 1910-1919 Langford's rare power accounted for nearly every top heavyweight of the period. During this decade Langford KO'd heavyweights Klondike Haynes, Jeff Clark, Gunboat Smith, Fireman Jim Flynn, Big Bill Tate, Battling Jim Johnson, and John Lester Johnson. He fought numerous bouts against the other highly avoided black heavyweights of this time. He fought Joe Jeanette 13 times, Sam McVey 13 times, and Harry Wills 18 times. He scored knockout victories over each man at least once. He has a plus record against both Jeanette and McVey. Only Wills got the better of their series, but their first fight did not occur until Langford was 31 years old.

Langford's unprecedented record against much heavier and taller men demonstrates his pound for pound greatness. Though not much more than a middleweight he is ranked as the greatest heavyweight of all time by Charley Rose, and number 7 at all time heavyweight by Nat Fleischer.
Towards the end of his career Sam began to have serious vision problems, possibly from detached retinas. He retired blind and broke in 1926. A sportswriters' fund was established for Sam which cared for him until his death in 1956.

Honorable Mentions: Jack Britton, Jack Dempsey, Ted "Kid" Lewis, Freddie Welsh, Jimmy Wilde, Kid Williams.