BEST OF A CENTURY

PERIOD: 1920-1929

Selection: Benny Leonard

Lightweight Champion 1917-1923 Record: 180-21-6-6ND 69 KO's. (won-lost record includes newspaper decisions).

By Monte Cox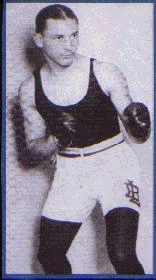 This era was a close race between Benny Leonard and Harry Greb. Leonard had over 200 pro fights, Greb around 300. Given our pre-requisites in our "Best of a Century" intro: a) pound for pound, b) best in terms of technique, our nod has to go to Leonard based on the latter category.
Benny Leonard was perhaps the finest natural boxer of all time. He is also considered by many historians to be the greatest lightweight champion ever. He was one of the outstanding scientific boxers of history. Leonard was a true master boxer and defensive wizard. A dancing master, a master of the lost art of feinting, and a master counter-puncher. He also packed a potent punch.
Leonard turned pro at age 15 in 1911. He was very successful at an early age. Newspaper accounts noted that Leonard rarely lost a round or messed up his hair. He waged a series of battles against Johnny Dundee. In 1917 Leonard skillfully handled Lightweight Champion Freddie Welsh winning the title on a 9th round KO. Leonard held the Championship for six years. He successfully defended against Featherweight Champ Johnny Kilbane by 3rd round KO. He also made successful defenses in the 20's against Richie Mitchell, Rocky Kansas, Joe Welling, and southpaw Lew Tendler. In 1922 he challenged Jack Britton for the Welterweight Championship. Leonard was ahead when he floored Britton in the 13th round. Then , in a blow reminiscent of Roy Jones incident against Montell Griffin, he hit his stunned opponent while he was down. Leonard lost his chance for the Welter title on a foul.
Leonard retired in 1925 still at the top of his game. The stock market crash hurt his investments and he was forced to make a comeback in 1931.
He won 19 fights before succumbing, at age 35, to a younger, faster, and harder hitting Jimmy McClarnin in 6 rounds. Leonard died of a heart attack in 1946 while referring a match.
Honorable Mentions: Johnny Dundee, Harry Greb, Tommy Loughran, Gene Tunney, Mickey Walker.