PERIOD: 1930-1939
Selection: Joe Louis
Heavyweight Champion 1937-1949 Record: 68-3, 54 KO's
By: Monte Cox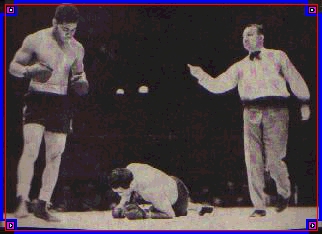 A tight race ensued for our pick in this period between Joe Louis and Henry Armstrong. Hammerin' Hank was one of the top pound for pound fighters of the century and arguably deserves the nod. Hank was a great pressure fighter, but was not much on defense or as scientific a boxer as Louis. Pound for pound Louis was also the more devastating puncher. Based on his overall superiority Joe Louis receives the selection.
Joe Louis was a master boxer-puncher. He threw every punch in the book perfectly. His punches were all thrown with textbook accuracy. The "Brown Bomber" had tremendous knockout power in either hand. Louis, along with Ray Robinson, is the finest combination puncher in history. His hand speed also rates among the best of the all-time heavyweights. He made 25 successful title defenses a record unmatched in boxing history, 21 of those were won by knockout, 17 were 10 counts!
Joe Louis turned pro in 1934 and cut a swath through the heavyweight division, knocking out opponents with such fury that sportswriters' referred to him as a "jungle killer". From 1934 until he retired as champion in 1949 Louis record was 60-1 with 51 Ko's. He knocked out five men who held the Heavyweight Championship of the World, Braddock (from whom he won the title), Carnera, Max Baer, Sharkey, Walcott, and his peak performance against Schmeling by devastating 1st round knockout in 1938. He also KO'd quality contenders like King Levinsky, Paulino Uzcudun, Two-Ton Tony Galento, Bob Pastor, Arturo Godoy, Abe Simon, Buddy Baer, and Tami Mauriello. His famous fight where he came from behind to Ko Billy Conn was in 1941. Louis was an active Champion who ducked no one as his 25 successful defenses attests to.
After retiring as Champion Louis was forced to make a comeback because of tax problems. His speed, desire and cat-like reflexes diminished Louis career ended in 1951 at the hands of the unbeaten Rocky Marciano. Louis was so beloved by his generation that the IRS forgave him his tax debt. After he died in 1981 he was buried in Arlington National Cemetery at the request of President Ronald Reagan.
Honorable Mentions: Lou Ambers, Henry Armstrong, Tony Canzoneri, Jimmy McLarnin, Barney Ross.