PERIOD: 1940-1949
Selection: Sugar Ray Robinson
Welterweight Champion 1946-1951, Middleweight Champion 1951-52, 1955, 1957, 1958-1960. Record: 175-19-6-2NC 109 KO's.
By Monte Cox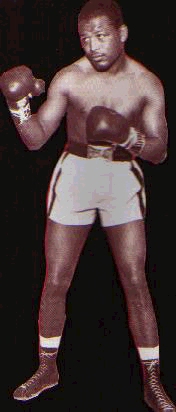 Sugar Ray Robinson, born Walker Smith Jr., is arguably the greatest fighter of both the 40's and the 50's. The "Best of a Century" examines one fighter from each decade. The purpose is to choose ten different fighters that make up the greatest fighters of the 20th century. Robinson was at his peak as Welterweight Champion and is chosen during this period.
A reporter once describes a young Robinson as "sweet as sugar". After that he became known as "Sugar Ray". Robinson was the greatest boxer-puncher of all time. He had great balance, speed, reflexes, and Ko power in either hand. He Knocked out Gene Fullmer with what has been described as the "perfect punch". Fullmer was never knocked out again. Robinson was also the greatest combination puncher, pound for pound, in boxing history. In fact the term "pound for pound" was invented to describe Ray Robinson.
Sugar Ray won his first 40 pro fights before losing a decision to Jake LaMotta whom he beat 5 of 6 times. He would not lose again for eight years. In his prime he compiled one of the greatest records in the history of boxing going 128-1-2 (1 NC)! Robinson won the vacant Welterweight Championship in 1946 decisioning tough Tommy Bell. He defended successfully against Jimmy Doyle, Chuck Taylor, Kid Gavilan, and Charlie Fusari. He went on to become a 5 time Middleweight Champion beating a list of opponent's that reads like a who's who of boxing greats such as LaMotta, Fullmer, Carmen Basilio, Randy Turpin, and Bobo Olson.
All of those matches took place when past his prime. 16 of his 19 losses came after his first comeback at age 34.
Tragically Robinson ran into financial difficulties and fought until age 44. He suffered from Alzheimer's disease in the last years of his life. He died as a result of the disease in 1989.
Honorable Mentions: Charley Burley, Ezzard Charles, Willie Pep, Sandy Saddler, Ike Williams, Tony Zale.