PERIOD: 1950-1959
SELECTION: ARCHIE MOORE
Light-Heavyweight Champion: 1952-1962
Record: 194-26-8-1NC 141 KO's
BY: Monte Cox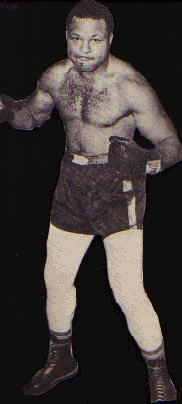 The 1950's were an exciting time for boxing with the advent of Gillette's Friday night fights. The medium of television brought boxing into a new era. Now people all over the world could watch boxing in the privacy of their homes. There were many popular fighters in this period. The best of them was Archie Moore. Like Ray Robinson, he actually peaked as a fighter in the previous decade. It was in the 1950's, however, that he forged his reputation as a truly great Light-heavyweight Champion.
Archie Moore, like many of the early greats before him, had over 200 pro fights. He was known for his surprising power and cross-arm defense. "The Old Mongoose" holds the All Time record for knockouts with 141. Moore learned every possible way to knock a man out. He was an accurate puncher who knew what vital points to hit. He had kayo power in either hand, and was a master at setting up his opponent for the knockout blow. In his lengthy career, which spanned three decades, he knocked out many outstanding fighters including; Holman Williams, Cocoa Kid, Tony Anthony, Lloyd Marshall, Jimmy Bivins, Ron Richards, and Harold Johnson.
Archie won the World Light-heavy title beating Joey Maxim in 15 rounds in 1952. He held the title for ten years, longer than any other Light-heavy champ. His fight against Yvonne Durrell in 1958 is the stuff of legends. Moore was floored three times in the first round and again in the fifth, he rallied to retain his title by devastating knockout in the 11th round. Afterwards Moore exclaimed, "this was my finest hour!"
Moore had success against heavyweights beating the likes of Nino Valdez, Bert Whitehurst, and Howard King. He lost in two shots at the heavyweight title. In 1955 he was ko'd in the 9th by Rocky Marciano, but not before dropping the Rock with a smashing right in the 2nd round. He lost again in 1956 against the younger, faster Floyd Patterson. I have always maintained that the true test for a light-heavyweight is not fighting and losing to heavyweights, but how well they have dominated their own weight class. Archie Moore is considered by most boxing historians as the greatest Light-heavyweight Champion in history.
After being stripped of his NY and NBA titles in 1962 Moore continued to fight until being bested by a young fighter named Cassius Clay. Clay, who was to become Muhammad Ali, kept his pre-fight prediction of "Moore in four" and sent Archie into retirement. Archie went on to have some success in movies and as a trainer. He helped to develop George Foreman into a terror of the ring in the early 1970's. His youth foundation established in 1956 is still operating today. Archie died in Dec. 1998 at age 84.
Honorable Mentions: Carmen Basilio, Joe Brown, Gene Fullmer, Kid Gavilan, Rocky Marciano, Pascual Perez, Ike Williams