PERIOD: 1980-1989
Selection: Ray Leonard
Welterweight Champion 1979-1980, 1980-1982 (retired), WBA Jr. Middleweight Champion 1981, Middleweight Champion 1987, WBC Light-heavyweight Champ 1988, WBC Super-middleweight Champion 1988-1990
Record: 36-3-1 (25 Ko's)
By: Monte Cox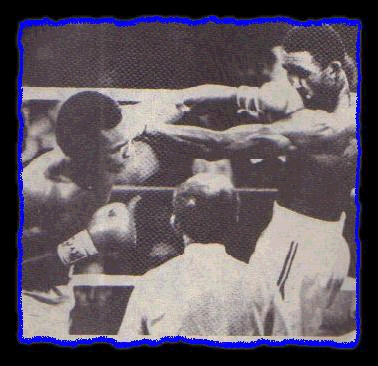 Sugar Ray Leonard is one of the reasons I became a boxing fan. As a young boy I watched him capture Olympic Gold in the 1976 Olympics. He wore a picture of his girlfriend on his sock, flashed that now familiar smile and won over the boxing fans and judges with his extraordinary speed and skills. Many thought the Cuban kayo artist Andres Aldama would beat him in the final. They were wrong, Leonard boxed beautifully capturing a unanimous 5-0 decision. Leonard had a number of critics throughout his career who didn't think he could beat Duran, Hearns, or Hagler. He beat them all.
Leonard was hailed from his amateur days as the second coming of Ray Robinson, and was given the same nickname of "Sugar Ray." While the comparison may not be fair, Leonard is perhaps the second greatest Welterweight in history after Robinson. Leonard proved to be a master boxer with a great jab, natural grace and quickness, lateral movement, ring intelligence, adaptability and a crushing left hook.
Leonard fought in perhaps the greatest era in Welterweight division history with Carlos Palomino, Pipino Cuevas, Wilfred Benites, Roberto Duran, and Thomas Hearns all fighting in the late 70's and early 80's. In a battle of unbeaten's Leonard decisively defeated World titleholder Wilfred Beinitez on Nov 30 1979 to become Champion. Benitez was one of the great defensive fighters of all time, he was the youngest man to ever win a world title at age 17, and became Welterweight champion by beating WBC and linear champion Carlos Palomino at age 20. Ray said, "I missed more punches in that fight than all of my other fights put together." Even so Leonard scored two knockdowns in winning the title by 15th round Tko.
Leonard proved himself worthy of the name "Sugar Ray" against Lightweight King Roberto Duran, who was now seeking the Welterweight title. In Jun. 1980 Leonard, in a bit of a macho display, decided to slug it out with a tiger-like Duran. Ray played Duran's game trying to out-punch the slugger. The result was a thrilling battle that resulted in a close decision for Roberto Duran.
Leonard did not make the same mistake in the rematch 5 months later. Sugar dominated Roberto with his left jab, quick combinations, and superior movement. Duran quit in disgust at his inability to get to the clever boxing Ray Leonard. The two rivals met again in 1989 for Leonard's WBC Super-middleweight title. Leonard again easily out-boxed Duran to win their rubber match.
In 1981 Thomas "Hitman" Hearns had become the leading contender for the title. Hearns had destroyed Pipino Cuevas in two rounds to gain WBA recognition as Welterweight champion. Tommy was 32-0, with 30 kayo's when he met Leonard in a unification match. In the fight, that all other great Welterweight fights will always be compared, "Sugar Ray" Leonard came roaring from behind to knock out Thomas Hearns in the 14th round in spectacular fashion. Leonard "brought it up from my gut" displaying the heart, desire, and ability of an all-time great champion.
Leonard began to have vision trouble after the Hearns fight. After a successful title defense kayo over Bruce Finch, Ray suffered a detached retina -which was subsequently repaired by surgery. He then hung up the gloves seemingly for good.
In 1987 Leonard made a stunning comeback against Middleweight champion Marvelous Marvin Hagler. Hagler was one of the most dominant middlweights in history. Leonard who had fought only once since his retirement in 1982, and not fought in three years, was given virtually no chance of beating Hagler. Ray proved once again to be a boxer of superior skill, sweeping the first five rounds and hanging on to gain a hard earned decision. Leonard's close but deserved victory over Hagler makes him the fighter of the decade for the 1980's.
Sugar Ray Leonard was in all a 5-division champion, something very rare indeed. His brutal 9th round knockout over a bigger and stronger Don LaLonde, a legitimate light-heavyweight, earned him his final two titles at 168 and 175 pounds in 1988.
Leonard fought a close but hotly contested draw in a rematch with Hearns in 1989. Leonard, floored twice by Hearns this time around, had Hearns in jeopardy in the 12th and final round, it was his last great fight. 2 of his three losses were at the end of his career after further unsuccessful comeback bids.
Leonard retired financially secure and with his health intact. He continues to remain popular and sometimes works as a fight commentator.
Honorable Mentions: Julio Cesar Chavez, Donald Curry, Marvelous Marvin Hagler, Thomas Hearns, Salvador Sanchez, Mike Spinks, Mike Tyson, Aaron Pryor