BEST OF A CENTURY
Period: 1990-1999
Selection: Roy Jones Jr.
IBF Middleweight Champion 1993-1994, IBF SuperMiddleweight Champion 1994-1997, WBC Light-Heavyweight Champion 1996-Present. WBA Light-heavyweight Champion 1998-Present. Record: 39-1 (33 Ko's) Still Active.
By: Monte Cox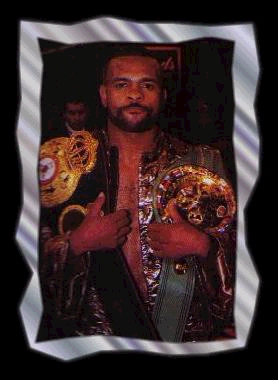 This was perhaps the most difficult decade to find a clear winner since there were no sure standouts. Evander Holyfield lost as many big fights as he won. Pernell Whittaker faced the best competition but damaged his reputation with drug abuse and inactivity. DeLaHoya hasn't faced the best competition in his division and his close win against Quartey wasn't convincing. Roy Jones Jr., like DeLaHoya, has been criticized for not facing high quality opposition, but he's fought the best his division has to offer. He therefore receives the nomination.
Roy Jones Jr. is the most naturally talented fighter since Muhammad Ali in his prime. His physical gifts are extraordinary. He combines blazing hand speed with shocking one punch power. Jones is a natural counter-puncher who likes to capitilize on his opponents mistakes, in that sense he is a throw back to the turn of the century fighters like Gans, and Langford who excelled in defense and counter-punching. Jones does not have the classic style of those men. His style is more unorthodox, but effective. He only uses his jab against brawling type fighters and prefers to lure his opponents into his crushing left hook. He is also a strong body puncher and an excellent combination puncher. Simply put Roy Jones Jr. is the best "pound 4 pound" fighter of this day.
Genius is often eccentric. Roy Jones Jr. is a boxing genius. His skills outshine those of other active fighters. Many have criticized his unothodoxy, they did the same to Muhammad Ali. Like Ali, Jones is able to get away from his mistakes because of his unparalleled speed. While some hard core fans may be put off by his flirtation with semi-pro basketball and retirement, the fact remains that once the bell rings he is the finest fighter in the world.
Jones has been highly successful in the decade of the 90's. His competition when viewed objectively is not as bad as many claim. He beat Bernard Hopkins in 1993 for the vacant Middlweight title on a clear decision, Hopkins would go on to control the division for the remainder of the decade. James Toney was undefeated and considered the best 168 pounder in the World when Roy totally dominated him for the IBF SuperMiddleweight crown. He destroyed highly rated light-heavyweight Montell Griffin in one round, and veteran Merqui Sosa in two. Former Light-heavyweight champion Virgil Hill was devasted by a one punch ko- to the body. Roy unified 2/3 of the title by beating WBA Light-heavyweight champion Lou DeValle, winning 11 of 12 rounds in the process. That's fairly dominate. There is only a couple of fights really left for Jones and that is the German Darius Michalczewski, and IBF titleholder Reggie Johnson. If he wins both of those fights he has cleaned up the division. He can then retire and like Alexander the Great weep because there are "no more worlds to conqueor."
The final chapter is not yet written on Roy Jones career, but no one can deny his talent.
Honorable Mentions: Oscar DeLaHoya, Prince Naseem Hamed, Evander Holyfield, Ricardo Lopez, Johnny Tapia, Felix Trinidad, Pernell Whitaker