Cox's Corner
2003 Fighter of the Year: Roy Jones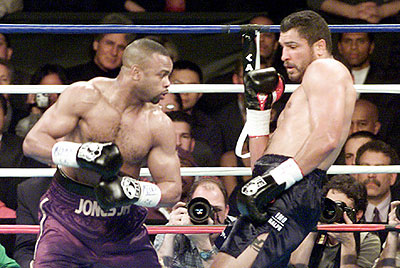 Had Mayorga beat Corey Spinks the decision would have been an easy one. However with the loss I must vote for Roy Jones. Jones became only the second light-heavyweight champion in history to win a heavyweight championship belt and did so in impressive fashion. He is also the first fighter in history to simultaneously hold both a light-heavy and heavyweight title belt. His defense against Tarver was less impressive but I thought Jones deserved the narrow decision. It is NOT easy to lose 25 pounds and he was obviously weakened from making the 175 limit after gaining heavyweight laurels. That is a lot of weight to lose under 200 pounds. The original Joe Walcott, a natural welterweight had to lose 14 pounds to make the lightweight limit to fight Kid Lavigne and was seriously weakened. The same thing happened to Jones but he still did enough to win earning my fighter of the year honors.
2003 Fight of the Year: Arturo Gatti vs. Micky Ward 3
All three Gatti-Ward fights were exciting but none more than their rubber match. Ward showed tremendous heart constantly pressuring Gatti who fought off Micky's attacks. Gatti dominated statistically, landing 349 of 845 total punches (41%) to 128 of 639 (20%) for Ward. Gatti stuck to his game plan of using the jab while avoiding exchanges with Ward. He threw an average of 32 jabs per round and outlanded Ward in every round by compubox numbers. Gatti showed tremendous guts fighting with a broken hand from the 4th round on. Neither man took a backward step and there was plenty of spirited action in each and every round. Gatti won a deserved unanimous decision.
2003 Knockout of the Year: and 2003 Upset of the Year: Ricardo Mayorga TKO3 Vernon Forrest
Few people gave the brawling and sometimes wild slugger from Nicaragua any chance whatsoever to beat the polished boxer-puncher and defending World Champion Vernon Forrest. Forrest was undefeated and twice had beaten Shane Mosley considered one of the top fighters in the world at the time of their first meeting. Mayorga the hungrier fighter, came out swinging, dictated the tempo of the fight and simply hammered Forrest into the canvas to take the welterweight title. He showed both a strong punch and a strong chin. Mayorga's win stunned the boxing world.
2003 Comeback of the Year: James Toney
In a battle of what I considered 2 washed up fighters between Evander Holyfield and James Toney I assumed the naturally stronger Holyfield would win. Wrong! Toney once again proved that skill beats brawn every time! Toney proved he still has legitimate skills even after having moved up to heavyweight. Toney handled Holyfield with surprising ease out boxing and out-thinking the crafty Holyfield. Toney's unlikely comeback at heavyweight puts him in line for big money fights against the Kiltschko's, Byrd, a rematch with Jones or even a vacant title should Lewis retire.