Cox's Corner
Third Annual Boxing Awards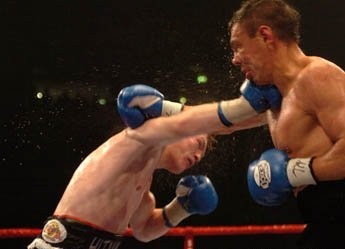 Jan 1st, 2006
2005 Fighter of the Year: Ricky Hatton
There were several candidates for Fighter of the year. Floyd Mayweather won three fights in two divisions but still has yet to establish himself as the top fighter at 140 pounds. Jermain Taylor ended the long reign of Bernard Hopkins but not without dispute. I know some knowledgeable boxing people who think taylor lost both fights. The FOTY should be a fighter who dominated his division. Taylor certainly didnt dominate Hopkins in either fight. Jeff Lacy went 3-0 in title fights all by knockout but the opposition was nothing spectacular. That leaves Ricky Hatton. He was an underdog going in against future HoF'er Kostya Tzyu winning the IBF title on a stunning upset. He then unified 2 titles by beating Carlos Maussa for the WBA belt. The Ring Magazine has also selected Hatton as their FOTY. The Ring's Editor-in-Chief Nigel Collins wrote, "Not only did Hatton take the title away from one of the greatest 140-pounders of all-time and make his first defense against a highly rated challenger, he did it in the sort of entertaining and definitive manner that attracts fans and fills venues."
2005 Fight of the Year: Diego Corrales-Jose Luis Castillo 1
May 7, 2005. No fight fan will ever forget it. Not only was it a great, great fight but it has been heralded as one of the great fights of all time. It was an instant classic with toe to toe give and take action. The taller Corrales negelcted any thought of using his height and reach advantages and slugged it out on the inside in a war of machismo. The first few rounds were closely contested but by the 6th round the tide seemed to be turning in favor of Castillo. The 10th round has to go down as the most exciting round fought in boxing history since Hagler-Hearns some 20 years previous. Corrales was sent to the canvas by a crushing left hook to the chin. The way he fell he looked out. He managed to struggle to his feet at the count of 9. Corrales got a few extra seconds to recover by spitting out his mouthpiece. It appeared to be of no avail as he was dropped again by another crushing left hook this time he was out for certain. Summoning the courage of a warrior born, Corrales got up, hurt, battered and all but beaten and went after Castillo. A powerful left hook by Corrales staggered Castillo nwar the ropes. Corrales unloaded a flurry of punches, one of those a smashing shot that made Castillo's eyes roll back in his head. With the ropes the only thing holding up Castillo referee Tony Weeks stopped the fight making Diego Corrales the winner of 2005's fight of the year.
2005 Knockout of the Year: Allan Green Ko 1 Jaidon Codrington.
Although lesser known fighters this was as devastating a knockout as one will ever see. The loser had to be carried out of the ring on a stretcher.
2005 Upset of the Year: Zahir Raheem W 12 Erik Morales
Morales is a future Hall of Fame fighter, one of the best boxer-punchers of recent times. His opponent Zahir Raheem was suppose to be a tune up. Not that he wasnt a fighter who had skills or talent and once showed great promise. Zahir was a member of the hioghly successful 1996 Olympic Team. He had not accomplished much as a pro. He had onyl one significant victory a 2002 TKO win over Luisito Espinosa. But after losing a close fight to 2000 Olympian Rocky Juarez, not because of his lack of talent but because what appeared to be "lack heart", according to his former trainer Manny Steward, he slipped into obscurity. However, he fought a very smart fight proving that he was a very skillful, smart boxer. Utilzing a jab he consistently beat Morales to the punch and then dodgedly moved out of danger. He showed good defensive skills moving and slipping with shoulder rolls that made him a difficult target to hit. Raheem scored a clear unanimous decision over the highly favored Morales, boxing biggest upset in 2005.
2005 Comeback of the Year: Wladimir Klitschko
Samuel Peter was the fan favorite. He was the type of undefeated big, strong, square jawed heavy-handed slugger that the fans were clamoring for in the heavyweight division. Klitchko on the other hand was thought to be a skillful fighter with a big punch but one possessing a glass jaw. Further it was thought he lacked endurance and perhaps even heart. He has suffered upset knockout losses in his career to Ross Purity, Corrie Sanders and most recently to Lamon Brewster. While the former observations proved true -he could box well for a big man and he did carry a powerful punch- Klitschko also demonstrated that he had heart, could take a punch and come back an important fight. Showing a sharp jab, combined with skillful blocking and movement for a man of his size Wladimir used hard straight punching to nullify the aggession of the physically stronger Sam Peter. Klitschko had his scary moments surviving three awkward knockdowns to box his way to comeback of the year honors.