Cox's Corner
Experts Panel: The Greatest Chins of All Time
Pound for Pound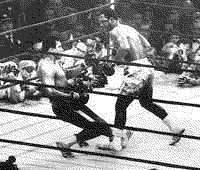 Winner: Muhammad Ali
| | | | | | | | | |
| --- | --- | --- | --- | --- | --- | --- | --- | --- |
| Muhammad Ali | Jake LaMotta | Harry Greb | Jim Jeffries | George Chuvalo | Tie: Kid Gavilan and Marvin Hagler | George Foreman | Battling Nelson | tie: Barney Ross, Carlos Monzon, JC Chavez, and Tex Cobb |
| 55 pts | 50 pts. | 49 pts | 26 pts | 25 pts | 21 pts | 19 pts | 17 pts | 16 pts |
Other Fighters With Strong Chins Receiving Votes: Joe Grimm (14), Jack Dempsey (14), Jack Dillon (11), Rocky Marciano (11), Hector Camacho (10), Ad Wolgas (9), Mickey Walker (9), Lou Ambers (9),Beau Jack (9), Charley Burley (9), Duilio Loi (9), Baby Arizmendi (8), Sonny Liston (8), Sugar Ray Robinson (8), TonyCanzoneri (7), Yvon Durelle (7), Eder Jofre (6), Roberto Duran (6), Evander Holyfield (6), Gene Tunney (5),Ray Mercer(5), John L. Sullivan (4), Gene Fullmer (3), Pernell Whitaker (3), Sam Langford (2), Joe Lynch (2), Maxie Rosenbloom(2),Pete Herman (1) Jack Britton (1), Tony Zale (1), Carmen Basilio (1), Sugar Ray Leonard (1), Mike Tyson (1).

Monte's Notes:
A great number of fighters received votes and there was less agreement amongst the panelists on this poll than on previous all-time polls conducted by our panel.

Muhammad Ali considered by many as having the best chin in heavyweight history took the top honors.

Jake LaMotta edged out Harry Greb by one point for the runner-up spot.

Jim Jeffries took fourth place even though he received votes from only 3 of the ten panelists. It should be noted he was never knocked off his feet during his active career. Not until his 6 year lay-off versus Johnson did he ever hit the deck.

This is also the only time we have had a 4 way tie in any of the top ten spots- for 10th place.
Why They Voted The Way They Voted:
Enrique: Ali fought during what is perhaps the most competitive and toughest era of heavyweight fighting in boxing history. In dominating his era, Ali had to absorb punches from the hardest punchers in heavyweight history: the Joe Frazier left hook, the Earnie Shavers right-hand, the George Foreman onslaught, the Sonny Liston jab. Incidentally, Foreman and Shavers have higher KO percentages than Joe Louis. That's serious power for you and Ali took the very best from these men right in the kisser. What? Shavers, Frazier, Foreman and Liston aren't enough?! Well, how about these behemoths: Jerry Quarry, Oscar Bonavena, Ron Lyle, Henry Cooper, Zora Folley, and Kenny Norton. Still, not enough? Go to superman.com and you might find what you're looking for there.

Tko Tom: Jake Lamotta. Anybody that could fight Sugar Ray Robinson all those times and never go down deserves the number one spot. Jake is the quintessential tough guy, big chin, take a punch fighter that boxing has ever produced.