Cox's Corner
This article appeared at East Side Boxing May 25, 2007
ESPN'S 50 GREATEST FIGHTERS CORRECTED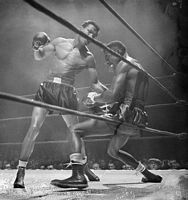 By: Monte Cox
Boxing is a sport that has a 125 year history. It is the oldest major surviving sport. John L. Sullivan was America's first sports hero in 1882, now in 2007 we can look back on a sport that has a history richer and deeper than any other including Baseball. When creating a list of the greatest, most accomplished men to ever participate in a sport with such a long history there is bound to be some variance of opinion.
The original ESPN list is highly controversial with some analysts claiming they showed favoritism to fighters they have film rights on and neglecting many other deserving candidates. Others, especially some younger fans tended to think that they showed favoritism to old time fighters. One misinformed fan posted on a message board "Can they get someone under 100 years old to make these lists?" Of course the far worse problem would be having someone whose knowledge of the sport beyond 1980 is very limited. In order to make a correct list the examiner needs a thorough knowledge of the game, its history, its competitors and the circumstances of the era in which they fought. In this article I correct some of the dubious fundamental problems with the ESPN list while leaving their original list intact as much as is possible.
Two of the most glaring errors obvious to historians of the sport are the complete absence of Bob Fitzsimmons and the relatively low rating of Harry Greb. Fitzsimmons was boxing's first triple crown champion winning the middleweight, light-heavyweight and heavyweight titles, he fought for 26 years and is one of the top geriatric champions of all time winning his last title at the ripe old age 40. Fitz scored 44 knockouts in his 50 recorded wins. He was a lanky puncher, who as a natural middleweight demonstrated the power to starch heavyweights with early round knockouts. In the International Boxing Research Organization (IBRO) pound for pound poll Fitz finished at the bottom of the top 10. He is not included in ESPN's top 50 at all and this is a grave injustice. Is it because there is very little film of Fitz?
The same argument is there for Harry Greb who is considered by most historians as the greatest middleweight of all time. Greb had around 300 pro fights with victories over 14 world champions and 4 title claimants. As a natural middleweight he defeated 7 men who held the light-heavyweight championship and won dozens of bouts against heavyweights. He had speed, unending stamina and was a whirlwind of motion. Most of the other great middleweights like Marvin Hagler and Carlos Monzon never fought one light-heavyweight champion, little own defeat seven of them. These were great fighters that Greb defeated men like Gene Tunney, Maxie Rosenbloom and Tommy Loughran. He beat heavyweights who fought for the heavyweight title like Billy Miske and Bill Brennan. He could take a heavyweight's punch. Greb is easily among the top 3 fighters of all time and finished second in the IBRO poll.
There are some other very serious errors when breaking down the ESPN list from a critical viewpoint. How is Ezzard Charles rated at number 27 while Archie Moore is rated at number 18? Charles was 3-0 against Moore and knocked him out. Charles was also 5-0 against Joey Maxim, 2-0 against Charley Burley and 4-1 against Jimmy Bivins. At his peak with about 80 pro fights he had defeated every man on his record at least once against a high quality of opposition. How is Charles 9 spots lower than Moore on the ESPN list? Gene Tunney and Ezzard Charles are considered by many as the two greatest 175 pound boxers of all time, which was their peak fighting weight. But somehow Tunney is rated 11 spots ahead of him. Tunney has to be rated slightly higher than Charles due to his one official loss, but in terms of ability they are very close.
Carlos Monzon is below Ruben Olivares and Jose Napoles? Monzon went unbeaten over the last 81 bouts of his career whereas Olivares and Napoles were both upset by lesser fighters. Olivares was upset by Chucho Castillo and Rafael Herrera while in his prime and Napoles was upset by Billy Backus. Not to mention Napoles was never in the fight against Monzon when he moved up for a try at the middleweight title. Monzon should be higher than these two at the very least.
Jake Lamotta was an all time tough guy, but he was not a great boxer. Just because he was portrayed in "Raging Bull", a great boxing movie does not make him a top 50 all time fighter. Lamotta did beat Ray Robinson once in 6 attempts but he outweighed him by 16 pounds in that fight. There are too many boxers with better resumes who belong in the top 50 before Lamotta. Lamotta might be considered in a top 100 list but he should be and is dropped from this corrected top 50 list.
Rocky Marciano and Joe Frazier should be rated much closer together. When one looks at their records the first thing one may notice is that Marciano is undefeated, but a closer look shows that Frazier faced a much tougher quality of opposition. Frazier did beat Muhammad Ali once, and in their most significant first fight which is still called the "Fight of the Century." Frazier's only career losses are to Ali and Foreman. Had Frazier fought Marciano's opponents he likely would have retired undefeated. Had Marciano fought in Frazier's era he likely would have losses to Ali and Foreman on his record. Head to head it is difficult to choose between them.
There are a few modern fighters on the ESPN list who simply do not belong among the 50 greatest fighters of "all time." If it is to be a true and respected list then it cannot cede to the demands of cable networks and show favoritism to fighters that are popular among various groups. It has to be a greatest fighters list and only the most deserving candidates should be included. The problem with these lists is a cut off has to be made somewhere. In 125 years there are many great fighters to choose from, of course, but there are just some guys that cannot be left off of a pound for pound all time list.
The only way Oscar Delahoya makes the list is as an athlete who created interest in the sport, as a top 50 all time pound for pound fighter he falls short. Delahoya is a boxer who never won decisively against another great fighter. The only exception is wins over Julio Cesar Chavez who was on the downside of his career. His wins against Pernell Whitaker and Ike Quartey were controversial and razor thin. He lost to the best men he fought; Shane Mosley, Bernard Hopkins and Floyd Mayweather, not including Felix Trinidad which was also controversial. Winning three alphabet titles between 130 and 140 is not impressive. Oscar won six titles in all but they are fractured titles only and nobody whose opinion I value considers him an all-time great. Henry Armstrong and Roberto Duran, as well as Shane Mosley for that matter totally by-passed 140 on their way from lightweight to welterweight titles. Delahoya is a popular figure but there are simply too many fighters with better, clearer wins that belong ahead of him.
Floyd Mayweather is still active and has not yet proven that he deserves to be on this list. Perhaps he will once his career is finished but it remains to be seen. Although undefeated Floyd was given a gift in his first fight against Jose Luis Castillo and if his name had been Merriweather instead of Mayweather he would have lost. In his most recent outing against Delahoya he was far from spectacular. Former boxer and writer Frank Lotierzo offered this opinion, "Mayweather is so basic and does nothing special. I have never seen him create or set a trap, ala Robinson setting up Fullmer for the left-hook in their rematch. Or the way Leonard lured Hagler to follow him around the ring, then stop, so he could move as Hagler was getting set to throw, disrupting his whole rhythm and keeping him a step behind." Mayweather is physically gifted but against Delahoya he simply took what Oscar gave him. Floyd did not make Oscar do things that he didn't want to do. Floyd may end up on this list, but he still has something to prove before such accolades can be bestowed upon him. It's best to evaluate fighters like Mayweather once their career, or at least their best days are behind them.
Eric Morales and Marco Antonio Barrera are both great fighters, no one would claim otherwise. But on a list of 50 all time greats, there are only 50 spots and there are more deserving and more accomplished men who should place ahead of them. Barrera has losses to Junior Jones (twice), Manny Pacquiao, Morales and Juan Manuel Marquez while his best wins are against Morales, Johnny Tapia and Naseem Hamed. Not bad, but there are more worthy candidates. Of the two Morales is the most meritable having gone 35-0 before losing the first time to Barrera, but it is difficult to put him on the list ahead of some of the men named below.
One fighter that cannot be left off a pound for pound all time list of greats is Barbados Joe Walcott. The original Joe Walcott, a welterweight, was a physical freak of nature who stood only 5'2" but had an 18 inch neck and possessed the crushing power to destroy even heavyweights. He was immune to punishment and because of his compact physique, large shoulders and brawny build many fighters ruined their hands hitting his very hard bald head. Walcott gave Joe Choynski the worst beating of his career, the year before Choynski knocked out Jack Johnson. Walcott, who never weighed more than 148 pounds, held victories over light-heavyweight champions George Gardener and Philadelphia Jack O'Brien. He also drew with upper tier all time greats Sam Langford and Joe Gans. Walcott easily belongs among the top 50 greatest fighters of all time and finished 22nd in the IBRO pound for pound poll.
George Dixon was the first black fighter to win a world title and was one of boxing's all time greats. Fighting at a time when a black fighter had to be great to be even considered for a title shot he was hailed as the best fighter of his time. Dixon was bantamweight and featherweight champion for 10 years and won over 20 title fights. Dixon's record is very incomplete and he may have competed in as many as 800 boxing matches, the most of any athlete in history. He defeated or drew with such ring legends as Nunc Wallace, Johnny Murphy, Young Griffo, Solly Smith, Pedlar Palmer, Dal Hawkins, Frank Erne, Abe Attell, and Jim Driscoll. A classic boxer-puncher Dixon invented the "black school" of fighting that Jack Johnson, Joe Gans and Joe Walcott belonged. Dixon certainly ranks among the 50 greatest fighters of all time.
This corrected list fixes a few of the most significant errors while changing their original list as little as possible. In order to be consistent with the ESPN poll I have left Robinson and Ali as their top two choices but moved the highly deserving Greb from number 13 to the number 3 spot. This had the negative effect of dropping Sam Langford from the top 10 who should be, in the opinion of most observers, rated ahead of heavyweights Jack Johnson and Jack Dempsey, at least in a pound for pound sense. Therefore I have put Langford in the top 10 ahead of them leaving Johnson in at number 10 and dropping Dempsey to 11.
In order to leave the rest of their top 10 intact I have inserted Fitz, who originally was not included at all, at number 15. Too low for many but at least he is solidly in the top 20. I have switched places with Rocky Marciano and Ezzard Charles since Charles is truly on the list for his best weight of 175 pounds. This does two things places Marciano and Joe Frazier next to each other and places Charles and Tunney close together. I then had Charles and Tunney switch spots, as stated previously they are very close in terms of talent and ability, although Tunney must be rated higher off his more flawless record. For the same reason I have Marciano over Frazier.
I have switched places with Carlos Monzon and Ruben Olivares and then flipped spots with Jose Napoles. So the list now reads Monzon-Napoles-Griffith in that section of the list. Olivares is now below Hagler, Jofre, Hearns and Holmes. This is a much better rating of the above men.
Dropped from the original list are Jake Lamotta, Oscar Delahoya, Erik Morales and Marco Antonio Barrera for the reasons stated above. Floyd Mayweather Jr. also fails to make the list because he is still active and has yet to prove he deserves to be on this list above the fighters who I have named ahead of him. In order to keep the list as close to the original as possible I have added Barbados Joe Walcott and George Dixon to the bottom of the list, although they really deserve to be rated much higher.
Modern fighters that have been kept on the list include Roy Jones Jr. who had he retired after beating John Ruiz may have been in the top 10. Jones was as physically gifted as Muhammad Ali minus the chin. That is what separates them. When Ali slowed down he showed he had a chin for the ages. Jones didn't and that is why he is in the lower part of the top 50 and not in the top 10. Other deserving moderns include Pernell Whitaker and Bernard Hopkins.
One modern who did not make the ESPN list but should be on it is Mike Spinks. Spinks is the forgotten great because of one loss, to one of the hardest hitting heavyweights ever. As a light-heavyweight he was unbeaten, winning 11 title fights, 8 by knockout against a high quality of opposition such as Eddie Mustafa Muhammad, Marvin Johnson, Yaqui Lopez and Dwight Qawi. He never lost a fight at 175 pounds. Spinks became the first reigning light-heavyweight champion to win the heavyweight title when he beat Larry Holmes who was undefeated. Spinks could box, punch and take a punch; at 175 pounds few were better.
I am not certain Evander Holyfield and Mike Tyson belong but I could not think of a good reason to remove them. Holyfield possibly faced the best competition at heavyweight after Muhammad Ali while Tyson was the youngest heavyweight title holder in history and burned out at a young age much like Terry McGovern.
I struggled with filling in the number 50 spot simply because there are so many worthy candidates. I narrowed it down to Kid Chocolate, Kid Gavilan, Ike Williams, Charley Burley, Aaron Pryor and Salvador Sanchez. I consider it a pick 'em option. Each one of these fighters deserve to be rated over the fighters I eliminated. Perhaps Mayweather can surpass them, but as stated previously rating fighters in an all time sense should be done when their best days are clearly behind them. In the end I chose Salvador Sanchez. Sanchez dominated Danny Lopez twice, destroyed Wilfredo Gomez who was favored and undefeated, and outclassed Azumah Nelson who would go on to have a 10 year reign as WBC Featherweight and Super Featherweight champion. Sanchez could do everything, the only question is how good could he have become? He died in a car accident at age 23.
I want to emphasize that this is not my personal list. I have tried to retain as much of the original ESPN list as possible while correcting only the most obvious flaws. It is still very much the ESPN list with only a few corrections. If it was my personal list some of the heavyweights would be rated lower or not on the list at all. The ESPN list had 9 heavyweights, not including Gene Tunney and Ezzard Charles which is too many heavyweights for a pound for pound all time list. Many of the men that are currently near the bottom of the corrected list would be rated much higher. Some of the more modern fighters such as Thomas Hearns and Alexis Arguello would also receive a higher rating. I also would have considered a few of the other men named above. Overall this correction is solid and without the obvious mistakes of ESPN's original list. (For the original list visit the ESPN site.)
ESPN's 50 Greatest Fighters Corrected:
Sugar Ray Robinson
Muhammad Al
Harry Greb
Henry Armstrong
Joe Louis
Willie Pep
Roberto Duran
Benny Leonard
Sam Langford
Jack Johnson
Jack Dempsey
Joe Gans
Sugar Ray Leonard
Gene Tunney
Bob Fitzsimmons
Jimmy Wilde
Ezzard Charles
Mickey Walker
Archie Moore
Stanley Ketchel
George Foreman
Tony Canzoneri
Barney Ross
Jimmy McLarnin
Julio Cesar Chavez
Marcel Cerdan
Rocky Marciano
Joe Frazier
Sandy Saddler
Terry McGovern
Billy Conn
Carlos Monzon
Jose Napoles
Emile Griffith
Marvin Hagler
Eder Jofre
Thomas Hearns
Larry Holmes
Ruben Olivares
Evander Holyfield
Ted "Kid" Lewis
Alexis Arguello
Pernell Whitaker
Roy Jones Jr.
Bernard Hopkins
Mike Tyson
Barbados Joe Walcott
George Dixon
Mike Spinks
Salvador Sanchez