Best of a Century:
Fight of the Decade: 1980-1989
Marvelous Marvin Hagler vs. Thomas "Hitman" Hearns, April 15, 1985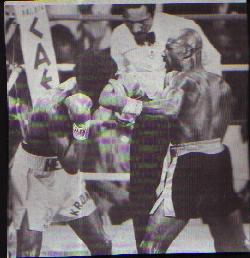 EDITORS NOTE: Though some of the thunder has been stolen from my series by a similar article in the July 1999 KO magazine, it has always been my intention, when I started this series in January 1999, to examine these famous fighters and fights and nominate the ten "best of the century" in each category. In a few weeks a new series of articles will be conducted featuring an "expert panel" of boxing history enthusiasts, so please stay tuned.
The Marvin Hagler vs. Tommy Hearns slugfest has been rightly compared to the great Zale-Graziano wars. It featured a thrilling first round that has been nominated as the greatest round of boxing action in history.
This fight was significant for me on a personal level. After the retirement of Muhammad Ali in 1981, and of Ray Leonard in 1982 boxing was in a faltering quandary from the period after 1982 until 1985. After 1982 there were no real Superstars on the scene. Boxing was at an empasse between the end of the Ali/Leonard era until the emergence of Mike Tyson and a whole new generation of boxing fans. The heavyweight division was dull and uninteresting under Larry Holmes. To many boxing fans, at the time, he was a cheap imitation of Muhammad Ali. Many of us would come to appreciate Holmes skills later. However during these lean years he had little competition facing the likes of Lucien Rodriguez, Marvis Frazier, Scott Frank, David Bey, and never unified the titles. "As goes the heavyweights so goes boxing" and boxing fell into a humdrum state.
That all changed on April 15th, 1985. One of the greatest fights of all time took place in Caesar's Palace outdoor stadium in Las Vegas on that night. It was the comeback of boxing. This Superfight along with the emergence of Mike Tyson ressurrected the all but dying sport of boxing. Big time boxing was back....with a vengeance!
Hagler was the defending World Middleweight Champion. His record was an impeccable 60-2-2 with 50 knockouts. He had made 10 successful title defenses, 9 of them by way of knockout. Hearns record was no less impressive at 40-1 with 36 knockouts. Hearns was the reigning WBC Jr. Middleweight Champion. Two great punchers on a collission course to restore glory back to the sport.
Many believed Hearns had the tools neccessary to score a minor upset over Hagler. He had the height, reach, boxing skills and punching power to defeat Hagler. The "hitman" had kayo'd the legendary Roberto Duran in 2 rounds. The same Duran who had went 15 tough rounds with Hagler the year before. Hagler was physically stronger, he was a southpaw, and he had an iron chin - which turned out to be the difference in the fight.
Everyone expected a great fight, but no one could have prepared themselves for the explosions that took place in the very first round. Hearns went right after Hagler staggering him with his powerful right cross, and fired blow after blow buckling the champions knees. Hagler came firing back and now it was Tommy's turn to be shaken. Then Hearns came back with a series of savage blows and then Hagler again. It was the middleweight version of the battle of the Gargantua's.
In the second round Hagler began to take control of the fight. Then suddenly Hagler sufferred a nasty vertical cut on the forehead, and another beneath his right eye. The cuts were very bad and threatened to stop the fight. Referee Richard Steele (yes that Richard Steele), asked Hagler: "can you see?" Hagler, in macho bravado fashion, replied "I ain't missin' him am I ?"
Hearns only had to survive a round or two to win. In the 3rd he came out backpeddaling and jabbing to keep Hagler at bay and work on the irreparable cuts. The fight was stopped in the third to examine those cuts and Hagler's title was in jeopardy. With the determination that is accompanied by desperation Hagler hammered home a viscious right hook that wobbled Hearns like the leaning tower of Pisa. He lost all the life in his legs and began to stagger across the ring. Hagler found him and finished him with a final crunching right hook to send him to the canvas. Tommy beat the count but was defenseless as referee Steele called a halt to the greatest fight of the 80's.
Honorable Mentions:
Sugar Ray Leonard vs. Thomas Hearns, Sept. 16th, 1981 One of the greatest Welterweight fights of all time. In a brilliant tactical display Ray was content to stay away from Tommy's power in the early rounds. Hearns won the first five rounds with his long damaging left jab. Then in the 6th Leonard turned into the puncher with a double left hook under and over to body and head that Hearns never fully recovered from. Leonard then battered Tommy from pillar to post in the 7th. Hearns regained control of the fight in the mid-late rounds. By the 12th Leonards trainer Angelo Dundee told him "your blowing it Son". Leonard, his left eye swollen shut, went on the attack once again. Leonard floored Tommy in the 13th and pounded him through the ropes in the 14th forcing referee Davey Pearl to stop the fight.
Aaron Pryor vs. Alexis Arguello November 12, 1982 A truly outstanding match-up between a cold calculating boxer-puncher (Arguello) and the fiery slugger who threw punches from all angles (Pryor). Pryor got off to a fast start as he always did but Alexis stayed right with him slowly taking him apart as he did all of his opponent's. By the mid-rounds Arguello, seeking his 4th divisional title appeared to be coming on. Arguello landed a perfect straight right that nearly decapitated Pryor in the 13th. Aaron walked slowly to his corner. Then his criminal cornerman Panama Lewis (known for later being banned from NY for life for taking the padding out of Luis Resto's gloves in the Billy collins fight) said "give me that bottle....no not that one... the special one I mix". Pryor comes out like a fireball at the start of the 14th thowing dozens of punches at high speed. Arguello is caught against the ropes and hammered into submission. Pryor won but there was always something funny about that fight in my mind.