Best of a Century:
Fight of the Decade: 1990-1999
By: You the Fans
Winner: Mike Tyson vs. Buster Douglas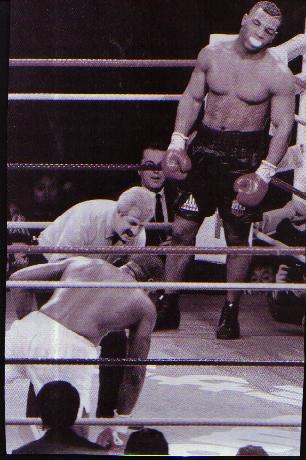 Since we all lived through the decade of the 90's I left this choice up to you the fans. I posted on one of the boxing bulletin boards asking the fans their choice for fight of the decade for the 1990's. I set the following parameters best in: a) excitement, b) historical impact, and c) quality of opposition. The votes were very wide-spread with no clear winner. Tyson-Douglas squeaked ahead by a couple of extra votes. Others receiving votes were Gatti-Robinson 1, Gatti-Rodriguez, Chavez-Taylor, Benn-McClellan, Carbajal-Gonzales, Pettaway-Brown, Tyson-Holyfield 1, and even one vote for Tapia-Ayala (some fans have short memories I guess).
The fans felt that Tyson-Douglas was tops due to historical impact. It was certainly the most historically significant fight of the decade. A 42-1 underdog upset a seemingly invincible undefeated Heavyweight champion, one who had previously rolled over all opposition like a runaway freight train. From 1985-1990 Mike Tyson cut a swath throught the heavyweight division rarely equalled in heavyweight boxing, compliling a record of 37-0 with 33 knockouts. He made 9 successful defenses behind only Louis, Holmes, Ali, and Burns. He established himself as one of the best punchers in heavyweight history. He was the best in terms of a combination of both excellent hand speed and pure punching power. He could knock a man out with either hand and with a vareity of punches; scoring knockouts with hooks, uppercuts and crosses. He was a good body puncher, and outstanding combination puncher.
Buster Douglas was given virtually no chance. His record was spotty 29-4-1 (1NC) with 19 ko's. 3 of his 4 losses were by ko. He had quit against Tony Tucker and was not expected to put up much of a resistance against the rampaging Tyson. He had three things going for him in this fight: 1) Size: he was 6' 4", 230 pounds and had an incredible 84" reach tying him for second among all heavyweight champions with Sonny Liston and behind Jess Willard. Tyson has among the shortest reaches in heavyweight history at 71". 2) Style: In a letter I had published in the Sept. 1988 Ring magazine I proclaimed that Muhammad Ali would have easily beaten Tyson based on styles. I said that Tyson did not have "Joe Frazier's polish or inside fighting skills". This proved true not only in the Douglas fight but also against Holyfield. I also made this statement when Tyson was at the peak of his popularity after destroying Mike Spinks in one round and some were hailing him as the greatest ever or ranking him 2nd behind Ali. I was criticized for it, but was vindicated on the night of Feb. 11, 1990. I sat glued to the television, watching HBO, as Douglas jabbed, danced, moved and took Tyson apart from the outside with sizzling combinations. 3) Motivation: Douglas was on an emotional peak. His mother had just died three weeks before and he fought this fight with the kind of emotion not often seen in the ring. Tyson on the other hand hardly trained and was reportedly was consorting with prostitutes prior to this fight. A sure reminder of "never under-estimate your opponent."
Tyson's weaknesses were exposed in this fight for the first time. He was shown to be a psychological front-runner who didn't fight well when things were not going his way, he was sometimes mechanical and predicatable, was easily frustrated, and didn't fight with any kind of plan. Douglas got off to a quick start controlling Tyson with his fine jab at long range. After the first few rounds it became apparent that his inept corner had nothing to offer on how to get inside and work the body. Tyson began to take a beating.
Tyson fought back in spurts but it was insufficient. We could hardly beleive what we were seeing. Mike Tyson was getting his butt-kicked by a 2nd rate heavyweight. As Larry Merchant said after the fight held in Tokyo "the Japanese people came to see godzilla, only the wrong person turned out to be godzilla!"
In the 8th Tyson showed he still had one thing, awesome power. He was fighting with his back on the ropes when he exploded with a short right uppercut that dropped Douglas on his back. It was a stunning blow, one that made the crowd rise to it's feet. Many of us who knew Douglas to be a quitter wondered if he would get up. He did, barely beating the count at 9. This caused a firestorm by Don King and co. who claimed Douglas was knocked out and should have lost at that point. The WBC (and briefly the WBA) seemed to agree at first being willing to take up the issue. The media wouldn't stand for it. Douglas won the fight in the 10th round knocking out Mike Tyson with a crushing combination of jab, right uppercut, left hook, right cross, left hook. Tyson went down. It wasn't the power of the punches, but the accuracy and accumulation of shots that wore down and finished Mike Tyson.
The sight of Mike Tyson rolling around on the canvas, trying to put his mouthpice back in was alarmingly pathetic. An image no boxing fan will soon forget. One of the reasons this fight was chosen by the majority of the fans who participated as "Fight of the decade:1990's."