All-Time Poll: Flyweights
Consensus Panel Results: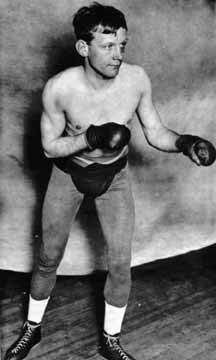 Flyweight Winner Jimmy Wilde
Flyweight Champion 1916-1923 Record: 130-3-1 (99 ko's)
| | | | | | | | | | |
| --- | --- | --- | --- | --- | --- | --- | --- | --- | --- |
| Jimmy Wilde | Pascual Perez | Miguel Canto | Pancho Villa | Fidel LaBarba | Frankie Genaro | Benny Lynch | Pone Kingpetch | Fighting Harada | Ricardo Lopez |
| 98 pts | 81 pts | 58 pts. | 46 pts | 37 pts | 35 pts | 33 pts | 22 pts. | 15 pts | 15 pts |
Other Flyweights receiving votes: Midget Wolgast (14 pts), Jimmy Barry (14), Peter Kane (11), Charchai Chinoi (10), Hilario Zapata (10), Sot Chitalda (8), Johnny Coulon (7), Mark Johnson (6), Michael Carbajal (6), Rinty Monaghan (4), Myun Moo Yuh (4), Yuri Arbachakov (3), Johnny Buff (3), Humberto Gonzales (2), Dade Marino (2), and Jackie Paterson, Jackie Brown, Guty Espada, Santos LaCair, each receiving one point apiece.
Monte's Notes:
- Jimmy Wilde's overwhelming victory was no surprise receiving 98 out of 100 possible points. It is possible this could end up as the largest margin of victory for any weight class
- It is true that I had the best list in comparison with the Consesnsus results this week, gaining 8 of the top 10 finishers including the first 7 in a row! I can hear the naysayers already, but the fact is I finished my list before all the other votes were in. My list counted as part of the overall score. I do hope to as well a couple of more times.
- One suprise (at least to me) was that a total of 30 fighters received votes for 10 spots from 10 different panelist. This was due in part to the fact that there were votes for 3 modern divisions (Straweight, Jr. Flyweight, and Flyweight) for one classical category (Flyweight).
Why They Voted The They Voted: (selected comments)
Dennis: I picked Wilde because of his amazing ability and the fact that at 100 lbs he knocked out middleweights. Not to mention that his record of being unbeaten in his first 98 bouts will probably stand forever.
Tracy: Jimmy Barry was a good boxer who was clever and moved well. Also, he was a stiff puncher who usually fought men heavier than himself. He was never beaten and never knocked out. After he killed Walter Croot in a fight, he pulled his punches and was never into fighting as he was before. Seven of his nine draws came after he killed Walter Croot.
Heath: 1. Jimmy Wilde, arguably the hardest hitter P4P in history and amassed nearly 100 KO's despite not weighing much over 100 lbs. Would fight anyone and two of his three losses came after being brutally fouled.
Furry: Gene Tunney said Jimmy Wilde was the greatest fighter he ever saw.
Pete: Hilario Zapata is the boxer I rate as the best Flyweight of all time. He Simultaneously held the Jr Flywt & StrawWeight (WBC Version) on 2 different occasions before moving up and ultimately taking the WBA Flyweight belt. He then held the Championship for close to 3 yrs. I feel this qualifies him as Best Flyweight of all time. Jimmy Wilde's 99 KO's and 7 yr span as Flyweight Champ sure is impressive, and must be noted when considering who is the ALL TIME GREAT FLYWEIGHT CHAMPION.
TkoTom: Jimmy Wilde's record speaks for itself, followed by Canto's 14 successful title defenses over 5 years, and Pascual Perez 49-0-1 start.
ABOUT OUR PANELIST (CLICK HERE)