Joe Gans:
A Lightweight Joe Louis
By Monte D. Cox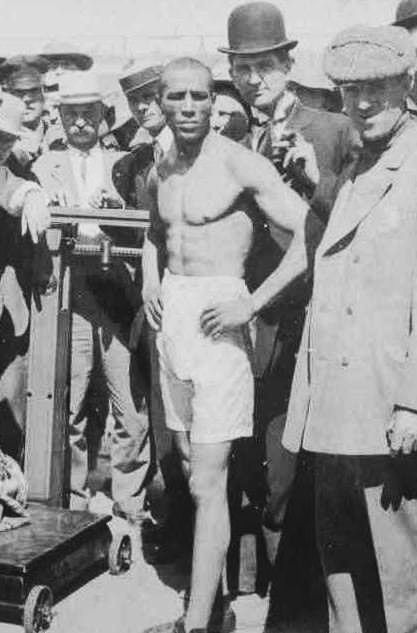 The legendary Sam Langford, in the July 20, 1935 Chicago Defender, described the young Joe Louis as "another Joe Gans" and commented that he considered Gans "the greatest fighter of all time." To modern fans that are more familiar with the record and numerous fight films of Joe Louis it would be equally correct to describe Joe Gans as a lightweight version of Joe Louis.
Recently Joe Louis was named as the greatest heavyweight boxing champion of all time by the IBRO (International Boxing Research Organization). Louis was so named because he is considered the most fundamentally sound boxer and the most explosive puncher in division history. This same description can be used to define Joe Gans as a fighter.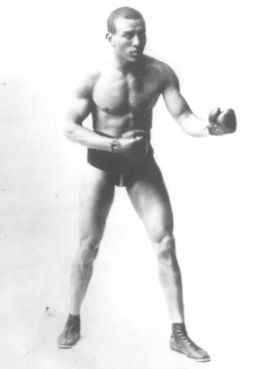 There are many similarities stylistically between the two great boxing legends. Both Louis and Gans were classic boxer-punchers. Both fought with hands high, elbows in and chin down. Fundamentally both Louis and Gans were as flawless as any fighters in ring history. Joe Gans looks a lot like Joe Louis on the existing films, especially in Gans title defense against Kid Herman. Joe Gans, like Louis, would stalk his opponents, moving in and out at times, but working ever closer, setting his opponents up with jabs and feints making them believe there were openings where none existed. As a properly baited opponent would move in towards him Gans would explode with short, jolting punches that landed solid and clean. The blows would land with double impact as the fighter moved into his deadly and accurate counters. Gans used to say, Aug. 1960 Boxing Illustrated, "the two most important words in my business are timing and distance." Timing and distance were the keys to Gans incredible skill. He understood that the shorter a punch traveled the harder it would be to block or duck. He also knew that shorter punches carried more dynamic impact.
Gans perfectly executed right cross looks just like Joe Louis short, devastating accurate right hand on film. The knockout of Kid Herman demonstrates this fact emphatically. The Chicago Record Herald Jan 2, 1907 described the knockout thusly, "Like lightning the champion whipped a crashing left straight as a die onto Herman's jugular. Before Herman could collect himself the champion's powerful right had crossed in a sledgehammer swing to the point of the jaw, and Herman measured his length on the floor of the arena. As Gans delivered that crushing right swing he turned his back and walked away. He didn't have to look to find out what damage the blow had inflicted. He knew instinctively the minute the blow reached home that his championship laurels were safe from the reach of Herman. It was the same telling swing that had won him thousands upon thousands of dollars in the prize ring and the one that never failed when landed with that deadly accuracy."
Like Joe Louis, Gans was also a great combination puncher. Some modern fight fans are under the impression that men of the post 1900 to pre WW 1 era did not punch in combination. This is simply not true. Combination punching was well in vogue by this time. Consider that Joe Louis was regarded as one of the greatest combination punchers in boxing history. Louis trainer was Jack Blackburn, a contemporary of Gans who faced him three times. It was Blackburn who taught Louis correct straight hitting, how to put his whole body behind his punches and combination punching. Blackburn's knowledge of the game came from his own experience of over 160 professional fights dating to the period in question.
Note the following description of Gans knockout of highly regarded welterweight Mike "Twin" Sullivan that features combination punching. The Jan. 20, 1906 San Francisco Chronicle reported, "He caught Sullivan partly turned away. A dusky right arm swung over with electric quickness. A sodden glove connected with the back of Sullivan's left ear. The Twin spun almost around from the force of the blow, and when he tried to steady himself he found that a straw colored tiger in the person of Joe Gans was upon him. Rights and lefts went with terrible swiftness to his opponents jaw. In went Gans right to the stomach; over circled his left to the jaw. And then Mike "Twin" Sullivan much the bigger and heavier man...fell backward to the canvas." According to the Feb. 3, 1906 National Police Gazette Sullivan had to be lifted up and carried back to his corner after the ten count.
Both Joe Louis and Joe Gans were known for their shocking punching power. The awesome power that Gans possessed was never more evident than in his third fight with left hook artist Dal Hawkins. Gans scored with a smashing right hand to the jaw in the third round that put Hawkins out on the floor. According to the Sep. 22, 1900 National Police Gazette Hawkins "did not recover for several minutes after being carried to his corner."
Gans 88 career knockouts demonstrate that he had the punch to defeat bigger, stronger fighters. Although Joe Gans had the endurance to fight to the finish approximately 85% of his fights were 15 rounds or less and he scored over 70 knockouts that were 10 rounds or less. He scored 27 knockouts that were 3 rounds or less.
In Kelly Nicholson's upcoming book Hitters- Two Fisted Heroes of Boxing's Golden Age Harry Lenny is quoted as saying he has never seen another fighter as good as Joe Gans. Among other credentials, Lenny sparred over 500 rounds with the legendary fighter and worked Joe Louis corner the night he won the heavyweight crown from Jim Braddock.
"There never was anybody like Gans," Lenny said. "There probably never will be. Joe never wasted a punch … He had the spots picked out, mentally marked in big red circles on his opponent's body; the temple, the point of the chin, the bridge of the nose, the liver, the spleen, the solar plexus. He'd pick out one or two of these points and maneuver his opponent until he left a clear opening. It was a thing of beauty to watch Joe in the ring."
Joe Gans was complete fighter with modern ring skills, like Louis he possessed an outstanding left jab. The Sep. 2, 1906 Boston Globe noted, "Gans has a beautiful left (jab) and can do great execution with it." Against Elbows McFadden the Aug. 19, 1899 National Police Gazette reported that Gans was "punching his man almost to a standstill with left jabs."
The Sep. 28, 1904 San Francisco Chronicle wrote about Joe's modern like speed and skills, "Those who have watched Gans go through his work every day are amazed at his wonderful agility, his speed and his clean hitting ability."
Gans great hand speed is evident in the available films. Both the available Battling Nelson 1 and Kid Herman films show his cat-like reflexes and blazing speed of hand. The Chronicle described Gans as "a marvel of speed and science." Against Nelson the Chronicle reported the following in the Sept 4, 1906 edition, "In the first round Gans put rights and lefts, swings and hooks, short arm jolts and uppercuts to Nelson's head and body, and the wonder was that Nelson could keep his feet...under such a rain of blows." The newspaper accounts support the idea that like Joe Louis, Gans punched rapidly and in combination and with terrifying power.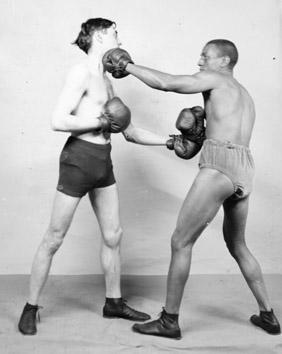 The one area that Joe Gans surpassed Joe Louis was in his defensive prowess. Defensively Gans mastery of timing and distance was virtually unparalleled. His ability to anticipate his opponent's moves was legendary and it was for this reason that the old timers believed Gans was the best fighter they had ever seen at blocking, parrying and countering. Sportswriter Ben Benjamin wrote, Sept 7, 1907 San Francisco Chronicle, that Gans "blocked blows in his incomparable style" and commented, "It is as a blocker that Gans is at his best. There never was a fighter who could block with such skill and precision as Gans. He is a perfect marvel at stopping, using either hand with equal facility. He rarely wastes a blow, his judgment on distance being almost perfect."
The Boxing Illustrated article This was Joe Gans, describes his uncanny ability to block punches with the following, "Gans was born with a sixth sense. They tell the story of how one of his opponents, after Joe had "carried" him for six rounds asked him "How do you do it?" And Joe just grinned and said, "I can't put it into words. I guess I just see what you're thinking and when the thought gets down around the elbow I just reach out and stop it."
Gans defensive skills were well featured in many of his important bouts. The San Francisco Chronicle, Mar 18, 1906 reported that in his fight with Mike "Twin" Sullivan, "Gans superior cleverness at blocking saved him from any punishment and his quick counters invariably landed with great force." The great Jack Blackburn, considered the # 3 all time lightweight by Charley Rose, was "utterly unable to penetrate the champions defense" according to the National Police Gazette July 14, 1906 edition which headlined, "Champion outpoints Blackburn and proves superiority." In his second bout with Jimmy Britt the Chronicle reported, "Gans a wonderful blocker" and said of Britt's body punching that "most of them were blocked, and blocked at that, by the elbow."
On film Gans moves aggressively forward like Joe Louis. Jack Blackburn taught Louis this exact footwork. If one studies the films of Joe Louis one can see Louis feet often in the same position as those of Gans. Gans fought in a similar fashion to Joe Louis, using the classic boxer-puncher stance to stay in the pocket blocking punches and countering. Gans would block, counter, shuffle forward and explode with quick combinations and shocking punches.
Like Joe Louis, Gans moved as little a possible in the ring in order to conserve his power for the late rounds, however, Gans was not a plodding fighter, as he could circle his opponents with mobility. Gans could dance and out-maneuver his opponents and leave them floundering as he did at times against Battling Nelson or he could move inside and outside as he did against Barbados Joe Walcott, or move quickly to cut the ring on a retreating foe as he did against Kid Herman. Gans preferred to track down his opponents putting on subtle pressure, and then stepping back to set up his counter-punches much like Joe Louis, but he could move around the ring quickly if he deemed it necessary.
The 1987 Ring Record Book lists Gans with 14 successful defenses of his lightweight title, which remains the record for the lightweight division. He defeated an impressive array of challengers that include Bobby Dobbs, Dal Hawkins, Frank Erne, Elbows McFadden, Young Griffo, Kid McPartland, Dave Holly, Jack Blackburn, Rufe Turner, Battling Nelson and Jimmy Britt.
In a comparison Joe Gans was every bit the quick, two-handed, sharp and accurate puncher that Joe Louis was. Like Louis he was known for his amazing speed of hand and explosive power. His perfectly thrown textbook punches and combinations were poetry. Gans fundamentals were so flawless he was given the nickname of "The Old Master." He rarely made a mistake in the ring. Gans fought in the same boxer puncher style as Louis but was superior to Louis defensively and in his foot speed.
A lightweight Joe Louis knocks them all dead. Only Benny Leonard and Roberto Duran deserved to be mentioned in the same breath as Joe Gans. In my view Gans was simply too fast for Duran, and too powerful for Leonard. Gans was a lightweight with the speed of Ray Leonard combined with the punching power of Felix Trinidad.
The Gans that effectively beat welterweight champion Barbados Joe Walcott in 20 rounds proved he was the greatest lightweight of all time. Walcott had the power to down heavyweights, but it was to no avail against the speed and superb boxing ability of "The Old Master". Young Corbett, the former featherweight champion, described the Walcott fight as an eyewitness two years later in the Boston Globe, "Walcott was given a draw, but it was a fierce decision. Gans mastered him and out punched him all the way." Duran would not be able to knock out Gans, but Gans would be able to do a worse number on Duran than Esteban DeJesus did in their first fight. Gans had more tools, greater power and superior defense than did DeJesus. Wilfred Benitez confounded Duran with his slick up close defense and Joe Gans would do the same. Benny Leonard might try to stick and move, but Gans fast hands would catch him somewhere along the way. Benny wouldn't be able to talk his way out of trouble like he did against Lew Tendler. As Joe Louis was fond of saying, "They can run but they can't hide."
Ring founder Nat Fleischer rated Joe Gans # 1 amongst all time lightweights in his 1958 ratings. Veteran historian Charley Rose rated him # 2 in 1968. Herb Goldman rated him # 3 in his 1987 ratings. Cox's Corner rates him as the # 1 lightweight of all time.