Cox's Corner
How The "Golden Boy" Compares to the "Golden Age"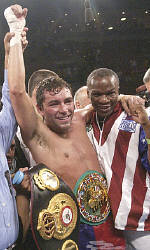 By Monte Cox
Oscar Delahoya once again proved himself as one of the top fighters of our generation by defeating division rival and arch nemesis Fernando Vargas in a 154-pound championship unification match. Delahoya has earned championship laurels at 130-135-140-147 and 154 pounds joining only Ray Leonard and Thomas Hearns as 5 division champions.
It was a battle billed as the street tough Vargas against the Olympic all around good guy Delahoya. Vargas came into to the ring and attempted to steal Oscar's thunder with an aggressive attack. However, Vargas, like most bullies, faded when his opponent absorbed his punches and fought back with skill and determination. Vargas, who was extremely confident and in the best shape of his career, was beaten by a master boxer.
Oscar survived some shaky moments against the ropes to ultimately prevail by keeping the action in the center of the ring where he controlled the tempo with his mercurial jab. In a thrilling boxing match Delahoya hurt the WBA champion at the end of the 10th round with a snappy left hook to the jaw, and finished him with a crunching left hook, that landed back to front, in the 11th and dropped Vargas on his back. Fernando valiantly rose at 5 and was given an 8 count. Oscar then drove Vargas to the ropes and landed a series of sharp punches which left Fernando defenseless forcing referee Joe Cortez to halt the bout. It was truly "Oscar night" for the "Golden Boy."
In many ways Delahoya is a throwback to the fighters of the golden age of boxing. Oscar is a very intelligent fighter, one of the most technically proficient boxers of the past 50 years. He knows how to control ring center, he is a master of glove blocking, he rolls with punches to lessen their effect, he is an astute counter-puncher, he is proficient in the all but lost art of feinting, he works the body well, and knows how to dissect his opponents and master their styles. He also has surprising power and the will to overcome adversity. Delahoya's most outstanding physical gift is his hand speed, which allows him to dominate many opponents. Delahoya is a complete fighter and compares favorably with many of the great fighters of the past.
In direct comparison to fighters of the "golden age" Delahoya, or any modern fighter for that matter, cannot compare with the vast ring experience of men who had between 150-300 professional fights. In this respect it is difficult to compare different generations of athletes. However Oscar began boxing at the age of 6 and had a distinguished amateur record of 223-5 with 163 knockouts which included his 1996 Olympic Gold Medal. Delahoya has learned many of the boxing techniques that made the old-timers great. Delahoya like Joe Gans proved he is the master of ring center. Like Willie Pep he can dominate with his jab alone. Like Benny Leonard he can make his oppoents pay for the smallest mistakes. Delahoya can neutralize an aggressive opponent with defense and this is the hallmark of a boxing master.
Consider Delahoya's masterful performance against Felix Trinidad. In that fight Oscar used superior boxing skills to make the devastating champion look like an amateur through most of the fight. Trinidad was reduced to a one punch at a time fighter by the skills of Delahoya. Even though Oscar lost the decision most observors had Delahoya winning. The AP scored it 7-5 for Delahoya, and 12 of 17 sportswriters at ringside also had Oscar a winner. Consider Oscar's first bout with the great veteran Julio Cesar Chavez where he dominated the legendary fighter with his slicing left jab and quick straight counters. Against Ike Quartey he boxed a beautiful defensive fight utilizing glove blocking, each men had their moments however, and the fight was very close going into the 12th and final round when Delahoya exploded with his famous left hook scoring a devastating knockdown and nearly kayoing his opponent in the final round to earn the decision. Delahoya's most difficult fights have been against other master boxers, the southpaw great Pernell Whittaker and Shane Mosely. Both fights were very close, Delahoya finishing strongly against Whittaker to earn the nod, while losing a narrow decision to Sugar Shane who suprised Delahoya with his great speed. Like the fighters of old Delahoya cannot be accused of ducking anyone he has faced all the best fighters of his generation in 5 weight classes. The "Golden Boy" is a throwback to the "golden age" of boxing and deserves recognition as a future hall-of-famer.