Cox's Corner Profiles
Jack Johnson, The Galveston Giant..."Master of Ring Science".
By: Monte D. Cox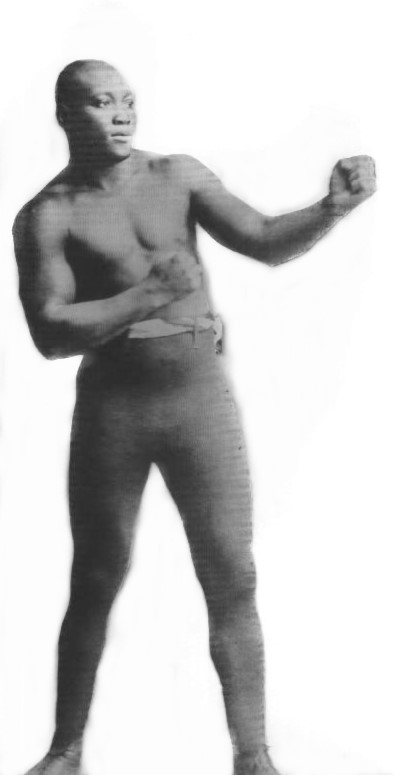 Jack Arthur Johnson, often called "Lil' Arthur" and the "Galveston Giant" by his contemporaries, became heavyweight champion of the world in 1908. In so doing he destroyed the colored barrier by stopping Tommy Burns in 14 rounds to become the first black heavyweight boxing champion. He had a 10 year unbeaten streak during which time he defeated all of the top fighters of the period. He fought the other highly avoided black fighters of his day, including the clever master strategist Joe Jeannette 10 times, the hard punching Sam McVey 3 times, and gave the great Sam Langford a beating in their only meeting. His championship reign covered the years 1908-1915 when the giant "white hope" Jess Willard finally defeated him.
The Ring Magazine, in an article, The 50 greatest heavyweights of all time (1998 Holiday Issue p 32), said that Johnson was "years ahead of his time stylistically, he revolutionized boxing footwork, defense, and the concept of ring generalship."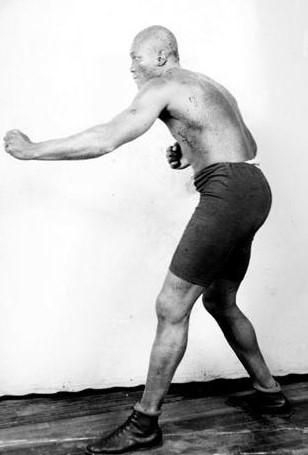 Consider that Nat Fleischer, the founder of Ring Magazine, who saw Johnson fight and those up to the Ali era, said, in his book Black Dynamite Vol 4., p. 6), "Jack Johnson boxed on his toes, could block from most any angle, was lightning fast on his feet, could feint an opponent into knots…he possessed everything a champion could hope for punch, speed, brains, cleverness, boxing ability and sharp-shooting."
Fleischer also reported in 1958, that Johnson's "mastery of ring science, his ability to block, counter, and feint, are still unexcelled."
Jack Johnson is widely regarded as the greatest defensive heavyweight of all time. In recent years his defensive prowess has come into question. The key to understanding the defensive mastery of men like Johnson, Joe Gans, and George Dixon comes in their ability to block an opponent's leads. That is where the old masters like Johnson truly shined. You have to jab to get inside and to set up your punches and they could block and pick off an opponent's jabs and counter. Trainer Eddie Futch said, that Ken Norton gave Ali 3 very tough fights because he knew how to block a jab with an open glove and counter-jab.
An interesting comparison can be made by looking at two different boxing training manuals one published in 2000 and the other published in 1943 (Naval Aviation Training Manual 1st edition). The old National Police Gazette's often had famous boxers demonstrate their techniques. Some of these types of techniques can be seen in the Naval Aviator boxing manual but are absent from the modern instruction book. The modern manual is not at all bad showing parries, covering, and ducking, slipping, as well as shoulder and forearm blocks. The older book however also explains stopping (or pinning/trapping), cuffing, weaving, shifting (quick shift, drop shift, rear shift), folding, and open glove blocking –catching the opponent's leads in the butt of the glove. The older masters had a greater variety of defensive techniques at their disposal than what is being taught in most gyms today.
It is noteworthy that although Johnson fought often and with only 5 ounce gloves, his defensive skills kept his face largely unmarked. This demonstrates his effectiveness as a defensive fighter against the competition he faced.
John Durant wrote in The Heavyweight Champions of Johnson, "He was a genius in the ring. He was a flawless boxer with an almost perfect defense, and he could hit hard with either hand. A superb counter puncher, he was never off balance, always in position to hit, and he was a master of the art of feinting."
John McCallum stated, in his Encyclopedia, "Johnson was a reputation breaker. He could make most any opponent look bad, without looking invincible himself. It is doubted if the prize ring has ever known a more muscular champion. Yet despite his size, he used his colossal strength primarily for defense. He gave the lasting impression of always fighting under wraps of never going all out."
Johnson was like a bigger, stronger and more technically sound version of Roy Jones Jr, but with greater defensive capability. Johnson, like Jones was exceptionally fast, able to leap in with quick counters, was a strong puncher, and was a master feinter. His opponents were weary of his speed and power and he was able to dominate them without taking great risks. Unlike Jones, Johnson did not throw wide looping punches that exposed himself to counters, but instead held his hands properly and threw lightning quick straight punches outside and uppercuts safely from the inside.
Veteran fight manager Dan Morgan, who saw Johnson fight agrees, saying, "I had a feeling he could demolish an opponent any time he chose."
This fact is revealed by the descriptions given of some of his great fights with Sam McVea. In his second bout with Sam, billed as the "colored heavyweight championship", one reporter noted that McVey went through the "worst hell" ever witnessed in a Los Angeles prize ring. In their third meeting, Fleischer wrote, "It became pretty plain after the tenth round that Galveston Jack was the master." Mcvea took "blow after blow to the chin and Johnson kept sinking rights to the heart and left smashes to the stomach." McVea showed courage but, "In the twentieth round Jack decided he had punished Sam sufficiently and ended the contest with a right to the heart and a pretty left hook to the jaw."
Likewise, in his battle with Al Kaufman, the San Francisco Chronicle reported on Sep. 10, 1909 that "Kaufman badly whipped by Johnson in ten rounds. Kaufman hardly lays a glove on colored opponent, who is a marvel of cleverness." Johnson pitched a shut out, "All rounds for Johnson" the Chronicle reported.
The biggest fight of his career was against former champion Jim Jeffries, who came out of a long 6-year retirement "to win the title back for the white race." In the days preceding the fight Johnson predicted, "Jeffries can't touch me." This turned out to be the case as Johnson dominated the hulking former champion from the very first round. According to the July 5, 1910 Chronicle, "Round after round Johnson handled the burly Jeffries as he pleased" and stated Johnson "blocked every punch" that the former champion attempted to land. The Chronicle said it was Johnson's "body blows" that wore down Jeffries and eventually resulted in a knockout victory for the splendid black heavyweight champion.
Historian and writer Gilbert Odd discussed Johnson's ability in The Great Champions, "Jack's skill at leading, picking his punches and whipping in precision blows was unequaled, so too was his uncanny ability to deflect punches aimed at him or to make them miss by a fraction of an inch as he drew back his head. His left jab was straight and true, his right-cross sheer artistry, while his uppercuts were devastating. He was an expert at drawing an opponent into his blows, and of course, as they advanced so met with double impact, "They just knock themselves out", he was fond of saying."
Johnson also used some unique tactics in the ring. Mike Aoki wrote that Johnson liked to "shoot a punch at a foe's bicep while the fellow began to launch a haymaker. This not only kept the blow from arriving, but it gradually numbed or paralyzed the arm."
Jack Dempsey said of Johnson, "He was the greatest catcher of punches that ever lived (glove blocker). And he could fight all night. He was a combination of Jim Corbett and Louis. I'm glad I didn't have to fight him."
Trevor Wignall agrees saying, "He could box as well as fight. He was a tremendously hard hitter, while, for a man his size, he was amazingly swift on his feet."
Some analysts have questioned the quality of Jack's chin. But Johnson's chin is not nearly as bad as some make it out to be. Prior to the Willard fight he was knocked out only by Klondike Haynes (Johnson quit after 4 rounds) and then by the wily veteran Joe Choynski both fairly early in his career and before he had reached his pinnacle as a fighter. After the Choynski loss he would not be knocked out again for 14 years.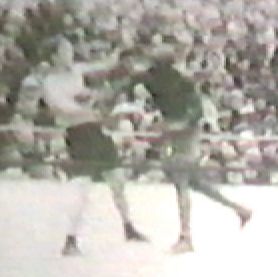 Nat Fleischer rated Johnson as the greatest heavyweight up to the time of his death in 1972. He picked Johnson in a dream fight over Joe Louis. The reason is given in 50 Years at Ringside pp 80-81. Fleischer quotes Johnson as saying that Louis was "always off balance" and to beat a counter-puncher like Schmeling he had to "change his stance." Johnson said a "clever sharp shooter" with a good "right hand" could beat Louis. And that is precisely what happened in the first Schmeling fight. It was because of Johnson's prediction that Nat always thought that Johnson could beat Louis.
Johnson could also give Muhammad Ali a lot of trouble in a tactical boxing match. Johnson in his 1902 "colored heavyweight championship" match against Denver Ed Martin easily defeated a man who was said to have "the best footwork in the business." In the first ten rounds they boxed with caution, but in the 11th round Johnson exploded with a right hand to the neck that dropped Martin. He went down four more times in the 11th round. Martin had a pretty good chin and his legs allowed him to survive the distance but Johnson won the 20 round decision and the title. The ease with Johnson could defeat a man with good footwork and a good chin demonstrates he could give Ali a mass of technical problems to solve.
Charley Rose who saw both Johnson and Ali fight said, (July 1966 Ring), "Johnson would have caught Clay's jabs like Willie Mays catches a baseball." Ali's lack of properly placed parrying hand to block a jab (he held his right hand out to the side when he jabbed) would allow Johnson to counter Ali's jab. Johnson's superior defense and technical superiority would offset some of Ali's natural gifts of speed, and quick reflexes. When Ali made a mistake Johnson had the hand speed to exploit it with a quick counter. Observors such as Archie Moore and Eddie Futch also picked Johnson in a dream fight against Ali. It would be a very interesting fight.
Fleischer, as noted, rated Johnson # 1 on his all time great heavyweight list. Charley Rose rated him # 2. In McCallum's 1975 "survey of old-timers" Johnson was rated # 2. Other historians who rate him highly are John Durant who considered Johnson the # 2 heavyweight of all time, Steve Farhood rated him # 3 in 1997, while Tracy Callis rates him # 2..
Jack Johnson Tribute Video

Jack Johnson: Tribute Video from Cox's Corner