Cox's Corner
Roy Jones Jr.: An Appreciation.
By Monte Cox
Originally published in the July 2000 CBZ Journal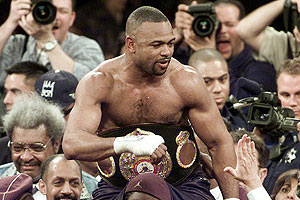 I was in Indianapolis at the Conseceo Fieldhouse, home of the Indiana Pacers, for the Roy Jones-Richard Hall Light-heavyweight championship fight on May 13th. The crowd of over 13,000 screaming fans was the largest to ever watch a fight in the state of Indiana. It sounded like a Pacers game with the crowd noise which is not obvious on the tape of the fight. It was so loud in Conseco I could not hear Michael Buffer and his "get ready to rumble" pre-fight introductions. The crowd was very boisterous and extremely pro Roy Jones. Richard Hall was booed so loudly, on his ring walk, that one would have thought he was the designated bad guy at a WWF wrestling event. RJ on the other hand was so fully embraced by the crowd one might have thought we were in his hometown of Pensacola. The crowd loved Roy Jones.
Why do the fans love Roy Jones you may ask? Hasn't Roy been criticized by many boxing writers for having no competition and supposedly ducking some contenders? The answer is simple. Roy Jones is the best pound for pound fighter in the world. No one can deny his talent. The Boxing Writers Association voted Roy as the best boxer of the 90ís. I also nominated Roy Jones as the Fighter of the Decade for the 90's on my web-site (coxscorner.tripod.com).
When viewed objectively Roy has faced the best competition available. He beat Bernard Hopkins in 1993 for the vacant Middleweight title with an easy decision, Hopkins would go on to control the division for the remainder of the decade. James Toney was undefeated and considered the best 168-pounder in the World when Roy totally dominated him for the IBF Super Middleweight crown. At the time it was considered to be a superfight and a number of writers picked Toney to win. They were badly mistaken. He destroyed highly rated light-heavyweight contender Montell Griffin in one round, and veteran Merqui Sosa in two. Former Light-heavyweight champion Virgil Hill was devastated by a one punch kayo. Hill had never before been knocked out. Roy unified 2/3 of the title by beating WBA Light-heavyweight champion Lou DeValle, winning 11 of 12 rounds in the process. He then destroyed IBF Light-heavyweight Champion Reggie Johnson to unify the 175-pound titles. The fight was no contest.
It is not Roy's fault that the alphabet soup boys installed men such as David Telesco, Ricky Frazier and Richard Hall as their number one contenders. The fact is that once the bell rings Roy Jones is the finest fighter in the world and no one in his weight class can beat him. As a paying spectator at the Jones-Hall fight I had the impression that Jones carried Hall during the early rounds after the first round knockdowns. Jones has learned, as the character Maximus did in the recent hit movie "Gladiator," that winning quickly is not enough. The audience must be "entertained". I was glad for it because Roy put on a great show for the fans some of whom shelled out 1,000 dollars for ringside seats.
Roy Jones is much like legendary heavyweight champion Rocky Marciano in terms of his level of competition. Like Jones, Marciano did not have the highest level of opposition. Louis was 37 and a shell of his former self, Walcott was 38, Charles peaked at light-heavyweight and did not have the greatest chin (kayoed 7 times), and Moore was a 42 year old light-heavyweight champion. Vingo, Layne, and LaStarza were nothing special. But whereas Rocky struggled at times against mediocre competition, Roy Jones has utterly dominated his. Jones will not leave enough of a legacy to satisfy everyone, but his utter domination of every opponent put in front of him will lead historians to believe that he could do it against tougher opposition. He will not have the competition to compare to a Ray Robinson, but his ability and domination will command respect.
I've been studying films of Roy Jones fights and make the following notes, Jones Analysis:
Fastest Hands since Ali.
Has knockdown/knockout power in either hand.
His left hook is among most dangerous punches in boxing history for weight.
Uses head movement to slip punches.
Utilizes feints -a skill rare in the modern age of boxing
Superior counter-punching skills.
Effective aggressor in initiating most punching exchanges
Good body puncher.
Strong defensive fighter, covers up well off ropes.
Rarely hit due to fantastic speed and movement.
Only uses jab against slugger types.
Dominates southpaws as easily as orthodox fighters.
Destroyed Virgil Hill with a crushing body shot.
Against Telesco backed up and outslugged bigger man with one hand.
In 5th round against Richard Hall he made opponent miss from all angles looking like Willie Pep.
The one knock is Jones sometimes carries opponents and is unwilling to take risks. They said the same thing about Jack Johnson.

Most of Roy's criticism comes from the fact that he has yet to face the legitimate number one contender, Germany's Darius Michalczewski. Some may claim Darius is the true champion by historical lineage but Jones holds all of the legitimate belts. The same naysayers mostly refuse to recognize Shannon Briggs as having been the heavyweight champion though he held the "historical" title that he won from George Foreman. Irregardless, it is Jones, not Michalczewski, who is considered to be the best pound 4 pound fighter in the game today. It seems amazing to me that Jones is under fire for not agreeing to fight Daruis when it is Jones who is the recognizable champion. Michalczewski will only take the fight in Germany. If he really wants a shot at Jones then let him come to the United States. Why should the world's best fighter be forced to defend his belts in enemy territory? Normally when a champion does go overseas to defend his title in a challengers homeland he is well compensated. This is only fair. The fact is Darius makes a good living fighting in Germany and after he loses to Roy his value may go down. Despite his boasts it is unlikely he will fight Jones in the U.S. He doesn't want to fight Roy Jones, not the other way around. If Darius wants the fight then let him come over here.

The only real challenge for Roy Jones Jr. may be at heavyweight. This would be a considerable risk. The day of heavyweight champions who weigh well under 200 pounds are probably long gone. Remember Roy started off as a middleweight and does not have a heavyweight's frame. It is possible for Roy to defeat Lennox Lewis, but in order to do so he would have to box the perfect match both strategically and tactically as Billy Conn did for 12 rounds against Joe Louis. He would also have to avoid making the mistake of trying to slug it out with Lewis if he hurt him. One punch from the 6'5" 247 pound Lewis would end matters in a hurry. Strategically Jones would have to find the perfect range. Billy Conn had the advantage of knowing Joe Louis was a precise mid-range puncher. Louis preferred to work in that area so Conn was able to box and move effectively on the outside. Lennox Lewis however, is an outside puncher whose long devastating right hand has destroyed large and powerful men. On the inside he would have to be constantly watchful for Lewis' crushing uppercut that has developed into a formidable weapon. Roy has the speed and skills to frustrate anyone. He can make Lennox miss (but can he make him pay?), he can slip and counter and move and try to outbox the larger man. Roy will have to avoid the ropes and keep the fight in ring center. One does not want to be against the ropes against someone with a 60 some pound weight advantage. If Roy could box the perfect fight with no mental lapses he could conceivably win a decision. Roy would finally give the fans the career defining moment that they seem to be begging for. If he loses, so what?. He was still a dominant light-heavyweight champion who was simply to good for his competition.

Historically, a fighter should be judged at his best weight. Unfortunately for Roy he may be not be appreciated by the boxing public until he is gone, as was the case of one Larry Holmes. There are just no challenges for Roy at light-heavyweight. He is too good. Roy is simply the best, better than all of the rest. As a 70's pop song said, "Nobody does it better. Baby you're the best!"