Cox's Corner
Lennox Lewis vs. Mike Tyson Preview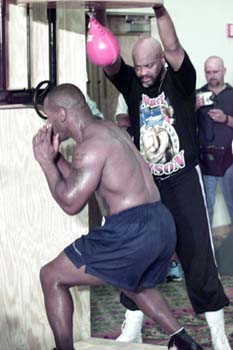 The biggest heavyweight superfight in many years is happening tonight. It is "the fight" fans have been waiting for. This match features two of boxings biggest all time power punchers and one can expect the fireworks to go off at some point during the contest. Either man is capable of winning this fight in an "explosive and sensational" manner as Tyson has promised to do. Lewis, the 6'5" goliath, with the long mercurial jab and smashing right hand versus Tyson, the bullish King Kong like slugger who can reign terror with either hand. Muhammad Ali once referred to Tyson as "Kong" the "son" of Frazier, meaning his short frame and punching style make him a very dangerous fighter inside.
This fight depends allot on what Lennox Lewis shows up. Will it be the cautious calculating chess playing Lewis who will try to outhink his opponent and grind out a decision in the end game? This is the Lennox who won twice (once officially) against Holyfield and boxed his way to a boring but effective decision over Tua. The Tua fight is worth a look here since in terms of style, size and strength there are many similarities between Tyson and Tua. Tua was beaten almost soley by Lewis jab in that fight and Tua was unable to get inside where he could do damage with his powerful hook. Tyson MUST get inside against Lewis. Tyson is a better inside fighter than Tua but he needs to be even more Joe Frazier in this one. Unlike Tua, Tyson often steamrolls opponents who retreat from him. Evander Holyfield has predicted a Tyson victory noting that "Lewis style is perfect for Tyson". Pressure, pressure, pressure, slipping and countering is the key to victory for Tyson.
The other Lewis who might show up is Lennox Lewis the destroyer, the one who annihilated big heavyweights like Razor Ruddock, Andrew Golata, Mike Grant, Francois Botha, and Hasim Rahman in their rematch earlier this year. The way to beat Tyson many believe is to stand up to him, back him up, and control the tempo. This is a risky strategy though. Lewis has a poor tendency to get lazy with his left jab. If he does this against Tyson he will wake up after the count of 10 as Tyson will make him pay with his devastating right hand. Lewis needs to be on his game with his jab. If he is, then conventional wisdom suggests that Lewis will slowly take apart Tyson and knock him out late.
Predictions: Always expect the unexpected in a heavyweight boxing match. Boxing is like no other sport in the world, it can end at any moment. Lots of questions in this fight make it hard to make a reliable prediction. Is Tyson in shape? He weighed in at 234 his 2nd career heaviest, he looks cut tho so perhaps this means little. Commentators have failed to mention that Lewis is also heavier than usual. Lewis normally weighs 242-245 and is 249 for this fight. Will Tyson fight dirty, get warned, and get dis-qualified? Tyson will virtually have to revert to some dirty tactics to get inside. This has been going on since before the Marquis of Queensbury rules were established. As Tyson has said in the past they are "not in their to dance" it's a fight, and rough-housing is part of the game. A lot may depend on the actions of the Referree in this fight. If Tyson is able to get inside early it will be a short night and Tyson will be the monster once again. Tyson can knock out anyone he can hit cleanly we've seen it many times. Golata who is also 6'5" and a big and strong heavyweight was crushed by Tyson. If Mike cannot get past Lewis jab Tyson will begin to fall apart mentally and will lose either by dis-qualification or by eventual knockout or perhaps even by decision. Tyson by early knockout or Lewis by late rounds win.
Monte