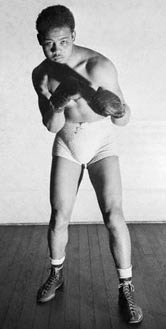 In 2005 The International Boxing Research Organization (IBRO) named Joe Louis as the greatest heavyweight-boxing champion of all time. "The Brown Bomber" had the longest uninterrupted title reign and the most successful title defenses in heavyweight history. Louis is highly respected by historians because he is regarded as the finest boxer-puncher ever filmed. He threw every punch with textbook perfection and put his entire body into his punches. He was one of the most fundamentally sound boxers ever seen, and was the best in a combination of both boxing skills and punching power. Joltin' Joe could jab, box, feint, counter, and set up his punches with wasteless efficiency.
It was 70 years ago that Joe Louis burst on the scene like a V2 rocket when he defeated Primo Carnera and Max Baer. Joe's trainer Jack Blackburn said of his dynamite young heavyweight in the July 27, 1935 Pittsburgh Courier, "His judgment of distance is remarkable, and I believe he is the best balanced fighter in the world today. If he misses with one hand, he is always in a position to punch with the other. He is the greatest puncher in the world barring nobody, and is never out of position."
Many today do not appreciate or understand how fundamentally flawless Joe Louis was. Some think of him as having poor footwork and lacking the maneuverability of some more modern champions such as Muhammad Ali or Larry Holmes. However "good footwork" means more than dancing around like a bunny rabbit to avoid punches. Footwork was used by Joe Louis to cut the ring by stepping forward and then drawing opponents into his punches by making subtle steps back. By pressing forward, inch by inch he would close the distance on his opponents and then by stepping back Louis would appear vulnerable, but when his opponent's moved in they were setting themselves up for his lethal counter-punches. Footwork can be used to create and close distance for balanced punching, not just dancing away as some fans think today.
One example of Louis ability of pressing and then stepping back to draw his opponents in can be seen from a brief description of one of his early fights against Art Sykes. The Oct 25, 1934 Chicago Tribune reported, "Joe stepped back for an instant, got the range and shot a right cross to the jaw. Sykes fell on his back, his head hitting the platform outside the ropes. He took referee Davey Miller's count without stirring, and it was several minutes before he was able to leave the ring."
One of Joe Louis spar mates, Seal Harris, may have said it best: "As he comes toward you, he seems to get smaller the closer he comes and then, he explodes at you. When he hits you, you think you been shot, and if he hits you right, you think you are dead."
---

" No Human body can take the punishment that Jolting Joe dishes out once he goes after his prey"

---



Joe Louis power shots were absolutely paralyzing. If one carefully studies Louis films one notices that his shocking punches momentarily freeze his opponents. Once stunned they are then finished off with some of the greatest rapid-fire combination punching in boxing history. His punching accuracy was the best ever seen in a heavyweight boxer, which is why many boxing historians consider him as the greatest offensive fighter amongst the all time heavyweights.
Joe Louis had far more power than heavyweights of much greater size. In terms of shocking punches he was at least the equal of Mike Tyson. Tyson at his peak weighed 216 pounds for Michael Spinks, not that much "bigger" than Louis strongest weight of 207, his weight when he destroyed Abe Simon and Buddy Baer in rematches. Joe Frazier weighed only 205 when he dropped the ever-durable Muhammad Ali. Earnie Shavers considered one of the hardest hitters amongst all heavyweights weighed 211 for his title shots at Muhammad Ali and Larry Holmes, only 4 pounds difference from Louis best fighting weight. It's not about size, but technique, explosive speed, a sense of timing and distance which are attributes that Louis had in abundance.
Ring Magazine founder Nat Fleischer writing in the April 1939 Ring Magazine said, "No human body can take the punishment that Jolting Joe dishes out once he goes after his prey. That has been proved conclusively in his last few contests." No human body. It didn't matter how big they were.
Louis sends the 6' 6" 250 lb. Buddy Baer down for the count.
Louis absolutely feasted on large targets. This can be easily seen by anyone who seriously studies the films of his fights. In his first fight with the Lennox Lewis sized Buddy Baer he spun his foe to the canvas with a right hand that traveled about 6 inches. It looked much like the right hand that Mike Tyson hit Frans Botha with. While not a great fighter, Buddy was as big as modern heavyweights and he was a legit contender with a respectable 50-5 record at the time. Buddy was absolutely destroyed by Louis in two fights. Louis proved he had the power to not only knock out heavyweights of "modern" size but to utterly annihilate them. Abe Simon was as big as the old George Foreman, and he had a similar build about 260 pounds, with huge back and shoulder muscles and a square jaw made to absorb punishment. Simon held a knockout victory over Jersey Joe Walcott, yet Louis blazing punches, especially in their second fight, crushed him.
If James Toney, a blown up middleweight, can outbox John Ruiz who was competitive with and beat big modern heavyweights, then what would Joe Louis do? No matter how you slice it Louis hit much faster and harder than Toney. Why was Toney successful? Because he has boxing skills and good punching accuracy. Although Toney fights rather flat-footed that has not kept him from beating today's contenders and champions. Despite his success, Toney's technique and punching power pales in comparison to that of Joe Louis, who was the most elementary sound, efficient and accurate punching heavyweight in history.
Former heavyweight champion Max Baer, at 6' 3", 210 pounds and an 81-inch reach was about the same size as Muhammad Ali in his prime. When he met Joe Louis in the ring, he was only one year removed from having lost the heavyweight title on an upset decision to "Cinderella Man" James Braddock. Max had never been off of his feet in a boxing match prior to facing Louis. Baer had a proven tough chin, yet J