Cox's Corner
Middleweight Results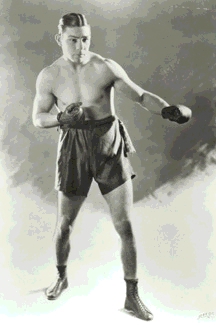 Middleweight Winner: Harry Greb
Record: 105-8-3 183ND (48 Ko's)
| | | | | | | | | | |
| --- | --- | --- | --- | --- | --- | --- | --- | --- | --- |
| Harry Greb | Ray Robinson | Marvin Hagler | Stanley Ketchel | Carlos Monzon | Bob Fitzsimmons | Mickey Walker | Roy Jones | Jake LaMotta | Tony Zale |
| 83 pts | 77 pts | 60 pts | 60 pts | 60 pts | 44 pts | 32 pts | 20 pts | 19 pts | 19 pts |
Other Middleweights Receiving Votes: Gene Fullmer (11 pts), Dick Tiger (10), Charley Burley (10), Philadelphia Jack O'Brien (8), Marcel Cerdan (7), Ray Leonard (6), Tiger Flowers (6), NonPareil Jack Dempsey (5), Mike Gibbons (5), Carmen Basilio (4), Kid McCoy (4), Tommy Ryan (3), Nino Benvenuti (2), Les Darcy (1), Jack Dillon (1), Rocky Graziano (1).
Monte's Notes:
Two new pollsters step in as replacements this week. Stephen Gordon (GorDoom), the Editor of CyberBoxingZone, steps into replace Furry Murry. And Enrique Heredero replaces Pete Lugo who is absent.

Harry Greb takes first place based on the overall strength of his support from all of the panelists with 83 out of 100 possible points.

Ray Robinson had the most first place votes with 4 of the 10 panelists rating Robinson first at 160 pounds. Robinson was our winner at 147 lbs.

Robinson and Mickey Walker are multi-division winners notching top 10 spots at welterweight and middleweight.

Bob Fitzsimmons, the only middlweight champion to win the heavyweight title, received two first place votes and two second place votes but lacked support with many of the other panelists. He still managed a 6th place finish.

Congrats to Dennis who had 9 out of 10 of the top finishers by consesnsus results! In a very competitive week!!
Why They Voted The Way They Voted:
Dennis: This was the hardest one yet. IMO the middleweights is the greatest division with too many great fighters to choose from.

Monte: Greb was the ever in your face nightmare who had unending stamina, and kept coming and you could not stop him. He had great hand speed and a steel chin. He would wear down any opponent his size given enough rounds. He sapped the energy out of his foes and battered them mercilessly. The greatest middleweight ever!

Eric: Greb may have been the greatest fighter, pound-for-pound, who ever lived. Certainly, he was among the top 2 or 3. He combined the speed of Ray Robinson, the durability of Jim Jeffries, the stamina of Henry Armstrong, and the unbridled ferocity of Stanley Ketchel with a will to win unsurpassed in the annals of sport. At his peak, he was unbeatable, defeating virtually every middleweight, light-heavyweight and heavyweight of his generation. A great, great fighter.

Tko Tom: 6 title defenses and the only man to ever beat Gene Tunney. Greb also beat other top Heavyweights of his day. Greb also holds a win over Mickey Walker. It was so hard to place him over Robinson at 160 pounds, but I just feel that he would have been too strong for Ray who was a natural Welterweight in my view.

Don: Fitzsimmons the hardest puncher pound-for-pound of all-time.

Heath: Sugar Ray Robinson - Best ever, past his prime and yet still good enough to be the best in this division.
To Learn More About Middleweight Winner Harry Greb go to: www.harrygreb.com
To See How Each Panelist Voted (Click Here)