Cox's Corner
Pound 4 Pound Results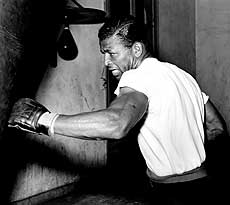 P4P Winner: Ray Robinson!
1. Ray Robinson
190
2. Henry Armstrong
162
3. Muhammad Ali
144
4. Roberto Duran
129
5. Jimmy Wilde
119
6. Sam Langford
114
7. Joe Louis
107
8. Willie Pep
099
9. Benny Leonard
096
10. Harry Greb
085
11. Bob Fitzsimmons
076
12. Jack Dempsey
064
13. Ray Leonard
057
14. Eder Jofre
052
15-16. Joe Gans
043
15-16. Archie Moore
043
17. Stanley Ketchel
042
18. Mickey Walker
039
19. Terry McGovern
034
20. Barney Ross
033
Other All-Time Greats Receiving Votes: Alexis Arguello (30), Gene Tunney (26), Pernell Whitaker (25), Rocky Marciano (22), Julio Cesar Chavez (20), George Dixon (20), Carlos Monzon (20), Nonpariel Jack Dempsey (18), Jack Johnson (18), Tony Canzoneri (18), Ezzard Charles (18), Charlie Mitchell (16), Roy Jones, Jr. (15), Michael Spinks (13), Philadelphia Jack O'Brien (12), Jimmy Barry (10), Original Joe Walcott (9), Kid McCoy (7), Ricardo Lopez (7), Tommy Ryan (6), Johnny Dundee (4), Sandy Saddler (4), Pascual Perez (4), Khasoi Galaxy (4), Jimmy McLarnin (3), Marvin Hagler (3), Thomas Hearns (2), Abe Attel (1), Fighting Harada (1), Emile Griffith (1), Carlos Zarate (1)
Special Note By Tracy Callis (International Boxing Research Organization):
All historical rankings are subjective. Pound-for-pound is the most difficult
of all. Not only does one try to rate men against others from different
periods of history but also from different weight classes.

Usually, the considerations are:
(1) how well a man dominated his weight class
compared to how others dominated their weight class,
(2) the ability of a man
to fight successfully against others who were larger and heavier than
himself,
(3) how well a man did over his career if he moved up and fought in
heavier weight classes, and
(4) a "gut" feel as to how a man compared to
others. At the same time, one has to consider the calibre of opposition a man
faced. Unfortunately, many people select a man on the basis of #4 instead of
the first three.

Monte's Notes:
Ray Robinson dominated the oppostion with a whopping 190 out of 200 possible points.

The P4P top 20 is a solid looking group featuring history's greatest fighters.

Examining them by the lowest weight class in which they won titles we have:

3 Heavyweights (Ali, Louis, and Dempsey)

1 Lightheavyweight (Moore)

2 Middlweights (Ketchel, and Greb)

3 Welterweights (Robinson, R. Leonard, and Walker)

3 Lightweights (Duran, B. Leonard, and Gans)

2 Featherweights (Armstrong, and Pep)

2 Bantamweights (McGovern, and Jofre)

1 Flyweight (Wilde)

1 Non-Champion (Langford)

The Panelist with the most picks by Consensus Results was Yours Truly with 18/20.




Special thanks to Eric J. who did the math this week!
Why They Voted The Way They Voted:
Tko Tom: 1. Ray Robinson. Really no surprise. Robinson fought and beat the best of a generation of fighters and he usually did it in exciting fashion. Robinson had a flair all his own in and out of the ring. His ring record reads like a who's who of the Hall of Fame.

Monte: Joe Gans was considered the greatest of them all by many veteran observers until mid-century. As time goes by the old timers lose respect because those who actually saw them fight have long since passed and because of the lack of quality fight films of their era. Gans had speed, shocking power, endurance, durability, experience, and defensive wizadry. He was a master at feinting but could not be feinted. As a counterpuncher he was second to none. He threw perfect Joe Louis like punches. He defeated a vast array of talented fighters on the way to the title and made 14 successful title defenses as champion, a record to this day in the lightweight division. In short he had every asset to be named as the greatest fighter of all time.

Dennis: I believe that Duran deserves to be recognized as the single greatest fighter of all time. His reign at lightweight was enough to get him on the list, his beating of Leonard, great fight with Hagler, taking the Middleweight title as age 36 and being the only man to ever win both the lighweight and middleweight titles, are but a few highlights of his career. Other's will argue his low points, but that could be done with everyone on the list if we wanted to focus on the negative but IMO Duran at prime and at peak condition is as close to unbeatable as any fighter I have ever seen.

Pete: Henry Armstrong's feat of holding the Featherweight, Lightweight andWelterweight belts simultaneously is astonishing. There were only 8 total belts to be had at the time, and he held almost half of them.

Alex: Muhammad Ali was 'The Greatest'. He was the fastest, bravest, smartest and one of the most skillfull and toughest fighters of all time. His greatness enabled him to completely overshadow two decades of the finest heavyweights in history. He had flaws but got away with them because of his laser quick speed. Muhammad Ali was a fighter, a legend and a hero to millions. And the best fighter there ever was.

Eric: Jack Dempsey gets my vote. It's a controversial pick in these days of revisionist history, but Dempsey was the runaway consensus as the all-time pound-for-pound champ in the eyes of those who saw him. Extraordinarily fast, impossible to hit cleanly, impossible to hurt, possessing devastating one-punch knockout power in each hand, and, most important of all, possessing a tireless, unstoppable and utterly unshakable will to destroy that has simply never been seen in the ring before or since. The greatest of all.
To See How Each Panelist Voted (Click Here)