Cox's Corner
Cox's Corner All Time Divisional Boxing Ratings
By: Monte D. Cox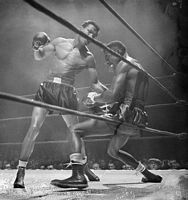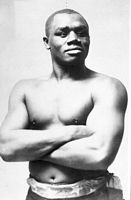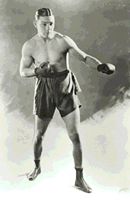 July 4, 2008.
Fifty years ago in 1958 Nat Fleischer, founder of Ring magazine, published for the first his all time divisional boxing ratings. In celebration of the 50 years that have since past I offer my all time divisional ratings. In Nat's original ratings he rated men in only one division. In 2005 I participated in the IBRO (International Boxing Research Organization) all time poll where we decided to avoid debates over what division a multi-division champion should be rated in by having the voters rate boxers in each division they were eligible. In my personal ratings I have rated boxers only at their best weight. I prefer to rate fighters at their absolute peak. For instance, men like Gene Tunney and Ezzard Charles are considered at light-heavyweight, while Bob Fitzsimmons is rated at middleweight and Ray Robinson at welterweight and not in other divisions. There have been 50 more years of boxing history since Nat Fleischer offered his ratings. Some historians will not give credit to modern fighters. Some younger fans do not give credit to the greats of the past. Certainly anyone can argue the order of the rating's of fighters since such a subject is purely subjective. My researched ratings are both fair and balanced. Here is Cox's Corner's all time boxing ratings.

Heavyweight Ratings
Joe Louis
Muhammad Ali
George Foreman
Larry Holmes
Sonny Liston
Jack Dempsey
Jack Johnson
Lennox Lewis
Mike Tyson
Joe Frazier
(Just Missed: Rocky Marciano, Jim Jeffries)
Why Jeffries has dropped in my rankings: While I do not question his athleticism, strength, or endurance there are 3 reasons for dropping him from my list. 1) He only won 15 pro fights. 2) Lack of good quality film in which to make a realistic assessment 3) His punching power is over rated based on his record. The claim that Jeff hit as hard as Foreman or Liston seems nonsensical based on fighters like Sharkey and Choynski going the distance with him, and more importantly an overall lack of early round knockouts. Jeff wore down his opposition he did not, in general, overpower them early.
Heavyweight Champions:
Best Jab: Larry Holmes
Best Left Hook: Jack Dempsey
Best Right Cross: Joe Louis
Best Uppercut: George Foreman
Best Body Punching: Joe Frazier
Best Footwork: Muhammad Ali
Best Defense: Jack Johnson
Best Combination Punching: Joe Louis
Hardest One Punch: George Foreman
Strongest Physically: George Foreman
Best Overall Puncher (includes power and accuracy): Joe Louis
Best Chin: Muhammad Ali
Best Stamina: Jim Jeffries
Best Fundamentally: Joe Louis
Fastest Overall: Muhammad Ali
Best Overall Boxing Stylist: Muhammad Ali Best Competition: Muhammad Ali
Light-heavyweight Ratings:
Sam Langford
Gene Tunney
Ezzard Charles
Tommy Loughran
Mike Spinks
Archie Moore
Bob Foster
Roy Jones Jr.
Billy Conn
Philadelphia Jack O'Brien
Note: Jones is my controversial pick but he was the fighter of the decade for the 90's.
Middleweights:
Harry Greb
Bob Fitzsimmons
Carlos Monzon
Marvin Hagler
Stanley Ketchel
Bernard Hopkins
Charley Burley
Marcel Cerdan
Dick Tiger
Jake Lamotta
Note: My top 5 is irrefutable, order debatable.
Welterweights:
Ray Robinson
Ray Leonard
Joe Walcott
Mickey Walker
Thomas Hearns
Jose Napoles
Kid Gavilan
Emile Griffith
Ted "Kid" Lewis
Luis Rodriguez
Note: Floyd Mayweather's career does not give him a top 10 spot. Rodriguez, for example, had a better career than Floyd beating Emile Griffith, Benny Paret, Hurricane Carter, Curtis Cokes, Georgie Benton and Bennie Briscoe. I cannot in all honesty put Mayweather in the top 10 welterweights based on a career of hand picked opponents and having never unified a major title. Also I am far from convinced that Floyd would beat any of my top 10 welterweights.
Lightweights:
Joe Gans
Benny Leonard
Roberto Duran
Pernell Whitaker
Aaron Pryor
Barney Ross
Tony Canzoneri
Julio Cesar Chavez
Jack Blackburn
Ike Williams
Note: My top 3 lightweights all make my top 10 greatest fighters ever.
Featherweights:
Henry Armstrong
Willie Pep
Alexis Arguello
Sandy Saddler
Kid Chocolate
Salvador Sanchez
Abe Attell
Jim Driscoll
Johnny Dundee
Manny Pacquiao
Note: Pacquiao breaks the top 10.
Bantamweights:
Eder Jofre
Terry McGovern
George Dixon
Carlos Zarate
Rueben Olivares
Panama "Al" Brown
Pete Herman
Manuel Ortiz
Kid Williams
Jeff Chandler
Flyweights:
Jimmy Wilde
Pascual Perez
Miguel Canto
Pancho Villa
Jimmy Barry
Fidel LaBarba
Frankie Genaro
Benny Lynch
Fighting Harada
Ricardo Lopez
All Time Pound 4 Pound
Ray Robinson
Joe Gans
Harry Greb
Henry Armstrong
Joe Louis
Muhammad Ali
Sam Langford
Benny Leonard
Roberto Duran
Ray Leonard
Note: Willie Pep and Bob Fitzsimmons fall just short of the top 10. It's simple I think Ray Leonard could beat you in more ways than could Pep who was a pure boxer or Fitz who relied more on his punch.