THE LEWIS-HOLYFIELD TRAGEDY
BY: Monte Cox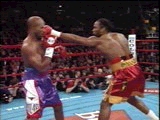 Tragedy is defined by Websters as: "a drama representing an important event generally having a fatal issue". A "tragedy" occurred in the sport of boxing last Saturday March 13th. What can only be described as the worst decision in heavyweight history once again threatened to sound the death knell to the sport. The sport of boxing may have forever distanced the marginal fan from interest in its once venerated form of mano-y-mano competition.
British heavyweight Lennox Lewis did everything a boxer could do, short of a knocking his opponent down (or out), to become the undisputed heavyweight champion of the world. Lewis dominated Evander Holyfield landing 57% of his punches, outscoring him 348 to 130 by Compubox numbers. Further, he landed more jabs than Holyfield landed punches in the entire fight! In all 4 categories of judging Lewis was clearly better. 1) He landed more often with "clean and hard punches". 2) He was the better "ring general" keeping the fight in ring center and fighting "his fight" - which was to use his reach and keep Holyfield forever at bay with his rapier left jab. 3) Lennox had better defense covering up effectively whenever Holyfield tried to rally, while Evander was hit easily every time Lennox opened up. 4) Holyfield was aggressive at times, but not effective. Lewis initiated most of the punching exchanges and therefore was the "effective aggressor".
Every sports writer, boxing fan, boxing historian, and fighter who witnessed the bout all saw Lennox Lewis win. Al Bernstein of ESPN had it 11-1 for Lewis in rounds. Brian Kenny, of ESPN2's Friday Night Fights had it 10-2. Professional boxing judge and HBO commentator Harold Lederman had it 9-3. The AP also had it 9-3. I had a couple of "sympathy" rounds for Holyfield and still saw Lewis win going away 8-4. Former heavyweight champion George Foreman e-mailed me saying "I did not see the fight close at all. Holyfield did nothing at all".
This is not the first time boxing has suffered a controversial decision. However, never in a century of boxing, has there ever been a decision this terrible in a major heavyweight championship fight. Louis-Walcott 1 in Dec. 1947 was unpopular, but in those days the judges wouldn't even consider giving the title to a fighter who ran for most of the bout. Ali-Norton 3 was disputed but it was close 8-7 either way. Ali-Young was also contested, but Jimmy Young kept sticking his head out of the ropes to avoid Ali's punches, which was unpopular with the judges. No. This is the worst decision in a fight of this magnitude in boxing history.
How could it happen? How could the three officials rule it a draw? It was what TVKO commentator Jim Lampley called "an outrage, a travesty". Judge Jean Williams actually had Holyfield winning the fight on her card!? In the 5th round Lewis outlanded his opponent 4-1 in volume of punches and had Holyfield in trouble against the ropes, yet she scored that round for Holyfield! She now claims she couldn't see. That's what we figured, another blind judge! The NY Post reported that she filed for bankruptcy on Jan.25th, which only places her pitiful scoring under greater scrutiny. Further revelations by the British "Sunday Morning Mirror" have exposed bank accounts upward of $40,000 US dollars. She claimed in bankruptcy court only two months ago that she had only "twenty dollars" to her name. It reeks of foul play!!
Who is the culprit in this apostasy? Most boxing insiders will say one need look no further than the fight's promoter Don King. He stood to lose control of the heavyweight title had Lewis won - since he has no contract options on him. King has been involved in other controversial affairs such as the hotly disputed Whittaker-Chavez draw in Sept. 1993. In that match Whittaker seemingly out-boxed Don King's top fighter but had to settle for a bitter draw from the officials.
King has allegedly given bribes to officials. In the expose, "Only in America: The Life and Crimes of Don King" by Jack Newfield, several such accounts of malfeasance are reported. Larry Holmes had lost a close fight to Tim Witherspoon in 1983 by the reports of most ringsiders. Larry, who was promoted by King, later said "the judges gave me the fight". One judge Chuck Hassett had Larry winning 118-111 in what seemed a very close fight (pg.226). Tim Witherspoon, said he once offered a judge "$3,000.00 to look out for me". King had told him that if his opponent Pinklon Thomas was "still standing" after the fight he would lose the decision (pg.233). Sure enough after 12 rounds Thomas was awarded a majority verdict.
King is also suscpected of paying off the judge that reduced his murder conviction to manslaughter. It was done after a private meeting with King's lawyer, according to Newfield. It was a docket entry, and not done in open court in the presence of the prosecution. The jury found him guilty of murder, but the judge reduced his sentence. The Cleveland Plain Dealer headlines for July 24, 1967 read: "JUDGE CUTS HOODS MURDER PENALTY" (pg.15). If King can pay off a real court room judge why not a boxing judge?
Even without the prospect of being "paid-off" judges receive their purse from the promoter. This creates a closeness between the promoter and the judges which should not exist. The judges realize that Don King is a big promoter. By showing favoritism towards his fighters they have a good chance of continuing to work on his cards and make a living. It is also well known that Don has a good relationship with several heads of boxing organizations such as the WBC's Jose Sulaiman.
What can be done to avoid such tragedies in the future? There must be an investigation. The IRS should audit the bank accounts of the officials in this particular fight. Don King should be investigated (again). The judges who were either paid-off or were totally incompetent should be banned from working a championship fight ever again!
Sen. John McCain has called for boxing reforms. If boxing is to survive as a major sport in the next century, then changes must be made. As boxing fans concerned about the direction of the sport, we should do all we can to see to it that Sen. McCain's efforts are supported.
In a news report on CNN, Don King said "let the fans say the fight was fixed. I fix-up fights...that's what I do." We believe you Don.