Cox's Corner
Vladimir Klitschko: Is he the next great heavyweight?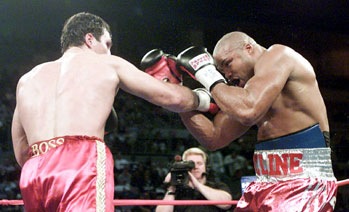 Former Olympic Gold Medal winner and wunderkind Vladimir Klitschko disposed of one Jameel McCline with a systemic and strategic display of boxing ability. Klitschko is a rare heavyweight who has both crushing power and ring intelligence. Klitschko not only has a large amateur background in boxing but also owns a PHD and is an avid chess player. Against Mccline it was as if Professor Vladimir was playing chess with his opponent, slowly building up his positional advantage before smashing through his opponent's defense with a powerful tactical shot. A combination of blows finally put an end to Mcline's resistance at the end of the 10th round.
On paper McCline was just the type of fighter Vladimir needed to put the heavyweight sensation to the test. McCline like Klitschko stands 6'6" and also had a 23-pound weight advantage with a solid muscular build. His credentials included a first round Ko over Michael Grant who was once considered the "future of the heavyweight division" the same type of accolades now laid upon Vladimir, as well as stunning victories over name heavyweight opponents such as Shannon Briggs and Lance Whittaker. McCline went into a defensive shell and was thoroughly prepared to meet Vladimir's vaunted straight right hand. Unable to blast through with his powerful right Vladimir slowly dissected his opponent, hammering him with potent left jabs while displaying a strong left hook to punish McCline, who was never able to mount an offensive. Klitschko dominated the fight keeping constant control of his opponent. McCline was reduced to a fighter who reacted to everything his opponent did and was unable to muster any type of counter-attack. Overall it was a very strong performance by Klitschko.
What did we learn about Vladimir? Is he the next great heavyweight? Here is my brief analysis:
Throws straight and accurate punches.
Strong left jab possibly the best in the division after Lennox Lewis.
Powerful straight right cross.
Solid left hook, one of the few heavyweights who can throw a double hook.
Throws virtually every punch picture-book perfect.
Is very economical and doesn't waste punches.
Works the body consistently.
Shows poise and calm in the ring. Fine ring generalship.
Has good footwork for both offense and defense.
Solid defensive structure, hold his hands properly and picks off punches well.
Vladimir apparently has all the tools needed to take him to the top of the boxing world. So am I ready to jump on the Vladmir Klitschko bandwagon? Not quite. I am reminded of a past, so called, "white hope", one Gerry Cooney. Like the Klitschko brothers he was a big and powerful heavyweight. Cooney had a strong and powerful jab and while not possessing a strong right he had the best left hook in the division which had destroyed a faded Ken Norton and Ron Lyle just as Vladmir had annihilated an over the hill Ray Mercer. Cooney looked every bit a world-beater and was undefeated going into his title shot against Larry Holmes, but his chin was an unknown quality. Once he got cracked really hard the giant collapsed and never recovered. However, unlike Cooney's managerial team, who was content to sit on a top rating and wait for their big money fight, the handlers of the Klitschko brothers are making sure their fighters stay busy and learn their lessons so they are prepared when the big fight comes. Klitschko's chin, like Cooney's is of unknown quality, so in that respect the jury is still out. In a further comparison, Vladimir has a much better defense and footwork than that of Cooney. Vladmir is also a more seasoned fighter at this stage of his career than was the still green Cooney when he fought Larry Holmes.
Vladimir's lone blemish on his professional record came 4 years ago to Ross Purity when he ran out of gas while leading most of the fight. This problem has been alleviated as he has adjusted well from the transition of amateur star to professional athlete. Vladimir's biggest wins include a clear 12 round decision over the elusive Chris Byrd who defeated his brother Vitaly and recently beat Evander Holyfield, as well as crushing knockouts of Derrick Jefferson, Francois Botha, Ray Mercer, and now Jameel McCline.
In attempting to answer to the question "Is Vladmir Klitschko the next great heavyweight?" once must consider the big question mark of his chin. He also has some scar tissue over both eyes which means he may be vulnerable to cuts, add to this the factor that his trainers don't use the proper blood coagulant could spell trouble for Vladmir in the future. Vladmir has a classic boxing style, power in both hands, a great jab, doesn't waste his punches and places them with deadly accuracy all rare attributes for a heavyweight. I like what I have seen so far but until he proves the quality of his chin I could not pick him over Lennox Lewis.

UPDATE Sat Mar 8 2003. SHOCKER: Sanders KOs Klitschko! This happened in two rounds with powerful lefts from Sanders telling the tale. I hate to say it, but my article seems prophetic. Klitschko's chin has been tested and it failed.