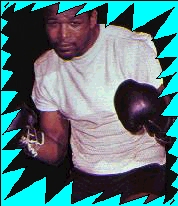 Choosing the "Fighter of the Century" is like trying to choose the most beautiful women of the century. It can be a difficult choice. The consensus opinion for the latter would probably be Marilyn Monroe, but by today's standards, she might actually be considered "fat". There is a quality beyond substance that makes one exceptional, we might call it charisma or pizzaz, that something extra that makes one special. If we are judging the top fighter of the century on the basis of being bigger than the sport - one who has that extra appeal- there are only two real candidates a) Muhammad Ali and b) Ray Robinson.
Sticking to the premises introduced in the "Best of the Century" lead article: 1) best pound 4 pound; 2) best in terms of technique; the winner has to be Sugar Ray Robinson! The key word is best "Fighter" of the century. Ali may have been the most popular athlete, but Robinson was the greatest "fighter."
In the Aug. 1980 Ring Magazine Robinson was named as the greatest fighter of all time. In the June 1988 Ring he was tabbed as the greatest middleweight of all time. Robinson is also considered by most boxing historians as the greatest Welterweight of all time. In our decade by decade analysis of the greatest fighters of all time Robinson and Sam Langford were the only two considered for nomination in two separate decades. In order to have 10 nominees a fighter was only allowed to win once. Robinson otherwise would have won for both the 40's and the 50's. These assertions speak highly of the great Robinson.
Whatever that extra something is- Ray Robinson had it. Robinson like Ali, was exceedingly popular with the fans. Crowds of thousands would gather just to watch him skip rope. Robinson was the complete master boxer-puncher. He had speed, power, and charisma. One promoter said he was "an artist like a musician, or a dancer." Robinson demonstrated that boxing wasn't only strength or power but like ballet emphasized skill, beauty, rhythm, co-ordination, timing, and balance. Like a great dancer he was always in position and moved with a progressive flow. His combinations were picture perfect. Perfect is one of the best words to describe Robinson in his prime. He was the closest thing to perfection boxing has ever seen.
Robinson's record of 128-1-2 with 1 no contest is one of the greatest in ring history. Robinson was so dominant from 147 to 160 pounds he had no peer for more than a decade, which included an 8 year unbeaten streak. His competition was possibly the best in boxing history facing and beating Henry Armstrong, Tommy Bell, Kid Gavilan, Jake LaMotta, Rocky Graziano, Randy Turpin, Bobo Olsen, Carmen Bailio, and Gene Fullmer. He was also indestructible in rematches. He not only won but usually knocked his opponents out. Top trainer Teddy Atlas said "If I had a guy who beat Ray Robinson I'd be sure to do one thing. Don't give him a rematch. Ray had more than talent he had genius!" Robinson kayoed Turpin, Olsen, and Fullmer in rematches after having lost in their first encounter. Further all of those fights took place when Ray was already over 35 and past his peak. 12 0f his 19 losses came when he was past 40. 16 of his 19 losses came after making a comeback after a three year lay-off at age 34. His overall record of 175-19-6 with 109 Kayo's is very impressive. The winner of the "fighter of the century in 2099 will probably not have anywhere near a 109 fights.
This group of fighters Joe Gans, Sam Langford, Benny Leonard, Joe Louis, Ray Robinson, Archie Moore, Muhammad Ali, Roberto Duran, Ray Leonard, and Roy Jones Jr. is an elite group. I'd take the lot of them in any pound 4 pound selection that any century could produce. Ray Robinson? Sweet as Sugar. The greatest of this or any century!
Back to Cox's Corner