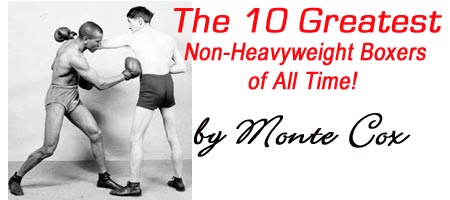 Although the heavyweight division attracts a lot of attention from both hardcore and casual fans it is the lower weight classes that have produced most of the greatest "pound for pound" fighters. In this article we shall examine the ten best non-heavyweight boxers of all time.

Choosing 10 for a list of the greatest fighters ever is no easy task. Some true all time greats are going to be left off. It is not easy to be fair and objective to fighters of all ages. There are so many great fighters to choose from in boxing's rich and illustrious history that some famous names past and present are going to be omitted by such a short list. For sake of maintaining my theme of "non-heavyweight" I have disregarded boxers who have won the heavyweight title even though their primes may have come at a lower weight.

After narrowing down such a list trying to put an order to them is an even more daunting task. When one considers 120 years of boxing history the gap between number one and number two is invisible. Indeed the gap between numbers one and ten is very small. It's like splitting hairs. Indeed an argument could be made that virtually any of the boxers in the top ten could be considered for the top spot and that is why they are on this list. For that reason I give them in historical order of appearance

.

Joe Gans (Lightweight Champion 1902-1908).

Joe Gans was perhaps the most complete fighter who ever lived. Gans combined the iron man toughness of the old timers with the complete skills of a great boxing stylist. Joe mastered every part of the game the jab, defense, feinting, countering, and body punching. Called "The Old Master" because he was fundamentally flawless, he rarely made a mistake in the ring, he never wasted a punch, and his trip-hammer blows traveled only a few inches. He attacked vital points with pinpoint accuracy and threw every punch perfectly, in combinations and with bewildering speed. He also possessed one punch knockout power in either hand enough to starch welterweights. When The Old Master knocked them out they often had to be carried back to their corner after the 10 count. Gans defeated an impressive list of opponents, Young Griffo, Dal Hawkins, Bobby Dobbs, Kid McPartland, Elbows McFadden, Frank Erne, Jack Blackburn, Mike "Twin" Sullivan, Jimmy Britt and Bat Nelson. He also held welterweight champion Barbados Joe Walcott to a draw in a fight most thought Gans won according to newspaper accounts. Joe Gans was a complete fighter who would be great in any era. His skills were so astonishing that he was considered to good to be true, and yet he was true. His 14 title defenses are still a division record.

In a head to head comparison with Ray Robinson, the most popular choice for greatest fighter of all time, Gans was equal in speed, skill and punching prowess and superior in his defense. Defensively Robinson relied primarily on his height, reach and footwork to avoid punches. When cornered he would duck, turn sideways and roll with punches but he was often hit cleanly by his opponents. Robinson was not clever when it came to eluding punches. In his '51 fight against Jake Lamotta he was even hit by Jake's slow jabs. Gans, a master at stopping an opponent's leads, would never be hit by this kind of a punch. Gans classic defense with glove and elbow blocking was much tighter. Joe Gans defensive capability was far superior to Robinson, and his speed, power and athleticism is comparable. In terms of sheer talent Gans was every bit as good as Sugar Ray, and technically better overall.



Sam Langford (Fought 1902-1926)

Langford never won a world title but was perhaps the most feared fighter in boxing history. He was one of the most prolific punchers of all time scoring more knockouts than George Foreman and Mike Tyson combined with 138 career knockouts. While he was little more than a middleweight, he knocked out virtually every top heavyweight of his era including Joe Jeannette, Sam McVey and Harry Wills at least once each. Possessor of a granite chin he was able to absorb punishment from much bigger and stronger men and finish them with his own devastating punches. However, he was not just a destructive hitter, but also a sound technician in the ring with an excellent jab and solid defense, slipping punches, shoulder rolling and countering. He fought the latter part of his career virtually blind. Even then he was extremely dangerous knocking out the likes of future Middleweight champion Tiger Flowers in two rounds while blind in both eyes. Langford is considered by most historians among the elite of the greatest fighters of all time, and some consider him to be the greatest fighter ever.




Benny Leonard (Lightweight Champion 1917-1925)

The great trainer Ray Arcel once said that the two best fighters he ever saw were Benny Leonard and Ray Robinson and hesitated on picking between them. Of Leonard he said, "His mental energy surpassed that of anyone else." Indeed "The Ghetto Wizard" was a clever tactician and ring strategist with a brilliant mind who believed and taught that boxing was the art of out thinking one's opponent. At this few were Benny Leonard's equal. Leonard was a master boxer who possessed superb defensive footwork, speed, and elusiveness. He was superb at feinting and counter-punching as well as being a great combination puncher. In many ways Benny was the Muhammad Ali of the lightweight division as he defeated the greatest array of challengers in lightweight division history including Freddie Welsh, Willie Ritchie, Johnny Dundee, Ritchie Mitchell, Charley White, Lew Tendler, and Rocky Kansas.



Harry Greb (Middleweight Champion 1923-1926)

Nicknamed the "Human Windmill" for his quick hands, fast starts, unceasing firing and pressuring tactics; Greb has a record of competitors that is simply outstanding. In around 300 professional fights Greb faced an impeccable array of challengers. As a middleweight he defeated 7 world light-heavyweight champions including Tommy Loughran and Maxie Rosenbloom, as well as light-heavyweight master boxer Tommy Gibbons. He handed future world heavyweight champion Gene Tunney the only defeat of his career. Greb bested welterweight champion and future middleweight champion Mickey Walker, regarded among the greatest ever fighters in both weight classes. He also beat Mike Gibbons, considered by many historians as a top 10 all time middleweight. Other victims include George "Ko" Brown, who twice went 20 rounds with the legendary Les Darcy, and Battling Levinsky rated # 6 all time at 175 pounds by Ring founder Nat Fleischer in 1958, as well as Jack Dillon, nicknamed "Jack the Giant Killer", also considered by many historians among the top middleweights and light-heavyweights of all time. Greb also defeated several contending heavyweights. Greb was the epitome of the "tough" fighter, sometimes dirty and always aggressive. He simply rained blows on opponents at every turn. Pound for pound there were few, if any, greater then Harry Greb.



Henry Armstrong (Featherweight Champion 1937-1938, Lightweight Champion 1938-1939, Welterweight Champion 1938-1940).

A triple-crown champion who held all of his title simultaneously and involved no junior titles. He was the ultimate pressure fighter, swarming his foes and breaking them down with non-stop punching and aggression. He moved his head quickly, bobbed, weaved and went to the body like no one else. In his fight with Barney Ross the broadacast commentator said, "How do you stop a hurricane?" Armstrong was a force of nature. It was found after his death that he had an abnormally large heart that allowed him to set a furious pace. His opposition eventually wilted from the constant pressure. He scored 27 straight knockouts in 1937-38 winning the featherweight championship in the process. When he lost a close decision in his lightweight championship rematch to Lou Ambers it snapped a winning streak of 46-0 with 39 knockouts. Settling in at welterweight he made 19 successful defenses of that title, still a record today. Hank defeated excellent fighters such as Petey Sarron, Lou Ambers, Barney Ross, Ceferino Garcia, Lew Jenkins, Sammy Angott, and Bummy Davis in his career. Hammerin' Hank belongs on any list of the greatest fighters of all time.



Willie Pep (Featherweight Champion 1942-1948, 1949-1950).

The "Will-o-the-wisp" was a defensive genius and master boxer of the first order. He scored 230 career victories, which is simply astonishing. His peak record of 135-1-1 is the greatest won-loss achievement in ring history. Fighting Pep was an automic loss. In his career Pep defeated many formidable opponent's such as Chalky Wright, Sal Bartolo, Phil Terranova, Willie Roach, Jackie Wilson, Jock Leslie, Eddie Compo, Charley Riley, Ray Famechon, Spider Armstrong, Joey Peralta, and world champions Sandy Saddler, Manuel Ortiz and Paddy DeMarco. He is often remembered for his intense rivalry with Sadler although by this time Pep was on the downside after being injured in an airplane crash. His win over Sadler in regaining the title was the highlight of a great career. Pep was perhaps the finest pure boxer ever.



Ray Robinson (Welterweight Champion 1946-1951, Middleweight Champion 1951, 1951-1952, 1955, 1957, 1958-1960.

The original Sugar man, Robinson, was a supreme boxing master with lightning speed, considerable punching power, certain durability and a graceful style. He had the type of superb balance, sharpness and immaculate timing that came from his vast experience and the frequency from which he fought. As an amateur he was undefeated going 85-0 with 40 first round knockouts and included New York Golden Gloves titles. Robinson had over 200 pro fights reaching a prime record of 128-1-2 with 84 knockouts that included winning the world welterweight and middleweight championships. He fought 18 world champions and defeated 10 Hall of Famer's, a record virtually unmatched in the annals of boxing history. Considered by many historians as the greatest pound for pound fighter of all time. If Gans was not the greatest then Robinson certainly was.



Eder Jofre (Bantamweight Champion 1960-1965, Featherweight Champion 1972-1974).

Not as well known in the U.S. as in his native Brazil, Jofre was nonetheless one of the greatest pound for pound boxers in history. Jofre was called the "bantamweight Sugar Ray" by Nat Fleischer who declared him the best fighter of his era. Jofre compiled an impressive career record of 72-2-4 (50 knockouts) while winning the bantamweight and featherweight championships. Jofre was a rangy, hard-hitting, scientific boxer who was complete both offensively and defensively. A spectacular technician with a devastating left hook. He could block, move and make his opponent's fight the way he wanted them to. Barney Ross called him "A marvel of boxing perfection", and added, "There is nothing he cannot do." Jofre is one of the greatest fighters of any era.



Roberto Duran (Lightweight Champion 1972-1979, Welterweight Champion 1980, Jr. Middleweight Champion 1983, Middleweight Champion 1989).

Called "Manos de Piedra"-the man with "hands of stone" by his contemporaries, Duran was one of the greatest fighters the ring ever saw. Often over-shadowed at his peak because he fought in the Ali era, he was nonetheless, perhaps the greatest fighter of his time. He was nearly unbeatable for 13 years reaching a peak record of 71-1 with 56 knockouts, during which time he reigned undefeated as world lightweight champion and also won the world welterweight title. He made 12 successful defenses of the lightweight championship. Duran was known as a strong puncher, but he was also a smart boxer taking apart any opponent who dared to stare into his baleful eyes. A fine technician Duran would move his head, slip punches, stay in punching position, feint and counter with deadly accuracy. Perhaps the best fighter since Robinson at his peak and some would say better.





Ray Leonard (Welterweight Champion 1979-1980, 1980-1982, Jr. Middleweight Champion 1981, Middleweight Champion 1987, Light-heavyweight champion 1988, Super-Middleweight Champion 1988-1990).

Leonard was a fluid boxing master who possessed speed, brains, a superb left jab, a powerful punch with his left hook, a good chin and a proven championship heart. A gold medal winner at the 1976 Olympics he embarked on a lucrative professional career. Leonard defeated 4 current or future Hall of Famer's Wilfred Benitez, Roberto Duran, Thomas Hearns and Marvin Hagler, this alone justifies his claims to greatness considering the quality of his opposition. In a recent discussion that I participated in, amongst a dozen boxing historians, Ray Leonard received the most support for the best fighter of the last 25 years. An all time great boxer, the other "Sugar Ray" will long be remembered among the great fighters of history.