Cox's Corner Profiles
Muhammad Ali, The Greatest..."He Has No Business Being As Fast As He Is."
By: Monte D. Cox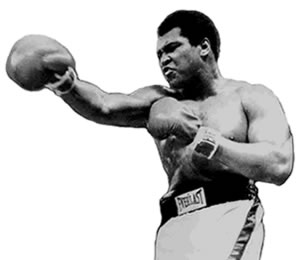 Muhammad Ali was more than just a fighter he was a symbol of the 1960's, a revolutionary figure who was a voice of civil rights, the anti-Vietnam war movement, and the Nation of Islam. Despite the political symbolism that surrounded his career, love him or hate him, there can be no denying that Muhammad Ali was a truly great fighter once the bell rang. He was three times heavyweight champion of the world (1964-1970, 1974-1978, 1978-1979) and dominated the better part of two decades of the heavyweight division. He made a total of 19 successful title defenses.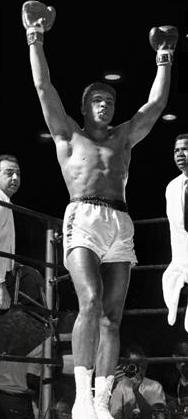 The Muhammad Ali of 60's was the fastest heavyweight ever. In the May 5, 1969 Sports Illustrated, Ali's jab was measured with an omegascope. Ali's jab, it was found, could smash a balsa board 16.5 inches away in 19/100 of a second. It actually covered the distance in 4/100 of a second, which is the blink of an eye. Jimmy Jacobs, who owned the world's largest collection of fight films, said that on film tests with a synchronizer Ali's jab was faster than that of Sugar Ray Robinson. Jacobs contended that Ali was not only the fastest heavyweight, but also the fastest fighter he ever saw on film.
Marv Jenson, who managed Gene Fullmer, concurred saying, "Ali has the fastest hands on any heavyweight I have ever seen."
Bob Foster, the world light-heavyweight champion agreed, saying, in an interview after their fight, "He has no business being as fast as he is. I never saw that right hand."
Author John Durant described him as having "lightning fast hands and a pair of legs that moved around the ring like a ballet dancer. He would float just out of range with his hands dangling at his side as if to taunt his opponent."
Ali made a lot of mistakes in the ring such as dropping his hands low, holding his right hand out too far when he jabbed so he could not block a jab in return, telegraphing his right uppercut by dropping his right hand, and completely neglecting body punching. However Ali, in his prime, was able to out-speed his mistakes. Eddie Futch commented, "Ali takes his mistakes, shows them to you, and then beats you with them." Ali got away with his mistakes because of his astoundingly quick reflexes, speed of foot, and uncanny ability to gauge distance.
Ali danced gracefully across the ring, his lateral movement and fleetness of foot made him the master of ring center. Ali's judge of distance was also phenomenal. He divided the ring into "safety zones" and "danger zones." In a demonstration done in a boxing ring for Sports Illustrated, (See May 5, 1969 SI), with sparring partner Lee Carr, when Ali was in a "safety zone" he appeared to be in a position to be easily hit, especially with his hands dangling down at his side. That's what Carr thought. He decided that a left jab would be long enough to reach him. Ali smugly held his ground and with a slight move of his head Carr's jab fell two inches short. "I can move in on him," said Carr, "but I can't seem to get to him."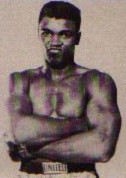 Historian Don Cogswell wrote, (IBRO Journal # 81), "Muhammad Ali, in his first title reign, presented such a speed disparity between contestants as to appear supernatural. The flurry that dropped a befuddled Brian London in the third frame, the right that stopped an earnest Zora Folley in the 7th, presented by the right that immediately preceded it (seen by Angelo Dundee and a few others,) suggested that Ali was operating in another time zone."
Ali refused induction into the Army in 1967 and went into forced exile losing three and a half of his best years as a fighter. When he returned his legs were not what they once were. Ali, fighting more flat-footed than before, revealed some never before tested traits such as heart, determination, and the ability to take a heavy punch.
In their March 8, 1971 classic "Fight of the Century" Ali faced Joe Frazier in Madison Square Garden for the right to be called "champion". It was the first time two undefeated heavyweight champions ever fought for the title. In a vintage battle Joe Frazier fought the perfect fight pounding Ali's body and flooring him in the final round to gain a clear decision victory. The left hook that dropped Ali would have finished most fighters, but Ali was up quickly and was fighting back when the round ended.
Ali came back winning 10 fights in a row before losing to Ken Norton, who broke his jaw, in winning a 12 round decision. Ali narrowly won the rematch. It seemed as though Ali was winding down as all great fighters do. Frazier lost the title and it appeared as though Ali was on the way out, but he was not done yet! He defeated Frazier by decision and earned a chance to regain his lost crown.
The defining fight of Ali's career was his championship match against undefeated heavyweight destroyer George Foreman. Big George was 40-0 with 37 knockouts and had simply annihilated the two men (Frazier and Norton) that had given Ali his toughest fights. Ali was a 3-1 underdog going in against the new heavyweight champion and few gave him a chance to survive the thunderous fists of the man that one boxing magazine called, "the most powerful heavyweight champion ever."
Ali surprised even his most ardent fans.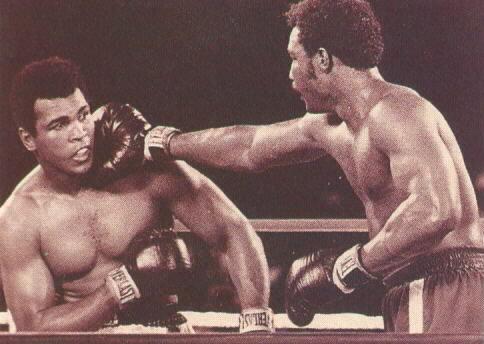 In a brilliant strategic fight Ali sought to tire his man by fighting off the ropes, pulling back, evading and rolling with all of his opponent's hardest punches and then countering with quick jabs and right hand leads. Ali displayed some of his once famous speed; after Ali nailed George with several furious jabs he began talking to him, "Didn't they tell you, sucker? Didn't they tell you I am the fastest heavyweight that ever lived?"
Foreman punched himself out. In the eighth round Ali caught a visibly tiring Foreman chasing him off the ropes and knocked him out. George said years later, (Champions Forever video 1989), "He surprised me with this lightning speed that he wasn't supposed to have at his age."
Muhammad Ali was back on top having reclaimed the title that was unjustly taken from him, he was the heavyweight champion of the world once again. Ali's popularity soared and he would make 10 successful title defenses in his second reign as champion, one of them a rubber match with Joe Frazier. Many analysts have called the third fight with Frazier the greatest heavyweight championship fight in history.
It was described as a drama in 3 acts by the Oct. 13, 1975 Sports Illustrated, 1) Ali, 2) Frazier, and 3) Ali. Muhammad pummeled his foe in the first five rounds. Ali buckled Joe's knees two times in the first round. In the third Frazier was shaken twice as Ali hit him at will with his quick two-fisted attack. In the middle rounds Frazier began to work his way back into the fight with strong body punching. In the sixth round a pair of wicked left hooks had Ali in no mans land. Frazier kept coming and Ali grew weary. "Exhausted and contemplating quitting, Ali slumped on his stool at the end of the tenth round." The eleventh round was no better for the champion. Writer Mark Kram reported, "Ali got trapped in Frazier's corner and blow after blow bit at his melting face, and specks of spittle flew from his mouth." "Lawd have mercy!" Bundini shrieked." Ali proved that he had the courage, determination, and will that make a great champion. Frazier's left eye began to swell and his vision faded. By the thirteenth round Frazier could no longer see the punches coming. Ali was finding Frazier with long right hands and punishing him severely. Joe's corner was forced to stop the fight before the 15th round bell, as he could no longer defend himself.
Perhaps Frazier described Ali best, "Lawdy, Lawdy, I hit him with punches that would have brought down the walls of a city. He's a great and mighty champion."
Ali was not a heavy hitter but he beat some good ones including Sonny Liston, Joe Frazier, George Foreman, Ron Lyle, and Earnie Shavers. For two decades of the heavyweight division there was not a significant heavyweight that he did not meet in the ring.
Muhammad Ali is rated as the # 1 heavyweight of all time by such authorities as Herbert Goldman, Nigel Collins, Steve Farhood, and Arthur Harris. Bert Sugar rates Ali at # 3. Cox's Corner considers Ali to be the # 2 heavyweight of all time.
Your hands cant hit
What your eyes can't see
Float like a butterfly
Sting like a bee
Muhammad, Muhammad Ali
Muhammad Ali Highlights