Cox's Corner Profiles
Alexis Arguello, The Explosive Thin Man..."One of the Greatest Ever"
By Monte Cox

Alexis Arguello, "El Flaco Explosivo", the explosive thin man, as he was called, was at 5' 10" exceptionally tall for a fighter who weighed under 140 pounds. As his nickname indicates he was an explosive hitter, indeed he was perhaps the most economic and efficient puncher of the last 50 years. He fought in a boxer-puncher style similar to that of Joe Louis exhibiting near flawless boxing fundamentals with his chin down and hands held high. Alexis threw perfect left jabs and right crosses straight down the pipe and his left hook was a powerful force. He was a master at analyzing the flaws in an opponent's style and then dissecting them with fierce body punching, accurate counters and precise combinations. Arguello would patiently stalk his opponents, take them apart and finish them off with an explosion of cascading bombs that came from a selection of powerful punches. Arguello scored 65 knockouts in 82 career wins that came with the suddenness of a man who was struck by a rattlesnake.
In his prime Arguello was considered nigh invincible. One 1978 boxing magazine published, "Alexis Arguello is regarded by some people as the perfect fighter. He is thought to be--pound for pound, inch-for-inch and punch for punch--the best puglist in the world...a fighter without a flaw."
Peter King penned in 1981, "Watching Arguello fight is like enjoying the subtleties of a great Renaissance masterpiece. There is rich color and detail in his performance. His jabs are straight, strong and accurate. His body punches are delivered with care. His right crosses and left hooks are issued with an awesome potency. Yet this great fighter-perhaps one of the greatest ever-is largely unknown."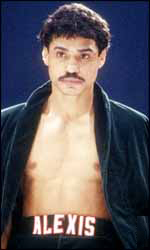 Boxing writer and analyst Frank Lotierzo wrote, "Arguello mostly fought a somewhat pressure style. He didn't pressure his opponents like a Frazier or Duran; it was more a subtle type pressure like Joe Louis. Another thing Arguello shared with Louis was that they were vulnerable versus fighters who had fast feet. That's not saying they couldn't fight fighters that had good movement. It is verifying that fighters who moved against them usually fared the best. The fighters who brought the fight to Arguello are the ones who he defeated in the most devastating fashion."
Alexis Arguello was born in Managua, Nicaragua in abject poverty. Like Roberto Duran he learned to fight on the tough streets of the inner Central American city of his birth. Arguello was taught the basics of boxing from a brother-in-law in Managua. Seeing boxing as an opportunity to escape the drudgery of a life of poverty, Alexis dedicated himself to the sport at the age of 14. Displaying a natural punch Alexis compiled an amateur record of 58-2 with 48 knockouts before turning pro at the age of 16. As a professional Alexis racked up a record of 36 wins with 29 knockouts while suffering only 2 early career losses fighting almost exclusively out of Managua during his first 5 years as a pro.
At age 21 he challenged for his first world title facing veteran WBA Featherweight champion Ernesto Marcel in the champions hometown of Panama. Marcel was a slick and clever outboxer who used his greater experience to stay out of range of Arguello's heavier punches and box his way to a unanimous 15-round decision. After the bout Marcel retired never giving the young fighter a chance to avenge his heartbreaking loss.
Hard hitting former champion Ruben Olivares won the WBA title vacated by Marcel. Meanwhile Arguello put himself back into title contention by knocking out top contender Art Hafey and then winning the Central American Featherweight title by besting Oscar Aparisio. He was then granted a second title opportunity against the great Mexican world champion Olivares. It turned out to be a classic war with Olivares leading on the scorecards after 12 rounds. In the 13th a devastating left hook sent Olivares crashing to the canvas. Olivares got up but was soon finished by the explosive thin man. Alexis Arguello, age 22, was now featherweight champion of the world.
Arguello made 4 successful defenses of the Featherweight title before moving up to capture the 130 pound Jr. Lightweight championship. He faced an outstanding champion in Alfredo Escalera on Jan. 28, 1978 in Bayamon, Puerto Rico. Escalera had 10 successful defenses of his WBC Jr. Lightweight title and was no easy mark. It turned out to be a great fight that some hailed as "The Bloody Battle of Bayamon." The fights Referee Arthur Mercante called it "the most brutal fight I have ever witnessed." Escalera had his ears, nose and mouth busted but was rallying on the scorecards when Arguello caught him and finished him in the 13th round. Arguello had won his second divisional title. At age 25 he was in his physical prime as a fighter.
Alexis was at his peak at 130 pounds. He looked all but invincible in this weight class. He was physically stronger, and maintained the devastating punch that had made him such a dangerous featherweight. At junior lightweight he successfully defended the title 8 times defeating outstanding fighters such as Ruben Castillo, and future titleholders Bobby Chacon, Bazooka Limon and Rolando Navarette.
In 1981 Alexis Arguello decided to attempt something that had been done by only a few all time great fighters previously, that is become a triple crown champion by moving up to the 135 pound lightweight division. In London, England in front of a hostile crowd who was literally singing praises to WBC champion Jim Watt, Alexis Arguello dominated the southpaw champion in scoring a clear unanimous decision verdict to join Bob Fitzsimmons, Barney Ross, Tony Canzoneri, Henry Armstrong and Wilfred Benitez (who had won his triple crown the previous month) as boxing's only 3 division champions in history to that time. Arguello was recognized as the best fighter in his weight class when he held the title in each of those divisions. Today multi-divisional champions are somewhat cheapened due to the existence of so many sanctioning bodies, but when Arguello won his triple crown it was considered a major accomplishment that ranked him with the all time greats of history.
Although Arguello was clearly considered the best lightweight in the world during his title reign he was not quite the awesome force he had been at 126 and 130 pounds. Arguello still carried a heavy punch but was not quite as devastating as he had been. He made up for this with his experience, ring smarts and calm in the ring. He was still a great champion successfully defending his title 4 times at 135. In 3 divisions Arguello won a total of 19 title fights covering a span of 8 years without loss in a championship fight.
Due to his success and looking for a large payday Alexis challenged undefeated Jr. Welterweight champion Aaron Pryor for the 140 pound championship on Nov 12, 1982 in Miami. Pryor was a fast, powerful, swarming puncher with a great chin. As expected Pryor started quickly but Arguello stayed right with him as they exchanged hard punches. Pryor had it going his way early and stunned Alexis several times. In the mid to late rounds Arguello seemed to be solving Pryor's style as Alexis came on. In the 13th round Pryor was hurt by a sizzling right cross that violently snapped his head back and Aaron walked slowly back to his corner. Between rounds Pryor's trainer, Panama Lewis, who would later be banned from boxing for cheating, said, "Hand me that bottle, no not that one, the special one I mix." It was never proven what was "mixed" in that bottle, but whatever it was it was illegal as anything other than water is not permissible for use in the corner. Pryor came out with renewed energy in the 14th round caught Alexis against the ropes with a flurry of powerful punches and stopped him. Alexis had made a great fight, but fell short in his bid for a 4th divisional championship against one of boxing's best fighters ever in that weight class.
The controversy over the fight forced the WBA to sanction a rematch. 10 months later they fought again. This time Pryor fought a smarter fight mixing in movement with his attack from all angles. The fight was fought at a very fast pace and Pryor wore down and stopped Alexis easier in the second bout, this time in 10 rounds. Arguello retired after those bouts although he would go on to make a couple of ill-fated comebacks.
Ring magazine rated Alexis Arguello as the # 1 Jr. Lightweight of all time in its all time divisional ratings in 1996, and among the 20 best fighters of the last 80 years in 2002, and among the 20 best punchers of all time in 2003. Cox's Corner considers Arguello among the top 5 greatest featherweights and the top 10 lightweights of all time, and he probably deserves recognition as the greatest Jr. Lightweight Champion ever.
Alexis Arguello Highlight Video