Cox's Corner Profiles
Benny Leonard, The Ghetto Wizard…"The Brainiest of All Boxers"
By: Monte D. Cox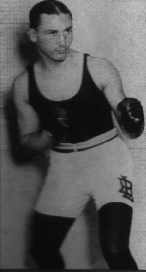 Benny Leonard was not only one of the greatest lightweights of all time, he was one of history's greatest pound for pound fighters. Benny, a Jewish boxer born Benjamin Leiner, turned pro at age 15. He won the World Lightweight Championship at age 21 and held it for nearly 7 years between 1917-1925 when he retired unbeaten as champion while at the peak of his power. His official record is 85-5-1 121 No Decisions with 69 knockouts. His record with newspaper verdicts, according to one source, is 180-21-6-6ND 69 Ko's.
Al Bodner stated, "Leonard had a truly remarkable record. He was one of the greatest master boxers of all time."
The Ghetto Wizard was a fleet footed mobile boxer with a strong punch and liked to set a fast pace. He had excellent hand speed and was a clever two-handed hitter. He had a piston like left jab, a classic right cross and was an accomplished combination puncher. Leonard also loved to train and never entered the ring in less than top condition. He made a real science of the sport studying feints, shifts, and defensive moves for hours at a time in the gym. He was master who rarely lost a round in the vast majority of his fights.
Gilbert Odd wrote, "Leonard was coolness itself in the ring, finishing off a beaten opponent with cold fury, recovering quickly when hurt and talking himself out of trouble. Because he punched correctly he never suffered a hand injury; because he knew how to defend himself, he usually left the ring unmarked, because he kept himself in peak of condition he could travel ten fast rounds and look as fresh as when he started."
His competition reads like a who's who of the great fighters of the teens and twenties including; Johnny Dundee (Featherweight champion 1922-1923, 1923-1924 and Jr. Lightweight champion 1921-1923 and 1923-1924), the great rope fighter whom he met 8 times; Freddie Welsh (Lightweight champion 1914-1916) from whom he won the title, clever former champion Willie Ritchie (lightweight champion 1912-1914), Johnny Kilbane (Featherweight Champion 1912-1923), hard hitting Rocky Kansas (Lightweight champion 1925-1926) and the great southpaw Lew Tendler who is considered one of the best fighters to have never won a title. Leonard also defeated top lightweight contenders such as Ritchie Mitchell, Patsy Cline, Joe Welling and left hook artist Charley White.
Leonard was in many ways the Muhammad Ali of the 135-pounders, defeating what Nat Fleischer called, "a field of the greatest lightweights that ever appeared at one time in the division.". When Leonard was fighting there were nearly 90 fight clubs in New York State and 20 fight cards a week in New York City. Boxing in the teens and twenties, along with baseball, was the most popular sport in America. There were more competitors and therefore a larger talent pool. Leonard came along when the lightweight division was stacked full of highly skilled fighters and punchers and he was the best among them. He fought them all and fought often. The year he won the title he fought 29 times. Leonard was a very smart, clever, and experienced fighter.
Jersey Jones agrees saying Ring Magazine Jul. 1947), "Leonard was one of the all time greats of the ring. A magnificent boxer, a deadly puncher, a brilliant ring strategist, and an extraordinary showman, Benny had to be a real champion in every sense of the word, to rule over the most formidable array of challengers in the annals of the lightweight division."
One of Leonard's toughest opponent's was the great southpaw slugger Lew Tendler. On July 27, 1922, 60,000 screaming fans watched the two great fighters go at it in a 12 round non-title bout. In the first round a powerful left rocked Leonard. In the third Leonard's nose was bleeding. In the 8th Lew dropped Benny to one knee. Leonard was in trouble but Benny started talking to him and convinced him he wasn't hurt. Lew hesitated and Benny survived the round. It went the distance to a 12 round no-decision but Leonard would later say that Lew gave him "the worst licking I ever had in my life the first time we fought." In the rematch, for the championship the following year, Leonard proved he had learned his lesson.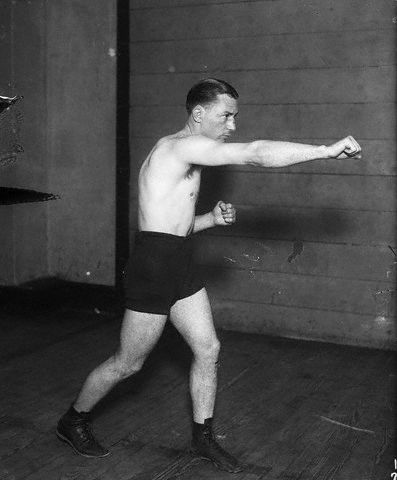 Hype Igoe, wrote, NY World Jul. 25, 1923, "Benny Leonard is the brainiest of all boxers." In the second Tendler fight, penned Igoe, "Leonard worked in circles around and toward the back of Tendler's southpaw left so that Tendler was always shifting to get set again." Leonard kept the southpaw off-balance and then countered effectively. "It was the finest job from any angle of boxing that this writer ever saw…and I don't expect to see it duplicated." Leonard easily won the 15 round decision and retained his title.
Ray Arcel, one of the greatest trainers of all time, concurs on Leonard's ability to out-think his opponent's, Peter Heller's In The Corner, "Boxing is brains over brawn. I don't care how much ability you got, if you can't think your just another bum in the park. People ask me who's the greatest boxer I ever saw pound for pound. I hesitate to say, either Benny Leonard or Ray Robinson. But Leonard's mental energy surpassed anyone else's."
Arcel continued, "Benny Leonard was a picture. He was the one fighter who I felt could name the round with anybody. He could make you do the things you didn't want to do. If you were a counterpuncher he would make you lead. If you were aggressive he would make you back up. He knew were to hit you…If you look at his record you will see he always fought good fighters. If you didn't know how to fight, nobody would match you with Benny Leonard" .
Nat Fleischer agrees, "Leonard had a hair-trigger brain. As he shifted about the ring, the fans could almost read his thoughts as he mapped out his plans of attack. An opponent had to be ever on the alert to avoid a quick knockout. Leonard knew his trade; knew it so thoroughly that almost invariably he could "call his shots," if and when the occasion warranted."
Bob Mee adds, "Benny was a master boxer, a genius who completed his art and yet still went on re-inventing it. His simple message was "Think. Learn how to think!"
No opponent could ever make a mistake with Benny, for one mistake often meant a sudden end. Leonard in a bout against Featherweight champion Johnny Kilbane noticed in their first meeting that, "Johnny's a great boxer, tricky as they make them. But I know just how and when to beat him. He has a double feint shift, but he leaves himself open for a flash of a second and that's when I'll get him." Benny nailed him in the third and took Kilbane just as he predicted. It was the first time the clever Featherweight champion had ever been knocked out.
What Leonard could do when he turned on the heat was aptly demonstrated in his bout with Leo Johnson, one of the best black lightweights of the era. Leonard took a lot of pride in going through an entire bout without ever having his hair messed up. Someone suggested to Johnson that he go right up to Leonard and put his hand on his head and mess up his hair in order to infuriate him and get him off his game plan. Johnson did just that as the fighters met at ring center. When Johnson recovered consciousness he was told that it was one of the quickest knockouts of Leonard's career.
One time heavyweight threat Harry Wills said, Ring Magazine May 1948, "Benny Leonard was the best little man I ever saw. He liked to show his speed and outbox the other fellow. He also had a natural right hand… I picked Benny to beat Freddie Welsh, who was a very clever boy, Benny woke up to his right that night and knocked Welsh out."
Many of his opponent's commented that they were surprised by his hitting power. He won the title against Freddie Welsh on a 9th round knockout. It was the only time in 167 pro fights that Welsh was ever knocked out.
Perhaps his epoch battle against Richie Mitchell best defined his career. Leonard went right after Mitchell flooring him 3 times in the first round. Leonard, perhaps understandably, was a bit over-confident and let his guard down. Mitchell nailed him with a desperate, hurricane of a left hook right on the button. Benny crashed to the canvas. Leonard was hurt and barely beat a ten count. Richie moved in for the kill, but Benny covered up and rolled with the punches and survived to the bell.
Budd Schulberg described what transpired in the next round as Mitchell attacked Benny who was still hurt and on his bicycle. "As he retreated his was talking to Mitchell (shades of Ali a half century later!), "Is that the best you can do? I thought you hit harder than that? I'll put my hands down, what do you want to bet you can't hit me? Come on if you think you got me hurt, why don't you fight? You look awful slow to me Richie". Mitchell swung wildly missing and began to wear down by rounds end. In the fifth Leonard was up on his toes snapping Mitchell's head back with left jabs and right crosses. Leonard floored Richie at the end of the round. In the following session Leonard gave Mitchell quite a beating and knocked him out to retain his title.
Leonard also challenged fighters above his normal weight winning a newspaper verdict over welterweight Ted "Kid" Lewis and challenged for the welterweight title against Jack Britton in 1922 flooring the bigger man in the 13th, and then in his eagerness knocked out Britton while he was down, thus losing on a disqualification.
Benny retired as lightweight champion in 1925 having bested all the topflight fighters of his class. The stock market crash of 1929 hurt his investments and he was forced to make a comeback in 1931. He won 18 in a row with only one draw when he ran into the young, fast and hard-hitting future welterweight champion Jimmy McLarnin who stopped him in 6. It was his last fight.
Leonard died on April 17, 1947 while refereeing a boxing match in New York. Gerald Suster wrote a fitting epitaph when he said, "He left behind him an astonishing legend of hard punching and ring cleverness. Decades went by in which aficionados argued over whether Benny Leonard or Joe Gans was the greatest pound for pound fighter of all time."
Nat Fleischer considered Benny Leonard the # 2 all time lightweight in 1958. Charley Rose rated him # 1 in 1968. Herbert Goldman rated him # 1 in 1987. Cox's Corner rates him at # 2 among all time lightweights.
Benny Leonard vs Lew Tendler, Lightweight Championship, 1922