Cox's Corner Profiles
Kid Chocolate, The Cuban Bon Bon…"A living, breathing boxing instruction book."
By: Monte Cox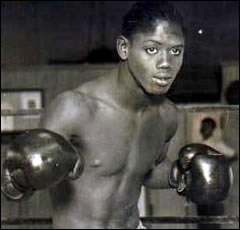 Kid Chocolate (World Jr. Lightweight Champion 1931-1933, NYSAC Featherweight Champion 1932-1934) was born Eligio Sardinias y Montalbo in Cerro, Cuba. As an amateur he was undefeated winning 100 bouts 86 by knockout. His professional record was also an extremely impressive 136-10-6 (51). Kid Chocolate stood 5'6, weighed between 124 and 131 pounds at his peak and had a reach of 68 inches.
The Kid was one of the first boxers who seriously studied films of other famous fighters and integrated the moves he saw into his own repertoire. Chocolate studied films of Joe Gans-Battling Nelson, Jack Johnson-Jim Jeffries and the Benny Leonard-Lew Tendler fights over and over.
Chocolate developed his great left jab by studying films of Joe Gans in his Goldfield battle against Battling Nelson. Kid Chocolate's manager Luis Gutierrez said, "We studied how Gans used his left hand. Then the Keed would go the gym and practice throwing his left hand exactly as Gans did. Study pictures of Gans and the Keed and you'll see that Chocolate's left hand was just like Gans." The Nov 20, 1931 NY Herald-Tribune made a favorable comparison to the lightweight legend describing Chocolate as "the greatest Negro boxer of his weight since Joe Gans."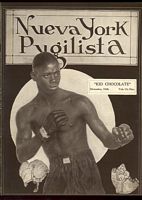 Chocolate "studied how Johnson tied up Jeff so easily in the clinches, tied him so he couldn't move," explained Gutierrez, "and the Kid worked on it until he had the trick perfect. If you saw him against Al Singer inside you saw him do the same thing that Johnson did to Jeffries."
This is confirmed by the newspaper accounts. In his bout with Al Singer (World Lightweight Champion 1930) the NY Herald-Tribune reported, "The little Cuban from Cerro, who never has known defeat since he started as an amateur in Havana, was a gorgeous thing to watch in the clinches. With just a mere edge of speed on the Bronx idol, the brunet lad from the Caribbean was viscous at infighting. And as the boys stood toe to toe and slammed away at each other the wiry little kid had all the effervescence of a pack of firecrackers." Before a crowd of 45,000 the largest ever for a non-title fight in the lower weight classes to that time, Kid Chocolate earned a close but well earned decision victory.
By watching Benny Leonard Chocolate "studied how Leonard used his right and blocked and feinted and moved around," said Gutierrez. Chocolate was a fighter who boxed on his toes with mobility like Leonard. He was a complete master boxer and could fight inside and outside equally well. Although not a great one-shot puncher he was a fine counter-puncher and a strong body puncher. He had a perfect left jab, a right cross that came straight down the pipe, a smashing speedy left hook, quick two-handed combinations and fleet mobile footwork. He could dance, move, duck punches cleverly and deftly catch blows with his gloves. His jukes, multiple feints, slips and shoulder rolls are virtually all unparalleled in the modern fight game. He was a marvel of speed, agility and cunning in the ring.
Kid Chocolate not only learned how to box by studying the films of the legends he was "a living, breathing boxing instruction book," noted boxing film historian Mike Hunnicutt, "he had as many or more moves, feints, head and body positions as any boxer who ever lived. He had more moves than any boxer I've ever seen on film. He is perhaps the one man aspiring boxers should study for all around boxing technique." The vintage films available from collectors are Kid Chocolate vs. Tony Canzoneri, and Battling Battalino.
"Sugar Ray Robinson was a great admirer of Kid Chocolate," said Fausto Miranda, a former Cuban journalist who covered many of Chocolate's fights. Sugar Ray Robinson, went on record saying that he had never seen anyone box like Kid Chocolate before. Robinson studied the Chocolate style and incorporated much of his slick movement and graceful flair into his boxing style. Robinson in many ways was a combination of his boxing idols Joe Louis and Kid Chocolate. He mixed the concentration, masterful combinations and power punching of Louis with the stylish movement and balance of Chocolate.
Many of "The Keed's" losses were highly controversial. It could be argued that Chocolate was effectively 98-1 before losing in a rematch to Tony Canzoneri who was a Triple Crown champion.
His loss against Battling Battalino for the World Featherweight Title was extremely unpopular. James P. Dawson of the New York Times wrote, "In the vast throng which witnessed a truly exciting, bitterly fought encounter were a considerable number who disagreed with the decision. Chocolate floored the champion in the 1st round and had Battalino on the verge of a knockout. He carried nine of the 15 rounds in the opinion of this writer."
When he lost a decision against Tony Canzoneri for Tony's World Lightweight Title the decision was booed unabatedly for a full ten minutes. "Through most of the fight (Chocolate) belted the champion with everything but the timekeepers gavel. His black arms pumped with precision and they carried a sting like the tail of a wasp," wrote Richards Vidmer in the NY Herald-Tribune. "Only towards the finish did Canzoneri come with the speed and power that he has shown in the past. He staged a desperate rally after trailing far in the rear, and won the tenth, eleventh and twelfth sessions, but these were not enough to catch up with the Kid's early advantage and the black shadow from Havana took two of the last three rounds to hold his lead." Had the decision went his way Kid Chocolate's spot in history would likely be much higher. Even so it was a fine performance by "The Keed" and he deserved the nod in this first fight between the two all time greats.
Another bad decision that went against Chocolate was his 15 round decision loss to Jackie "Kid" Berg who was a weight class heavier. The NY Times reported, "A crowd of 15,000 persons saw the battle…when the verdict was announced a storm of protest went up. Many thought that the Cuban, due to his more effective punching at long range and better boxing ability was entitled to the award. Most of the experts at ringside also were of this opinion."
From 1929 to 1933 Chocolate was at his peak as a fighter facing a vast array of top featherweights and lightweights in the late 20's and early 30's. He fought 8 world champions. He won his first 51 professional fights without loss before coming out on the short end of a split decision to Jackie "Kid" Berg. He won the Jr. Lightweight Title by stopping Lew Feldman in 12 rounds in 1931 and won the NYSAC World Featherweight Title in 1932 by decisioning Fidel LaBarba. Had the scandalous decisions he lost gone his way he would have victories over a total of 5 Hall of Famer's in his career. The Kid began to wind down in 1933 after it was discovered he was suffering from syphilis, although he still had much success in the ring.
Kid Chocolate was a ring artist who learned his lessons from the all time greats of boxing history and passed on those lessons to men like Ray Robinson. He was a flashy fighter with speed and fantastic skill. The boxing student could learn much by studying him. While rating below men like Henry Armstrong and Willie Pep he clearly ranks among the all time greats of boxing history in the featherweight division. Nat Fleischer rated Kid Chocolate as the # 6 all time Featherweight. McCallum's survey of old-timers rated him at # 5. Cox's Corner considers him among the top 10 all time featherweights.
Kid Chocolate vs. Battling Battalino - Highlights, 1930