Cox's Corner Profiles
Roberto Duran, "Hands of Stone"...."Born to be Champion."
By: Monte D. Cox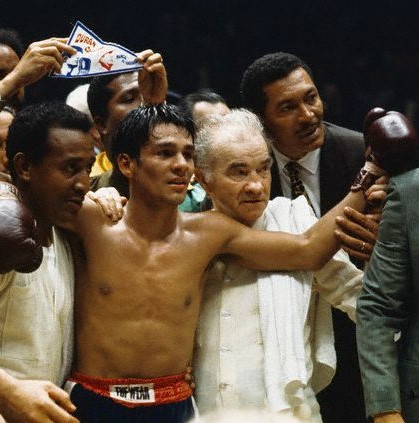 Roberto Duran, who grew up in the tough streets of Panama, was a natural born fighter. The son of a Mexican father and a Panamanian mother, the Latin legend learned to fight at a young age. Duran turned pro at 16 and went on to become perhaps the best professional fighter since the heyday of Ray Robinson. After beating Esteban DeJesus in their rubber match for the unified lightweight title he declared to the press, "I was born to be champion of the world." Indeed he was nearly unbeatable for 13 years reaching a peak record of 72-1 with 56 knockouts, during which time he reigned undefeated as world lightweight champion for 6 years and also won the world welterweight title. Duran was a 4 divisional champion, lightweight (1972-79), welterweight (1980), junior middleweight (1983) and middleweight (1989-90). At his best as lightweight king he successfully defended the title 12 times, 11 by knockout. In his career he stopped 21 opponents in the first round, 31 within the first 3 rounds. He fought until the age of 50 with a final career record of 103-16 (70 KOs).
Roberto didn't receive his education in a public school; he was kicked out in the third grade. Duran's schooling came from the school of hard knocks. It was on the streets and in the gyms of Panama that Duran's natural ability was honed into that of a consummate professional fighter. Early in his career Roberto was a ferocious, brawling slugger who over-whelmed his opposition with his strength, determination, body punching and a strong right hand punch. Duran was a very purposeful, aggressive fighter who possessed a competitive fire that few fighters in history could hope to match. He had murder in his eyes, and as a lightweight had the punching power to match his inner rage. Veteran trainers Ray Arcel, who had worked with the likes of Benny Leonard, Tony Zale, and Ezzard Charles along with Freddie Brown, a former cut-man of Rocky Marciano and student of Charley Goldman, were brought in to help develop Roberto into a complete fighter. Duran succeeded in the graduate school of pugilism that Arcel and Brown instructed. By the time he was to face Ken Buchanan for the lightweight title Duran was already growing past the stage of being just a slugging hitter, but was gradually molding into a fine puncher-boxer.
Duran won the lightweight championship at the age of 21 by beating clever Ken Buchanan in 13 rounds at New York's Madison Square Garden. It was a good fight and although Buchanan's boxing ability gave Duran some difficulty Roberto was clearly winning at the time of the stoppage. The fight ended when Duran landed a hard body shot that was borderline low that sank Buchanan to his knees. The fights referee, Johnny LoBianco, realizing that Duran was ahead on points and thinking Buchanan might be trying to exaggerate the effects of the blow, declared Duran the winner by knockout. The New York Daily News reported that "Duran was much the better fighter and was well on his way to taking the title away when the incident happened."
Duran's reign of terror over the lightweight division had begun. Duran proved to be a fighting champion defending the title 12 times and engaging in 20 non-title bouts during his tenor as 135-pound champion. His lone loss was in a non-title fight against boxer-puncher and left hook artist Esteban DeJesus. Duran was dropped in the first round and lost a 10 round decision on points. In a rematch Duran evened things up winning by knockout in the 11th round of a title defense. Duran dominated their title unifying rubber match winning with a convincing 12th round knockout.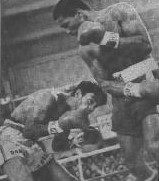 By the time of the third DeJesus fight Duran had developed into something really special, a throwback to the days of the great fighters of the past. He was at the peak of his powers in becoming one of the greatest fighters of all time in combining toughness and polished boxing skill. The one time street fighter was an artist. The Jan. 30, 1978 Sports Illustrated stated, "Moving fluidly and jabbing, slipping punches and countering rather than swarming over DeJesus, he stalked him, relentlessly wearing him down and coolly destroying him with savage punches to the body. For 11 rounds Duran bested the classic boxer at his own game, robbing him of his speed and his will to fight, and only then did he permit himself the luxury of putting DeJesus away." Duran proved that he had learned pace and how to apply strategy in the ring. The old masters would have approved.
Angelo Dundee said of Duran (SI Jan 30, '78) "One gets the impression of Duran is that he's a tough, rough brawler who just wades in and ducks nothing. But all you have to do is look at his face to see that is nonsense. He's not marked up. He does a lot of cute things in there."
Duran has been very under-rated defensively by some analysts. He had good head movement, slipped punches, and got angles on his opponent's inside. When he slipped those punches he would always be in punching position to land power shots with full balance and leverage. When he was hit he would usually roll with the punch to reduce its effectiveness. He would usually parry an opponent's jab when he was going to rush inside. Duran was also a master at feinting. He would feint with the lead right and if his opponent's would lean back, which is a popular tactic amongst modern boxers, they would expose their body and Duran would cleverly switch his attack with a left hook counter to the liver.
Duran beat former welterweight champion Carlos Palomino, who was a solid 147-pound fighter, on a 10 round decision on June 22, 1979. Palomino commented (SI Jun. 16, 1980), "He's good inside, very good, strong physically. The one thing that surprised me the most was his quickness. And his defensive ability. He moves his head a lot, feints a lot. He's not an easy man to hit."
Duran's trainer Ray Arcel noted, "Duran knew how to fight. He knew what to do. If he looked at the corner the only thing I ever had to do was pretend to jab, once he was using his jab I knew he'd have no trouble. Even more important he knew how to think. When you talk about great fighters, always remember there was a guy named Roberto Duran. He was never given the opportunity to really display his wares because at his peak, he was overshadowed by Muhammad Ali."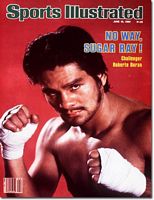 Duran's biggest victory was his brilliant title winning effort against then unbeaten Sugar Ray Leonard for the world welterweight championship. In a bout that featured ferocious infighting by both men Duran outworked, out-hustled and yes, out-boxed Ray Leonard. The June 30, 1980 Sports Illustrated reported, "It was, from almost the opening salvo, a fight that belonged to Roberto Duran. The Panamanian seized the evening and gave it what shape and momentum it had. He took control, attacking and driving Leonard to the ropes, bulling him back, hitting him with lefts and rights to the body as he maneuvered the champion against the ropes from corner to corner." Duran was relentless as he pressured, mauled, and pounded his way to a unanimous decision.
The one aberration on Duran's record is the infamous "No Mas" fight in his rematch against Ray Leonard. It was highly controversial; many believing Duran threw the fight for an 8 million dollar payday. He resigned unhurt in the eighth round. Leonard was fast on his feet and mocking Duran when Roberto mysteriously quit claiming stomach cramps. Ray Arcel said, "That's nonsense. I just think Duran couldn't accept Leonard's clowning, that Leonard got his goat and he couldn't handle it. Between rounds I kept telling Duran, "If you crowd him, you can keep him from going through all these motions." That's what Duran had done in Montreal, and I kept reminding him, "Remember Montreal, shove him, push him." If anybody would have told Duran another fighter would make him quit, he'd have got a gun and killed him. I never worked with Duran again. When he finally fought Leonard a third time I thought he'd be more aggressive but he tried to outbox him."
Duran was disgraced after the 2nd Leonard fight and he struggled to regain his form losing a decision to the speedy and clever triple crown champion Wilfred Benitez and then was upset by Kirkland Liang. It looked like his career might be finished. Then Duran then did what the great ones do; he started a successful comeback. Duran knocked out former WBA welterweight champion and left hook artist Pipino Cuevas in 4 rounds. He then got a chance at the WBA Jr. Middleweight championship against undefeated Davey Moore. This fight was a classic example of why the old-timers were better than modern era fighters. Moore was bigger, faster, and more athletically talented than Duran. Moore had a long and successful amateur career, was unbeaten as a pro and came in as a 3-1 favorite over the Panamanian challenger. But it all amounted to nothing over the vastly more experienced Duran. Roberto administered such a one sided beating to the champion as to nearly finish Moore's career. The fight was mercifully stopped in the eighth round and Duran, redeemed, was a champion again.
Duran last great performance was his bout against WBC Middleweight champion Iran Barkley, a fight that Duran described as "the greatest of my life." It was a truly outstanding performance by a 37-year- old veteran master against a much bigger, stronger and more powerful champion. Barkley was fresh off his devastating title winning performance against Thomas Hearns; the only man to ever knockout the real Duran back in 1984. Duran used boxing skill, slick defense, and clever inside fighting to offset Barkley's greater size and power. Gil Clancy commenting at ringside said, "Duran just slipped 6 punches in a row" to which Al Bernstein, replied, "Duran has always been the master of defense that is one of his trademarks." In the 7th round Barkley nailed Duran with his best double hook to the chin. Duran was hurt but forced a clinch. In the eighth Barkley nailed Duran hard again with a powerful left hook that caused Roberto to spin from the force of the blow, but he fought back. "It was his heart," Barkley said later, "It just wouldn't go." Duran's punches were doing damage as well; by the 9th round Barkley's left eye was swelling from Duran's right hand counters. Duran said, "Barkley was paying for every punch he threw." The last rounds were all Duran as he boxed beautifully inside. In the 11th Duran landed one of the best combinations of his career, a smashing right counter, followed by a hammering left hook, another right, then he feinted a left hook and hammered a pile driver right that sent Barkley crashing to the canvas. Barkley survived and they fought evenly in the last round. It was a tough, great fight but Duran won a deserved split-decision and the 160-pound title.
Even at an old age, well into his 40's, Duran was still smart enough as a boxer to give all but the topnotch fighters a lot of trouble. He lost controversial decisions to Vinny Pazienza in their first fight, flooring him in the process and to Hector Camacho Sr. in their first fight, a decision so bad that Sugar Ray Leonard called it "an early Christmas gift."
Herbert Goldman in his 1987 ratings ranked Duran as the # 3 all time lightweight. The 1996 Ring Almanac rated Duran as the number one all time lightweight in its "All Time Divisional Ratings". Gerald Suster, author of "Lightning Strikes: The lives and times of boxing's lightweight heroes," also rated Duran as the greatest lightweight ever. The AP named Duran among the 10 greatest fighters of the 20th Century in 1999. The 2002 Ring Annual (Vol. 2) rates Duran # 5 among the 80 Greatest Fighters of the last 80 years. Cox's Corner considers Duran the # 3 all time lightweight and among the 10 greatest fighters of all time.
Roberto Duran: Nobody Does It Better