Cox's Corner Profiles
Bob Fitzsimmons, Ruby Robert…"The Most Accurate and Deadly Hitter of His Class."
By: Monte D. Cox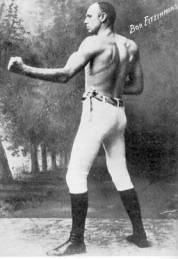 Bob Fitzsimmons was a tall, lanky and explosive middleweight puncher. He was boxing's first triple-crown champion gaining the world's middleweight (1891-1897), light-heavyweight (1903-1905) and heavyweight (1897-1899) crowns during a career that spanned a long 34 years. His record was 55-8-16 7 ND with 48 knockouts, although he claimed to have as many as 300 fights all unrecorded.
Despite being no more than a middleweight he carried a heavyweight's upper body build and a heavyweight's strong punch. He was experienced and clever. As an excellent feinter he knew how to draw his opponent's into his deadly blows. He was steadfast, patient and had excellent accuracy in striking vital points.
Early ring historian Sandy Griswold said in the Dec 24, 1904 National Police Gazette, "He knows all the vulnerable spots of the human anatomy as well as the most erudite surgeon in the business and has a greater variety of effective blows than any fighter who ever lived."
There is no question that Fitzsimmons had a heavyweights punching power. In 1893, he knocked out seven men in one night and accomplished the feat in under nineteen rounds. All men weighed over 200 pounds. One stood 6-7 and weighed in at 240 pounds. The fact that a middleweight could knock out a man the size of Lennox Lewis demonstrates his worth as a hitter. Fitzsimmons actually defeated top heavyweight contenders Peter Maher, Gus Ruhlin and Tom Sharkey all by knockout.
Nat Fleischer, founder of The Ring Magazine, regarded Fitzsimmons as the greatest pound for pound knockout puncher in boxing history. He also considered Fitz as the best-left hooker, and the best body puncher among heavyweights.
David Willoughby,in The Super Athletes, 1970, concurred saying that "Fitzsimmons had perhaps the hardest punch ever possessed by a boxer of his size."
Joe Gans, lightweight champion 1902-1908, stated, Feb. 2, 1908 NY Times, "I consider Bob Fitzsimmons as one of the greatest exponents of straight hitting that the prize ring has ever known. Fitz was a wonderful fighter and all of his straight punches were very effective. Until age set in and his hands went back on him, there were few fighters able to withstand that famous shift of his. When Fitz delivered a blow he carried the whole weight of his body with it."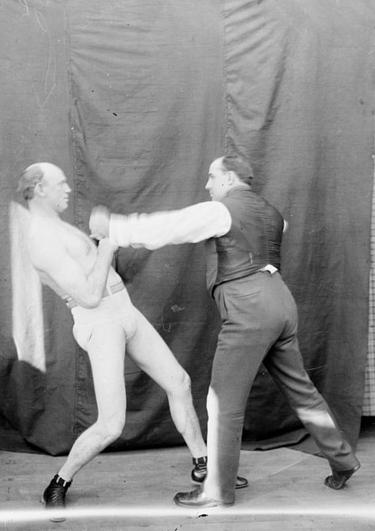 McCallum wrote, (Encyclopedia p 8), "He moved with a shuffling gate. He stood flatfooted. His timing was perfect. He had a superb sense of distance. His punching therefore was deadly accurate."
One was never safe until the final bell with Fitzsimmons. Durant noted, in , "He was ring-wise and crafty. He would sometimes lure an opponent into being careless by pretending to be hurt and then shoot over a knockout punch."

Fleischer stated (Enigma Chpt. 13), "Fitzsimmons, who took the crown from Corbett, was not a slugger of the Sullivan type, nor did he approach Corbett in boxing skill. Yet he was the greatest strategist in the ring's history, a man of wonderful vitality, and the most accurate and deadliest hitter of the class. To reach Jim Corbett in the pit of the stomach with knockout force was a feat for a magician, and Fitz was a magician. Where others signally failed, Fitz succeeded through strategic feinting to induce Corbett to raise his guard and open the way for a left shift and a crashing blow to the solar plexus."

I do not believe as many of the old-timers did that Fitzsimmons should be rated among the top heavyweights. He hit like a heavyweight but was still only a middleweight, in my view, this means he should be ranked with the 160-pounders. Charley Rose, in fact, did not rate him as a heavyweight. Rose rated him as a light-heavyweight, however he was light-heavyweight champion at the end of his career and was quite old.

It is my contention that Fitzsimmons should be rated among the all time greats as a middleweight and he, in fact, was a middleweight for most of his career. The idea that Fitzsimmons was anything more than a middleweight is a myth. Fitzsimmons began boxing professionally in 1883 and when he won the middleweight championship of the world in 1891 by knocking out the "Nonpareil" Jack Dempsey he weighed 150 ˝ pounds. For his 1894 championship defense against Dan Creedon, for example, he weighed 155 ˝ according to the Oct. 13, 1894 National Police Gazette. When he fought for the heavyweight title he was stripped down and privately weighed on the morning of Mar 17, 1897, the day of his fight with champion James J. Corbett, and "tipped the scale at 156 ˝ pounds" according to Bob Davis a reporter and friend who was following Fitzsimmons (See Book of Boxing p 71). Further the San Francisco Chronicle reported the day before the second Jim Jeffries fight that "Fitzsimmons claims to weigh only 160 pounds and hardly looked that heavy."

Gene Tunney wrote, (1940), that Fitz always considered himself a middleweight, "Fitz, incidentally, was funny about his weight, for, after defeating Corbett, while alone in a Turkish bath with Jim Coffroth, he kept repeating, 'eavyweight champion of the world--and I'm only a bleeding middleweight."

While I have no doubt his vigor and durability would allow him to survive any middleweight's punch, against the bigger and more modern heavyweights one has to question Nat Fleischer's 1958 # 3 ranking at heavyweight for Fitzsimmons.

Consider that James Corbett, a small heavyweight who was not known for his power, bloodied Fitz's lip with a sturdy left jab and floored the middleweight champion in the 6th round. If Corbett's jab could tear up Fitz what would Joe Louis jab and right hand do? Or Muhammad Ali?

Fitz was down against Joe Choyinski, a light-heavyweight, in their draw fight. The June 30, 1894 Police Gazette reported, "Fitzsimmons finally tried for the wind and received a straight jab in the face. He came in again and was caught over the left eye so hard his that his head flew back. Keeping after Choyinski he let go for the wind. Choyinski shot his right across him full on the neck. Down he went like a falling chimney…the referee began to count but before he cried out "ten" Fitzsimmons was up. Fitzsimmons was up smiling like a sick man trying to make someone believe he feels better than he really does. He staggered about the ring and Choyinski went after him hard and furious. He could not however, get his right in for a knockout."

Choynski was a great light-heavyweight hitter, but he was still only a light-heavyweight. Fitz was badly staggered, careening around the ring, and barely beat a ten count. He came back to put Choynski down as well, but what if it had been a great heavyweight finisher like Joe Louis, Jack Dempsey, or Mike Tyson instead of Joe Choysnki?

In describing Jim Jeffries title winning effort against Fitzsimmons the National Police Gazette wrote on July 1, 1899 "Jeffries was as firm and steady as the proverbial rock, fighting a carefully planned battle. He had demonstrated his ability to hit the champion and likewise demonstrated he had nothing to fear from the latter's punches."

Jeffries, a modern sized heavyweight, had little trouble in breaking down the smaller Fitzsimmons and knocking him out in their first fight. In the rematch, it has been contended that Fitzsimmons had loaded gloves (although this has never been proven) and he gave Big Jeff quite a beating, but a single blow from the heavyweight champion eventually knocked him out.

Bob Fitzsimmons has been described as a physical oddity, a middleweight puncher who destroyed heavyweights. He definitely had a heavyweight's offensive prowess and could dish out punishment with the best of them, but his small frame, and fact that he was hurt by small heavyweights and light-heavyweights and was easily knocked out by a big heavyweight, means that he would be a vast underdog against any of the all time big men.

As a middleweight Fitzsimmons was nearly unbeatable. He was without challenge the hardest punching middleweight of all time. He was a highly accurate place puncher and a master at setting up knockout blows. Perhaps historian and writer Edgar Lee Masters said it best, "For courage, for power, for skill, for fighting will, there is nothing on record that holds a candle to Fitz." At 160 pounds Fitz's incredible gift of amazing power combined with his cleverness, ring experience and proven success against much larger opponents demonstrates that he should be rated among the elite of the greatest middleweight of all time.

Nat Fleischer as mentioned rated Fitzsimmons # 3 at heavyweight. Charley Rose rated him # 1 at light-heavyweight. Historian Tracy Callis also rates him # 1 at middleweight. Fitz was a true middlweight for most of his career. Cox's Corner rates him # 2 all time in the middleweight division.




Bob Fitzsimmons Video Profile