Cox's Corner
This article appeared at East Side Boxing Sept 2. 2006
Goldfield's Golden Battle
The Centennial Anniversary of Joe Gans – Battling Nelson
Labor Day Sep 3, 1906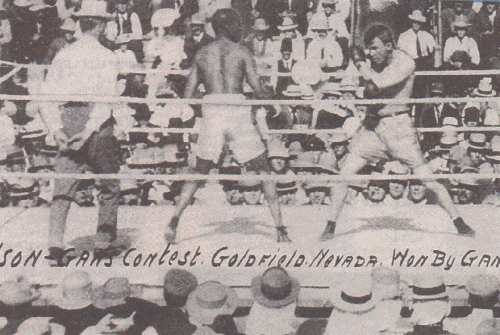 By: Monte D. Cox
Labor day 2006 observes the 100 year centennial anniversary of the famous battle between Joe Gans and Battling Nelson for the lightweight championship of the world in Goldfield, Nevada. The fight was an original one, among the last of the great finish fights. It was in fact the longest championship bout ever contested with boxing gloves.
Joe Gans, hailed as "The Old Master" by his contemporaries, was the epitome of the classic boxer puncher. Gans possessed both remarkable speed and punching power. His jab was straight and accurate, his right hand deadly from 6 inches out, his left hook a life taker. He had grace, balance and impeccable defense, being perhaps the greatest fighter ever at blocking punches and countering. His opponents often thought he was a mind reader, sensing what they were going to do next.
Battling Nelson, "The Durable Dane", was a rough and tumble pressure fighter who was aggressive and unyielding in the relentless, dogged pursuit of his opponents. One writer said of him that, "Nelson carries in his head the thickest skull bones of any human being since Neanderthal man." Like a torrential rain Bat was a force of nature that just wouldn't stop coming no matter what one threw at him.
This classic confrontation between the masterful boxer and the rugged, savage swarmer took place in Goldfield, which was a popular western mining camp town. The bout was promoted by Tex Rickard in his first great effort. The purse was $33,500 of which Gans was to receive $11,000 and Nelson $22,500. The gate receipt was $76,000 the largest ever realized for a prizefight up to that time. The official attendance was 6,200. The odds at ringside were 2-1 Gans. The referee was George Siler. According to the agreed upon contract Gans weighed in 3 times, the last time before the start of the fight at 3 O'clock.
Gans weight was a big issue prior to the fight. Gans had not defended the lightweight title in two years and it was believed he would have trouble making 133 pounds, then the lightweight limit. Nelson's manager Billy Nolan tried to gain Nelson an advantage over Gans by trying to force the great champion to weigh in dressed in his full fighting gear. The San Francisco Chronicle reported, "Nelson's manager insists that Gans make 133 in his fighting togs, which really means 129 stripped."
Jimmy Howard, an ex-trainer of both Gans and Nelson said that "Nolan's tactics are very unfair, but Joe had to accede to everything to get Nelson to fight."
Although Gans was recognized as champion by the fans and virtually every newspaper of the period, Nelson's manager threatened to pull Nelson out of the fight if Gans would not cede to his extra demands. The general consensus of newspapermen and sportsmen alike was that the black man had been forced to take the worst of all of the arrangements.
If one watches the film of the fight the first thing one notices as the fighters head for the ring is that Gans is carrying an umbrella to keep off the scorching Nevada sun. Between rounds the corner men are furiously fanning the fighters. It was very hot that day. Although Gans appeared to be strong, the dehydration and weight draining, combined with the searing heat had to take a toll on Gans body. It is believed by some historians, including this writer that Gans bout with tuberculosis, which would shortly take his life, began due to the circumstances of this contest.
Before the fight the two fighters pose for a series of photographs. One of the most famous photos, shown in many boxing magazines (see photo top), is actually inverted. That picture shows them as southpaws. The film proves they are both posing in an orthodox stance.
At the beginning of the fight Gans took an early lead. Just as Muhammad Ali did in his fights with Joe Frazier, Gans dominated the opening rounds. By the end of the first round Nelson is bleeding from both ears. Joe Gans threw a 5-punch flurry in round 2, crushing the myth that fighters of this era did not throw combinations. Gans, in fact, often throws combinations at Nelson with frightening accuracy. They are most often landed when Gans is catching Nelson coming in. Gans is primarily a counter-puncher, but he has a fantastic jab and often leads with it to create openings. Gans swept the early rounds out-boxing and outfoxing his pugnacious opponent. Gans scored a flash knockdown of the iron-chinned Nelson in the 7th. It was a stinging right to the cheek followed by a powerful left hook that momentarily drops Nelson on his knees. The Chronicle reported, "Nelson's face looked more like scrambled beefsteak than a human countenance by this time."
The most impressive aspect of Gans in this fight is his footwork. Not a lot of jumping around but in spite of Nelsons strong aggression and constant pressure inside, he never is able to trap Gans against the ropes. Gans, turns, slips and never gets caught against the ropes. He is very evasive with deft moves. Whenever Nelson tries to bull Gans to the ropes, Joe lowers his center of gravity, holds his ground then turns and keeps the fight in ring center at all times. On the rare instance his back does touch the ropes he is only there a split second before slipping away. This is very impressive. You absolutely cannot get Gans back to the ropes. Gans also demonstrated that he could move in and out and was very evasive with his upper body. Gans also showed that he could even dance a little bit, circling and dancing out of danger when necessary, although not too much of this in a scheduled 45 round fight.
Nelson is clearly the aggressor, putting on constant pressure and going to the body while throwing a lot of punches. There is a consistent work rate by both men. Most of the action takes place up close. Gans inside work is comparable to Pernell Whitaker against Julio Cesar Chavez. There is excellent blocking, slipping, sidestepping, evasion, and counter-punching by Gans, simply outstanding defense. Nelson comes on beginning in the 9th round with a strong body attack. He has excellent body -punching, left hooks to the body and a Tyson like right to the side that was described as "peach" of a shot.
Nelson's tough as nails and keeps coming no matter what with a George Chuvalo like chin against Muhammad Ali. Nelson seemed impervious to punishment and came in all the time, often leading with his head, which caused Referee Siler to constantly warn Nelson for fouls. The Chicago Record Herald, Sept 4, 1906 reported that Nelsons manager was actually calling for his fighter to use head butts, "Bunt him, bunt him, don't let him get away" he cried. This would quickly get a fighter disqualified today.
Gans seems equally comfortable outside or inside, though he lands his hardest blows from the outside. Gans straight right hand is thrown short, compact and explosive much like that of Joe Louis. Nelson tries to crowd him (he just can't seem to get him to the ropes!) Gradually Nelson is able go to work on the inside. He won his first round in the 10th cutting Gans mouth and pounding away to the body. The next four rounds were fairly close as the tide began to turn slightly in Nelsons favor as he kept up the pressure. Then in the 15th Gans explodes flooring Nelson suddenly with a sizzling right. Nelson was shaky as he arose on unsteady legs and covered up at close quarters to avoid any of Gans long ranged straight shots.
Nelson, callous and undeterred rallied to take rounds 16-19. Gans roared back to take the 20th round nearly kayoing Nelson with a ferocious flurry of punches, punctuated by a final horrific right cross to the head that had Nelson pitching forward out on his feet at the bell. The bell saved Nelson from a certain knockout and if this had occurred today the fight surely would have been stopped! Gans seemed to be in control now and won the next couple of rounds. Nelson Rallied in the 23rd with a series of body shots and a hard right to the head that shook Gans. By the 25th round both men began to tire and the pace slowed. Then in the 28th Nelson tried to open things up and force Gans to the ropes. Gans, like a rejuvenated man, drove Nelson back with several fearful power shots to the jaw, the first of which had Nelson careening around the ring like a drunken sailor. Gans kept after Nelson who was on the verge of being kayoed at the bell.
In the 30th round the Dane intentionally hit Gans after the bell which caused the crowd to rise at once in protest. In the 33rd round Gans broke his right hand with a terrific blow on the top on Nelson's hard head. It may have seemed like the "break" Nelson was waiting for. Gans however continued to box brilliantly beating Nelson with his great left jab.
Nelson withered in the heat unable to penetrate the defense of the "Old Master". The Battler absorbed a frightful beating. He was bleeding from his ears, mouth, and nose, as well as from cuts on his face. With his left eye already closed Nelson had enough. The Dane, who had been warned throughout by Referee Siler for low blows, fouled out in the 42nd round. The foul punch is very obvious on the film. The blow was clearly observed by everyone in the arena and there was not a murmur of dissent from the spectators. In the post fight Gans said that he would have put Nelson out in a few more rounds had he not been fouled. "I was playing for his right eye", he declared, Chicago Record Herald, Sept. 5, 1906, "once I closed that, with his other eye closed too, he would have been my chicken." The two gladiators had fought 2 hours and 50 minutes; the longest championship battle ever fought with gloves under Marquis of Queensbury rules. The "Durable Dane" couldn't take any more punishment. The AP reported that it was a "deliberate foul to prevent a knockout" and wrote "Nelson strikes Gans in groin when defeat seemed certain."
Here are some comments from ringside eyewitnesses:
"It looks as though Nelson, who was a very badly beaten man, took an easy way to quit."--Frankie Neil, former bantamweight champion.
"If ever a fair decision was rendered, George Siler gave one when he awarded the fight to Gans."--Jim Coffroth, fight promoter.
"Battling Nelson took an awful beating in one of the greatest fights I have ever seen."--Kid (Joe) Egan.
"I watched the fight carefully and Gans had the best of it all the way. I think Nelson is the gamest and toughest man to ever step in the ring. There is not one man in a thousand who could have stood the punishment that the Dane took"--Jack Welsh, boxing referee.
"Never in the history of boxing have lightweights put up such a performance as at Goldfield."--Ben Benjamin, sportswriter San Francisco Chronicle.
A large monument visible in Goldfield from U.S. Highway 45 commemorates one of the great fights of all time, Gans-Nelson 1, today.