Cox's Corner Profiles
Harry Greb, The Human Windmill..."A Perpetual Motion Machine."
By Monte D. Cox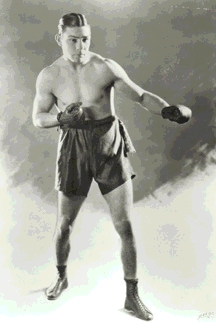 Harry Greb, World Middleweight Boxing Champion 1923-1926, was the ever in your face nightmare, the supreme swarming style fighter. His Cyber Boxing Zone bio notes that "Greb was called "The Human Windmill" due to the constant flurries of punches he threw as well as the fast pace he kept throughout his fights." He had unending stamina, and he kept coming and you could not stop him. He had great hand speed and an iron chin. He was a whirlwind in action from the moment the opening bell rang. He could wear down any opponent given enough rounds. He sapped the energy out of his foes and battered them mercilessly from all directions. He was a ruthless master of infighting and was not adverse to using dirty tactics. Greb stayed in shaped by fighting often averaging about 22 fights a year, and in 1919 fought 45 times. At his peak he weighed between 158 and 165 pounds at 5 ft. 8in., and he often fought men who outweighed him by as much as 40 to 80 pounds. Many consider Greb as the greatest middleweight champion ever.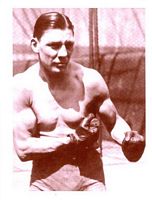 Historian Eric Jorgensen stated, "Greb may have been the greatest fighter, pound-for-pound, who ever lived. Certainly, he was among the top 2 or 3. He combined the speed of Ray Robinson, the durability of Jim Jeffries, the stamina of Henry Armstrong, and the unbridled ferocity of Stanley Ketchel with a will to win unsurpassed in the annals of sport. At his peak, he was unbeatable, defeating virtually every middleweight, light heavyweight and heavyweight of his generation. A great, great fighter."
Greb's record is virtually unbelievable. How many fighters can claim to have a record like that of Harry Greb? He defeated 18 men who held, had held, or would hold world championships, and this at a time when there were only 8 divisions in boxing and one champion in each division. The 5 middleweight champions that Greb defeated were Mike O'Dowd, George Chip, Al McCoy, Mickey Walker, Tiger Flowers and Johnny Wilson from whom he won the title. He also defeated 4 middleweight title claimants Eddie McGoorty, Frank Mantell, Jeff Smith and Bryan Downey. Greb defeated 7 light heavyweight world champions, Mike McTigue, Jack Dillon, Battling Levinsky, Tommy Loughran, Jimmy Slattery and Maxie Rosenbloom and one future world heavyweight champion, Gene Tunney whom he fought five times. Count 'em! 5+4+7+1=18 champions who lost to Greb. Remarkable!
To really understand the era one should know that because of the "No Decision" rules that prevailed at the time the champions were not always the best fighters, there were many uncrowned champions during this period. There were so many great fighters that Greb met and defeated more first tier boxers than any other champion in history. He beat Mike Gibbons, considered by many ring historians among the top 10 all time middleweights. He beat George "Ko" Brown who twice went 20 rounds with the legendary Les Darcy. He defeated master boxer Tommy Gibbons, a light heavyweight and a truly clever mobile fighter who could feint, jab, move and do it all. He won a narrow verdict over Kid Norfolk who Jack Dempsey was accused of drawing the color line against. He beat Charlie Weinert who went on to beat heavyweight slugger Luis Firpo in a No Decision match. He also defeated heavyweights like Bill "Ko" Brennan who fought Jack Dempsey for the world title. He decisively beat Brennan in every one of their meetings to the point where it can be argued that he didn't lose a single round. Greb annihilated former "white heavyweight champion" Ed Gunboat Smith knocking him out in the first round. Greb decisioned Billy Miske who a year later would fight Dempsey for the heavyweight title. Greb beat Willie Meehan who once won a 4-round decision over Dempsey. Greb also beat several of Dempsey's favorite sparring partners like Larry Williams and Chief Clay Turner. Reigning light heavyweight champion Georges Carpentier avoided Greb like the plague. Tex Rickard was very eager to match Greb and Carpentier and even offered Carpentier a huge purse to meet Greb for the light heavyweight championship but he refused.
The question of Harry Greb's greatness cannot be disputed by the unbiased observer. His record is impeccable. The argument that one cannot know how good Greb was because there are no available films of him (except a training video) hold to an untenable argument. Historians and collectors of vintage films understand Greb's greatness based on his record and the many existing films of his opposition. There are films of Mike Gibbons, Tommy Gibbons, Tommy Loughran, Jimmy Slattery, Mickey Walker, Bill Brennan and Gene Tunney, all outstanding fighters whom Greb bested. One can see how good these fighters were and know that Greb defeated them. Further there are the newspaper accounts, with some of the bigger fights featuring round by round descriptions of the action in the ring.
Whenever great fighters of his era discussed Greb they mentioned three outstanding qualities that qualify him as the greatest swarming fighter of history. First of these was his great speed. Second of these was the relentless pace he set by the sheer volume of punches that he threw. And lastly was his impregnable chin, which is an essential ingredient to the successful swarming fighter.
Heavyweight champion Jack Dempsey said that Greb was "The fastest fighter I ever saw. Hell. Greb is faster than (lightweight champion) Benny Leonard." In 1920 Greb, who was in training for Billy Miske, sparred Dempsey a few rounds. The sparring sessions were so good that thousands of fans showed up just to watch. According to eyewitnesses Greb "slapped the crouching heavyweight champion around, and bounced away before Dempsey could do more than cock a punch." Jack Kearns, Dempsey's manager, ran Greb out of camp. There was much talk of a Dempsey-Greb match for the heavyweight championship, but it never came off. It seems Jack Kearns was unwilling to take the chance.
Fighting Greb was like fighting a man with eight arms. "He was never in one spot for more than half a second," said Gene Tunney, "All my punches were aimed and timed properly but they always wound up hitting empty air. He'd jump in and out, slamming me with a left and whirling me around with his right or the other way around. My arms were plastered with leather and although I jabbed, hooked and crossed, it was like fighting an octopus."
Greb would swarm over his opponents with his blazing fast hands while throwing punches from all angles. Veteran fight manager Dan Morgan said, "He threw so many punches that the breeze from his misses gave opponents pneumonia. He tossed leather from all directions in fusillades, barrages, salvo's, and volleys. Naturally being so fast and throwing so many punches he was not a knocker-outer. To shoot a real shock punch a fighter must get set, be more or less stationary for a fraction of a second. Greb was never still in the ring, so most of his knockouts were of the TKO variety."
Greb threw so many punches, from so many angles and for so many hits that he would have drove today's "punch stat" counters crazy. One of his opponent's Pat Walsh said after their fight, "I thought somebody had opened up the ceiling and dumped a carload of boxing gloves on me."
Harry had the proven tough chin needed to absorb the heavy punch of much larger men. In around 300 professional fights, which included dozens of bouts against heavyweights, he was stopped only twice, once in his first year of fighting, and once when he broke his forearm throwing a punch at Kid Graves.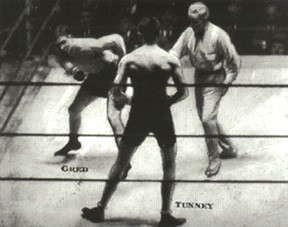 Greb's most famous victory is his win against Gene Tunney for the American light heavyweight title. Greb handed Tunney the only official defeat of his career in their first meeting. The May 24, 1922 NY Times reported, "Greb, a human perpetual motion machine if there ever was one received the decision of the judges Tommy Shortem and Eddie Hurley and Referee Billy McPartland." The Times reported, "Tunney tried with every ounce of strength and every trick of the trade to offset the speed and remarkable ability of his rival. But the defending champion could find no defense for the rain of blows which met him at every turn."
Grantland Rice, one of the top sportswriters of the time wrote, "Harry handled Gene like a butcher hammering a Swiss steak. How Gene survived 15 rounds I will never know." Tunney himself said, "Greb gave me a terrible whipping. My jaw was swollen from the right temple down the cheek, along the chin and part way up the other side. The referee, the ring itself, was full of my blood. If boxing was afflicted with the commission doctors that we have now, the first fight probably would have been stopped and no one would have heard of me today."
Greb and Tunney fought 4 more times and they were all good competitive closely contested fights and one must remember that Tunney was the naturally bigger fighter in all of these contests. Their second fight was highly controversial. Tunney won the decision in their rematch which many called the worst decision in New York history. Some sportswriters at the time declared that it called for an investigation. William Muldoon, NY State Athletic Commissioner, said in the Feb 24, 1923 NY Times "The verdict was unjust" and "(Muldoon) declares that Pittsburgh boxer (Greb) should have received decision."
According to historian Steve Compton Gene Tunney won the the rubbermatch fair and square. The fourth bout in Cleveland was cast for Greb by 2 of 3 Cleveland papers with the third calling it a draw, and the fifth bout went to Tunney.
One of Greb's greatest fights was his victory over welterweight and future middleweight champion Mickey Walker at the Polo Grounds in New York in 1925. Walker, himself an all time pound for pound great said in Peter Heller's In This Corner, "Harry Greb was the greatest fighter I ever fought. He was one of the greatest that ever stepped in the ring." The July 3, NY Times reported, "Greb retained his world middleweight title when he battered his way to the decision…in as savage and furious a ring encounter as either boxer has ever experienced." The Times continued, "Walker left the ring badly used up. He had a split lip, a bruised and battered nose, and a cut under his right eye which was puffed and almost closed. Greb was unmarked, although he absorbed punishing blows to the body through every round." The entire bout was fought at an extremely fast pace. Walker started off well in the early rounds but by the 6th Greb was firmly in charge. There was seesaw action in the mid to late rounds. The champion finished strongly taking the final "championship" rounds, nearly knocking Walker out in the 14th.
What is even more amazing is the fact that Greb fought most of these great fights while blind in one eye. He suffered a detached retina after being thumbed in his 1921 fight against Kid Norfolk. For five years he fought half blind.
When he finally lost the title to Tiger Flowers the split decision was a controversial one. The rematch was even more controversial. When Joe Humphreys announced Flowers as the winner by split decision with the judges, but not the referee, voting for him, the fans stormed the ring, littering it with bottles, hats, paper and everything they could find to throw in protest. Jim Crowley, the referee, walked over to Greb saying "Tough, Harry, a tough one to lose. It was your fight." Gene Tunney who watched the affair said, "Harry won by a substantial margin. It was an unjust decision." William Muldoon also said Greb had won, adding, "but the decision will stand. If we (The New York Athletic Commission) reversed it, the Negro people might think they were being discriminated against."
Two months later Greb died. He was injured in an automobile accident and complained of dizziness and breathing difficulty. He would later die on the operating table as he tried to get his nose repaired so he could breathe better.
Harry Greb was the ultimate aggressive swarming style fighter, only Henry Armstrong can compare to him in terms of the volumes of punches he threw and the killing pace that he set. Not even Armstrong can compare to Greb in terms of his speed, maneuverability and durability. Greb's perpetual motion fighting made him as dominant as any fighter who ever lived and his awesome record is virtually unmatched in the annals of boxing history.
Thanks to historian Steve Compton who is researching a book on Harry Greb for several contributions made to this article.