Cox's Corner Profiles
Jack Dempsey, The Manassa Mauler..."The Greatest Rough and Tumble Fighter Who Ever Lived"
By: Monte D. Cox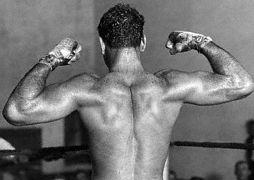 Jack Dempsey was not only one of the most exciting heavyweight champions in history he was also one of the ring's greatest all time pound for pound fighters. Dempsey has one of the best knockout records in history with an unparalleled winning streak of 32-0 with 28 knockouts, including 17 of them in the first round! His victims included most of the top heavyweight contenders of the period such as Carl Morris, Fred Fulton, Al Palzer, Battling Levinsky, Gunboat Smith, K.O. Bill Brennan, Billy Miske, and his title-winning massacre of big Jess Willard.
Ray Arcel, one of the greatest trainers in boxing history, worked with 18 world champions including Barney Ross, Tony Zale, Ezzard Charles, Roberto Duran, and Larry Holmes. He was in the opposite corner from Joe Louis in 14 of his fights, and he also personally knew and learned from the great Benny Leonard. Arcel has stated that he considered Muhammad Ali, Joe Louis and Jack Dempsey to be the three greatest heavyweights in history and hedged on picking between them, but here is what he said about Dempsey,
"He should've been the only heavyweight anybody ever thought of when they thought about the greatest heavyweight champion. I mean he had everything. He could punch, he could box. He was mean and determined."
Jersey Jones concurs saying, "At his peak Jack Dempsey was the most dynamic and devastating heavyweight this commentator has ever seen…Manassa Jack had speed, strength, better than average boxing skills, lusty punching power and a blazing spirit. His bobbing and weaving style made him a difficult target to hit solidly, but when he was, he had the "ruggedness" to take it. Lithe as a panther and just as savage, Dempsey packed one of the most powerful punching combinations in the game…"
Sam Langford, when asked how Harry Wills (whom he fought 18 times in his career) would do against Jack Dempsey, said in the June 5, 1922, Atlanta Constitution "Well if he ever fights Dempsey my money will be on the present champion. Dempsey is the greatest fighter I have ever seen. He hits twice as hard as Jim Jeffries and is as fast in the ring as James J. Corbett."
Jack Dempsey was a sure killer. A fighter with great killer instinct and the ability and will to finish a hurt fighter. Dan Morgan, an old time fight manager who had three world champions said that Dempsey had the three qualities which produce greatness in the fight ring and make a man a fighter for the ages. These are: ferocity, cold-bloodedness, and gameness. He said, "There's no place for pity in the ring. Many fighters can't bear to hammer a helpless opponent in the ring. They don't want to hurt him. But look at Dempsey he was probably the greatest rough and tumble fighter who ever lived."
Dempsey was not at all easy to hit because of his quick inside movement. John Lardner wrote that "Bobbing and weaving is a phrase that will probably be associated with Jack Dempsey until the end of time."
Dempsey called "the bob", "a kind of artistic duck." And he described "the weave" as "a series of slight imaginary slips. As you shuffle toward your opponent, you roll your left shoulder slightly; then your right' then your left and so on…the genuine bob and weaver-and I was one of those-uses it fully. A deep bob and a side sway. I used to slip in under an opponents attack. Once in close I threw my left hook. I had a good one. I'd continue with a barrage of rights, hooks and uppercuts."
Dempsey a master of the bob and weave.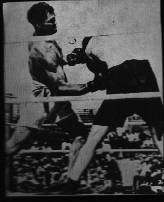 It is a system designed to slip through an opponent's offense and make him pay for every single mistake he makes. Make him miss and make him pay! Imagine a perpetual motion of the bob and weave, slipping, side-stepping and taking advantage of an opponent's misses with punishing and countering power punches. At this Dempsey excelled. In his title winning effort against Willard Dempsey circled, circled, and Willard impatiently shot out a long left jab. Dempsey slipped underneath and weaved right, slamming a hard right to the body. It is the same punch that Dempsey used throughout his career (photo L) and Mike Tyson would later make his trademark punch. Dempsey then immediately exploded a left hook that broke the giant Willard's jaw and the onslaught was on.
Once inside Dempsey was virtually a whirlwind of motion. Whirling left, whirling right, getting punching angles and delivering his devastating left hooks, right hands and uppercuts. Dempsey had excellent hand speed, not in the league of Ali, or Louis but just a notch below. With his speed, power, and explosiveness Dempsey was a force to be reckoned with. William Detloff wrote, "Dempsey threw so many punches in rapid succession that it often was difficult to identify the knockout blows."
Dempsey had very under-rated boxing skills. He once described his snapping left lead, discussing the energy transfer that occurred when he sprang into his opponent and how the weight would transfer to the lead foot. He then described "a power line," running from his shoulder down the length of his arm to his gloved fist. To quote from his instruction book , "As you take your falling step forward, you shoot a half-opened left hand straight along the power line, chin high. As the relaxed left hand speeds towards the target, suddenly close the hand with a convulsive, grabbing snap. Close the left fist with such a terrific grab that when the knuckles smash into the target the fist and arm and the shoulder are frozen steel –hard by the terrific grabbing tension." This was Dempsey's very strong shotgun left jab.
Dempsey also had pretty good footwork for his style. He circled and looked for openings, shuffled, then exploded forward, side-stepped left and right and was never off balance. Most people have only seen the opening barrage against Willard, but he was boxing the first half of the round, circling and searching for his opportunity to strike. He had excellent foot speed and was one of the fastest attackers in history.
Dempsey's best punch was his exploding left hook.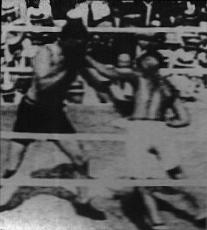 It had two explosions, one from the shoulder that generated body force from the hip and one from the bicep that gave it whirling power. It was a punch that was so powerful that Grantland Rice described it as "tornadic." Many years later Joe Frazier would be described as having, "the best left hook since Dempsey."
Dempsey had more than just a powering hook, he also had a strong right. He was a definitely a two handed hitter. Dempsey's right was short, straight and explosive. In many ways Dempsey resembled a slightly smaller version of a young Mike Tyson, aggressive, trying to destroy his opponent from the opening bell, a bobbing and weaving perpetual motion machine, with a better jab and better boxing skills and with more rounds of ring experience.
Jack was a very hungry fighter. Hunger is what makes a man into a good fighter. It makes him fight when a rich man would quit. It makes him have to win just so he can have something to eat to live. That is why in the 20's and 30's there were a lot of Irish, Jewish, and Italian fighters from the ghettoes, they were poor and hungry and had a tougher character. Today most "whites" are from middle or lower middle class environment and not use to tough times. Dempsey lived in tough times and was a very tough character. Fighters like Tunney, Louis, Marciano were almost always main events and they all fought exclusively in scheduled fights in organized programs. Dempsey, like Jack Johnson before him, had to take what came—sometimes he rode the rails all day to get to a fight and fought without having slept or eaten. A different world.
Today it is difficult for people to imagine the harsh times in which the great fighters of the past lived. Jack Dempsey said this in "The Ring Magazine", May 1956,
"Nobody has to go hungry today. There is plenty of work for a man who wants to work. A kid can make plenty of dough for himself doing almost anything. I was hungry. I had to fight my way along. Freights and the like, fight, fight all the time. The life was tough, but it hardened you."
Grantland Rice quoted Dempsey as saying, "When I was a young fellow (he started fighting at 15 against bigger and older opponents) I was knocked down plenty. I wanted to stay down, but I couldn't. I had to collect the two dollars for winning or go hungry. I had to get up. I was one of those hungry fighters. You could have hit me on the chin with a sledgehammer for five dollars. When you havn't eaten for two days you'll understand."
The Mauler had a great chin and was able to fight well when hurt and recovery quickly from damaging punches. Gene Tunney said of him, "Jack could recover faster than any man I ever fought. He was dangerous with a five-second interval."
Dempsey's ability to recover quickly should come as no surprise. Dempsey, as we have learned, from the time of his youth was fighting to literally be able to eat, he had to get up and fight while hurt. He had to. Dempsey won a number of fights in a "proverbial fog" not even remembering what happened but battering his opponent's until they fell. Dempsey's will to win is unsurpassed by modern fighters and should be classified, at the very least, with that of Muhammad Ali.
Backing up Gene's testimony is newspapermen Frank G. Menke's retelling of the Dempsey-Firpo slugfest, won in exciting fashion by knockout,
"Every ounce of the South American's (Firpo's) gigantic body was concentrated in that one blow-one of the hardest ever landed, in the annals of the ring. The knees of the world's champion buckled and he pitched forward…but as Dempsey pitched forward, Firpo was so close that the champion fell against the body of the giant.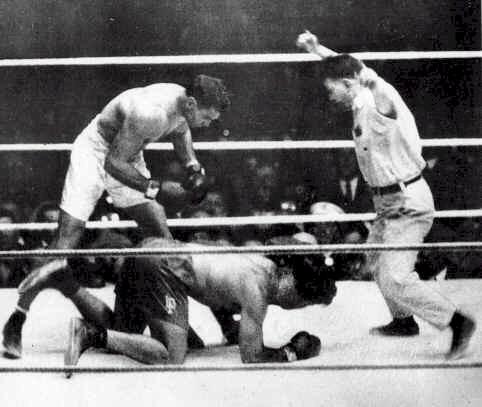 Instinct made him grab and hold. Firpo tried to shake off Dempsey. But before he could achieve his purpose the brief rest saved Dempsey. Strength and power came back to Dempsey's legs and the floodgates of reserve energy refreshed and revived him…Dempsey afterward said he remembered nothing after that first pile driver blow. He had been hit and hurt by the rushing, tearing form before him. And that form must be destroyed!"
Jack Dempsey's destruction of Jess Willard on July 4, 1919 remains one of the most violent outbursts of sheer aggression and power ever witnessed in a boxing ring. It ranks along with Joe Louis one-round annihilation of Max Schmeling and Mike Tyson's 91-second demolition of Michael Spinks as the greatest massacre in the history of heavyweight boxing.
In 1950, the Associated Press conducted a poll of sportswriters to name the greatest fighter of all-time, pound-for-pound, and Dempsey was the runaway winner, collecting 251 votes. [Joe Louis finished a distant second with 109 votes; Henry Armstrong was third with 13.] The sportswriters of the first half of the century named Dempsey as the greatest fighter they had ever seen.
As late as 1962, in the Dec 1962 Ring Magazine, a panel of 40 boxing writers tabbed Dempsey as the greatest heavyweight of all time.
Bert Sugar rates Jack Dempsey as the # 1 all time pound for pound heavyweight. Nat Fleischer rated him #4 on his all time heavyweight list. He also considered Dempsey the best infighter and best two handed hitter among all heavyweight champions. Charley Rose rated him # 3. Eric Jorgensen rates him #2. Cox's Corner rates him # 6.
This is a revised version of an earlier article by Monte Cox and Eric Jorgensen.
Jack Dempsey Video: To Victory