Cox's Corner Profiles
Stanley Ketchel, The Michigan Assassin..."He Possessed Fists of Iron"
By: Monte Cox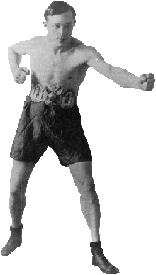 Stanley Ketchel (World Middleweight Champion 1908-1910), born Stanislaus Kiecel on a farm near Grand Rapids, Michigan was one of the strongest and hardest hitting middleweights of all time. Having no amateur fights Ketchel was a street fighter who, on his own from the age of 14, learned to survive with his fists in the tough hobo and mining camps of the west. He eventually settled in Montana. At 17 he came across a boxing booth at a fair and decided to try his luck when the 'barker' tossed him a pair of gloves with the invitation to stay three rounds for a dollar. The teenage Ketchel knocked out the star of the show with one punch, pocketed the coin and decided that fighting was the easiest way to make a living. He landed a job in Butte's Casino Theatre taking on all comers for $20 a week. "I hit them so hard they use to fall over the footlights and land in people's laps," he recalled. It has been estimated that Ketchel fought in as many as 250 unsanctioned bouts before turning professional. His official record is 52-4-4- (4 ND), 49 knockouts, 19 of those knockouts came in 3 rounds or less.
Stylistically Ketchel fought somewhat like a swarmer, but he hit like a slugger. His fury of attack kept his opponents so busy they had little time to think of anything but defense. Although Ketchel had no formal training he certainly had experience as a fighter. His style was crude, but the qualities that he possessed natural strength, boundless stamina, a strong chin, and a quick and pulverizing punch that earned him the moniker of "The Michigan Assassin" made him a great fighter.
Nat Fleischer wrote that Ketchel was, "One of the greatest fighters of my time. All stone and ice concentration when he entered the ring. The moment he entered his eyes were the eyes of a killer. Ketchel scorned the word retreat. A demon of the roped square he made his opponents think that all the furies in Hades had been turned loose on them. He got his punches away from all angles. If he missed with one hand, he would nail him with the other. He was game as a bulldog and tough as a bronco."
Heavyweight boxer Jack Root, who once fought Marvin Hart for the vacant heavyweight title in 1905, said of Ketchel, "He possessed fists of iron, had a fighting heart and his self-confidence was unmatched."
Veteran fight manager Dan Morgan stated that, "Ketchel was an exception to the human race. He was a savage. He would pound and rip his opponent's eyes, nose and mouth in a clinch. He couldn't get enough blood. His nickname "Assassin", fit him like a glove."
The Feb. 27, 1909 Tacoma Daily Ledger stated, "Ketchel is much faster than Fitzsimmons in his prime. Ketchel isn't a clever blocker, like Fitzsimmons. He fights wide open. But his continual shifting and his swift punching make him a bad target to hit."
Historian Mike Silver wrote, "His strategy was simple and direct: Hit the opponent as hard and as fast as you can with as many punches as possible and from every conceivable angle…His punches awed both spectators and opponents alike. He varied his attack to the head and body, as did most of the fighters of his generation. But he was more effective at long range than at close quarters because he needed to get momentum into his hardest shots."
Ketchel fought his first 41 professional fights out of the state of Montana scoring 36 knockouts while losing only twice by decision, with 3 draws before moving on to California. It was up to the young fighter to establish himself. The Pacific state saw most of the great fighters of the time including Jim Jeffries, Bob Fitzsimmons, Joe Gans, Barbados Joe Walcott and many others. It was reasoned that just because one could score a string of knockouts in Montana that didn't mean one could fight main events in California.
After winning his first 3 fights in California by knockout Ketchel was matched with Joe Thomas who was a claimant of the middleweight championship. They fought 20 rounds with Ketchel dominating most of the action. The decision was a draw; although the crowd booed loudly believing Ketchel deserved the decision.
The rematch between Stanley Ketchel and Joe Thomas Sept 2, 1907 in Colma, Ca. has been called one of the greatest fights of all time. Promoter Jim Coffroth at ringside described the scene, "They came racing out of their corner like madmen and never until the last blow was struck did either quit in the savage onslaught." Harry B. Smith writer for the San Francisco Chronicle wrote that, "Never was a better fight seen in California. Superlatives have their rightful place in describing the fight between this pair. From the time that the fight started until it closed there was plenty of action, plenty of blows struck, and plenty of gameness that stirs a crowd to admiration and shouting enthusiastically for its favorite."
From the beginning Thomas was fighting an uphill battle against the whirlwind of destruction that was aimed for him. He tried to box but was unable to keep Ketchel off of him. There were two knockdowns in the fight prior to the finish. In the 16th round a series of strong lefts weakened Thomas and a powerful right by Stanley dropped the Californian to the canvas. He rolled over, beat the count then held and stalled until the bell. In the 27th round Ketchel appeared to be slowing down and a hard right hand to the jaw dropped him. He looked finished. But showing the heart and determination of a warrior born, he got up slid through Thomas attempts to finish him and came back. The exciting slugfest came to an end in the 32nd round. A terrific right to the solar plexus took the fight out of Thomas. A fusillade of left and rights put him down 3 times. Ketchel was the winner of the greatest slugfest of his era by knockout.
In his bout against highly ranked Mike "Twin" Sullivan, another title claimant, Ketchel ended the evening early. The San Francisco Chronicle reported that Ketchel was "too fast for Sullivan." "It was a short left hook delivered squarely to the point of the chin," wrote Harry B. Smith, "and Mike toppled over as cleanly as if he had been hit by a battering ram." The result was a first round knockout.
After defeating his brother Ketchel took a crack at Jack "Twin" Sullivan yet another middleweight title claimant on May 8, 1908 in Colma, Ca. The Chronicle did not bill this fight as a championship fight, but it is clear that after afterwards Ketchel was recognized as the undisputed world middleweight champion. Harry B. Smith wrote that, "Body punches wore down the Bostonian. For the most part Ketchel contended himself with making this fight one for the body. And those were the blows that most hurt Sullivan."
Sullivan was in deep trouble in the 10th and floored by a left to the body in the 11th. Sullivan was the superior ring general and not only managed to survive but to also make Ketchel look foolish at times. Eventually though Stanley's superior vitality and strength wore down the more experienced veteran. Ketchel won by a knockout in the 20th round. He was 21 years old.
Ketchel was a fighting Champion, defending his crown nearly every month. He beat Billy Papke on points, Hugo Kelly in 3 rounds and Joe Thomas in 2 in their rubber match. He was then matched again with Papke.
Billy Papke, known as the "Illinois Thunderbolt", scored a stunning upset of Ketchel by surprising him through use of an ill famed tactic. The Sept. 8, 1908 San Francisco Chronicle reported, "When James J. Jeffries, the referee, called time and Ketchel walked to the center extending his hand for the shake, Papke ignored his hand and sailed into the Michigan killer with the fiery tempetuosity which entitled him to be called thunderbolt." Papke's cheap shot would inspire the referee's instructions: "Shake hands and come out fighting."
The fight was practically settled with the first punch, a strong left that caught Ketchel unprepared and drove him to the ropes. He was lifted off his feet four times in the first round and knocked down by a right and a left by Papke. He never fully recovered. Ketchel's right eye was closed at the beginning of the second round. Ketchel fought on with gritty determination but took a terrible beating over the remainder of the fight and was finally stopped in the 12th round.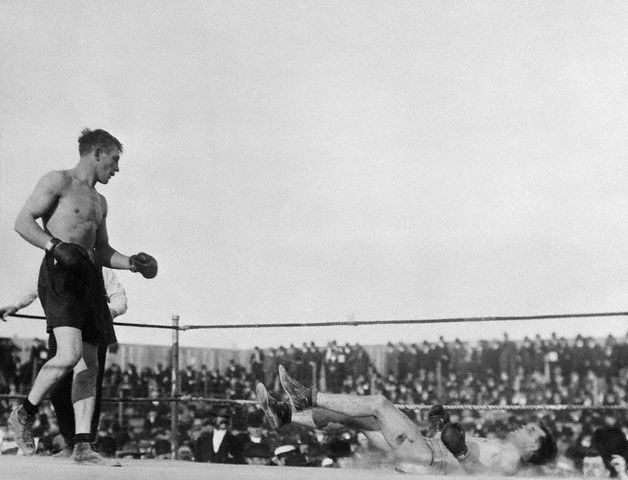 Ketchel was infuriated by the manner in which he had lost. He was also unhappy that Papke was a 10-7 betting favorite in their championship rematch just two and a half months later. W. O. McGeehan wrote that, "Hatred inspires every blow in fight. Papke's stubborn courage is of no avail before the power of the Assassin." In the very first round a right hand to the heart staggered Papke and he was soon in trouble against the ropes. Ketchel never let up. He told his rival, "It took you 12 rounds to stop a blind man. I'm gonna let your eyes stay open until the 11th so you can see me knock you out."
A crunching left sent Papke crashing to the mat in the fateful 11th. It was a punch that "shook his entire frame and sent his head crashing against the wooden platform", wrote McGeehan. "Pain racked and with his heart beaten out of him by body punches in the first few rounds…it was all over in that punch." Papke barely beat the count of "ten" but was sent back for the full count by a barrage of punches by Ketchel who avenged the only real defeat of his career at middleweight. It was the only time Papke was ever knocked out.
After regaining the title Ketchel embarked on a tour of the east coast. He met light-heavyweight champion Philadelphia Jack O'Brien (129-6-21) twice. The first fight was so exciting that Nat Fleischer who sat at ringside wrote, "I could feel my heart beating in my throat from start to finish." O'Brien controlled much of the first 7 rounds schooling Ketchel in the finer points of boxing and doing most of the damage. But Ketchel's pressure was intense and the tide began to turn due to Ketchel's fierce body punches. In the 10th and final round it was clear that Ketchel needed a knockout. Then the bombs fell. Ketchel exploded on O'Brien flooring him 3 times. At the last knockdown Fleischer wrote that O'Brien was as "inert as stone." The bell rang. O'Brien was dragged to his corner saved by the final gong. It was officially a no-decision, although arguments waged for years over whether it was really a knockout. In a rematch, less than 2 months later, Ketchel dusted O'Brien in less than 3 rounds.
Ketchel went back to California for a fourth meeting with Billy Papke. This fight was a bitter disappointment. The Chronicle reported, "They fought like old women...Ketchel seemed absolutely lost, with no punch and with no accuracy." The fight was lackadaisical by both parties. It was a sloppy fight although Ketchel claimed he broke his hand in an early hand. It went to a 20 round decision with the referee declaring Ketchel the winner but the newspapers said a draw would have been a fairer verdict. It is highly unfortunate, this being perhaps Ketchel's worst performance, that this fight is one of only two surviving films available of Stanley Ketchel, the other being the Johnson fiasco.
Ketchel's next bout was his famous tussle with heavyweight champion Jack Johnson. Johnson and Ketchel waltzed through much of the first 10 rounds. It is no coincidence that the Oct 16th, 1910 Chronicle featured a large cartoon of a motion picture company cameraman saying, "I don't know who's going to win, and I don't give a darn either. All I want is for the fight to go OVER 10 ROUNDS" (emphasis theirs). The fighters were to receive 40 percent of the motion picture proceeds from the bout. In those days the public wouldn't pay to see a fight that ended as soon as it began so the two agreed to carry one another for the first dozen rounds to enlarge their own pockets.
Harry B. Smith wrote, Oct 17th San Francisco Chronicle, "That the Negro could have finished the fight much earlier was apparent to those at ringside." Nevertheless both men kept to their pack until the 12th round. Ketchel unleashed a hard right that knocked down Johnson for a short count. Smith stated, "To the writer and 90 percent of those who were in a position to follow closely it appeared that the punch seemed to glance around the back of Johnson's head…and there was genuine surprise when Johnson went down." However Referee Jack Welsh "affirms that the blow struck Johnson, and the colored man himself declares that he was hit behind the ear as he was coming in." Johnson embarrassed, got up and knocked out the middleweight champion out with his next punch. Two of Ketchel's teeth were embedded in Johnson's glove after the knockout.
Ketchel would engage in 5 more fights, including a 6-round no-decision against the great Sam Langford. It was disputed as to who was actually better in this contest by various newspapers. Both men were thought to be holding back, saving their best stuff for a proposed match for the championship at the end of the year. Alas it was not meant to be.
Stanley Ketchel was shot in the back and killed by Walter Dipley, the common law husband of Goldie Smith, who had been cooking Stan's breakfast. The wounded champion was transported from Conway, Mo where a special train had been chartered. Three physicians were on the special. They attempted to locate the slug, which had entered the boxer's body below the right shoulder and entered his lung. He died in a Springfield, Mo. Hospital at 7:05 p.m. Oct 15, 1910. His last words were, "I'm so tired, take me home to mother."
Because he was only 24 when he died as champion it can be argued that the world never saw the best of Stanley Ketchel. Not many all time great middleweights had yet hit their peak at this age. Bob Fitzsimmons was 28 when he won the middleweight title, Harry Greb was age 27, Ray Robinson was 30, Carlos Monzon was 28, Marvin Hagler was also 28 when he won the title.
Nat Fleischer rated Stanley Ketchel as the greatest middleweight of all time. The Ring magazine rated Ketchel the # 4 all time middleweight in their 1996 All Time Divisional Ratings, among the 20 greatest fighters of the 20th century in 2000, and # 6 among the 100 greatest punchers of all time in 2003. The IBRO (International Boxing Research Organization) rated Ketchel the # 3 all time middleweight in their 2005 member poll.