Cox's Corner Profiles
Ray Leonard...."Sweet as Sugar"
By: Monte D. Cox
The year 1976 will always be a memorable one. Two major events gave boxing a big boost. One was the summer blockbuster movie Rocky and the other was the tremendous success of the 1976 Olympic Team that won 5 gold medals, a silver, and a bronze. The darling of the Olympics was one "Sugar" Ray Leonard. Leonard had an amateur mark of 155 wins in 160 fights. Before he was 20, he won three National Golden Gloves titles, two AAU championships and the 1975 Pan-American Games crown. In the Montreal Olympics Leonard fought with photos of his high school sweetheart Juanita Wilkinson, and their three-year-old son taped to his shoe. It was good copy, but he was not favored to win the gold. A lot of amateur boxing observers thought that the great Cuban left hook artist Andres Aldama would defeat the 20 year old Leonard in the Olympic final. Aldama was virtually a pro and had scored 5 straight knockouts to reach the finals. Ray Leonard proved that he was a great boxer winning with an impressive 5-0 decision capping his outstanding amateur career by winning Olympic Gold.
After winning the Olympics Leonard announced to the press, "The journey is over, the dream fulfilled" and he retired from boxing. Leonard had hoped to cash in on endorsements but they never came. With the bills piling up and sickness in his family he decided to turn professional.
Critics have accused Ray Leonard of being a fraud, a product of careful management and television network marketing executives. An examination of Leonard's record reveals that such criticism is unjust. On his way to the welterweight championship he defeated legitimate top contenders such as Pete Ranzany¸ Armando Muniz, and Randy Shields, and top 10 middleweight contender Marcos Geraldo. In his career he would defeat 4 current or future Hall of Famer's, Wilfred Benitez, Roberto Duran, Thomas Hearns and Marvin Hagler.
It was a battle of the unbeaten when Ray Leonard challenged Wilfred Benitez for the linear and WBC Welterweight championship on Nov 30, 1979 in Las Vegas. Benitez was an outstanding boxer, a defensive master who was the youngest world-boxing champion ever at age 17, when he defeated the legendary Antonio Cervantes for the Jr. welterweight title. Benitez then moved up defeating a solid professional champion in Carlos Palomino for 147-pound honors. The defending champion, Benitez was 38-0-1 (25 ko's) and Leonard the #1 ranked challenger was 25-0 (16 ko's).
In a tactical boxing match in which Ray Leonard was full of admiration for is opponent's defensive prowess, "Sugar Ray" stated, "No one can make me miss punches like he did." Ray opened quickly winning the first 3 rounds on his slightly superior hand speed and jab, scoring a flash knockdown in the third. Then beginning in the 4th Benitez changed tactics and began fighting like Leonard; it was a difficult match for Ray from this point with Benitez making Ray miss often. "It was like looking in a mirror," Leonard later said. In the 6th round the fighters clashed heads and a cut was open on Benitez forehead. It wasn't until the championship rounds that Ray began to take over the fight. In the 11th Ray knocked out Benitez mouthpiece, in the 15th a strong uppercut sent the champion to the canvas. Although Benitez got up the referee stopped the fight after two more punches. Ray Leonard was the new Welterweight Champion of the world.
When Ray Leonard faced challenger and all time great lightweight champion Roberto Duran, Ray was undefeated in 27 professional fights. Duran, a living legend amongst boxing fans, came into the contest with an impressive record of 71-1.
In his first fight with the Panamanian superstar Leonard was forced to fight much of the battle at close quarters. Duran, pushed, shoved and mauled Leonard to the ropes. Duran had the edge, hurting Leonard early in the second round with a right hand, left hook combination from the outside. After that Leonard elected to fight inside with Duran, which was just Roberto's game. Surprisingly to many Leonard fought very well in this type of battle. They fought at an extremely fast pace, Duran averaging a whopping 92 punches a round in this classic war. The final scorecards were 145-144, 146-144, and 148-147 in favor of Duran. Leonard earned more respect in this defeat that in all of his other victories put together to this time.
It was rumored that Duran allowed himself to live the high life and became grossly out of shape after his victory over Ray. Leonard forced an immediate rematch exercising his rights under their contractual agreement. The rematch turned out to be an embarrassment as Ray boxed and moved more effectively. In the 8th round Duran signaled he did not want to continue, saying "No Mas, No Mas." Leonard regained his title although the fight and Duran's reasons for quitting remain controversial.
Next up for Ray was his fight with unbeaten Ayub Kalule, World Jr. Middleweight Champion. Kalule gave Leonard a tough fight that was closely contested, but in round 9, Leonard connected a huge right to the chin that sent Kalule down. Leonard had captured his second divisional title.
There was only one big fight left for Ray at welterweight. Leonard was the WBC and linear Welterweight boxing champion. But the WBA champion was Thomas Hearns. Hearns was 32-0, with 30 knockouts. At 6'1" he was very tall for a welterweight and he knew how to maximize his leverage to put tremendous power into his punches. He won his title by starching Mexican slugger Pipino Cuevas in two rounds. Hearns because of his superiority in height, reach and presumed greater punching power was a 6 ½ -5 favorite. It was a match up that fans clamored for.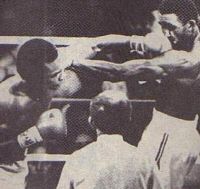 Tommy Hearns controlled the fight with his long jab for the first 5 rounds. By the 3rd round Ray's eye was developing a mouse. Then in the 6th Leonard turned Tiger changing his style becoming aggressive and demonstrating that he had power of his own ripping a double left hook under and over that had Tommy in serious trouble. In the 7th Leonard battered Hearns from pillar to post. The roles were now reversed with Leonard stalking Hearns the prey had become the predator.
In the 9th Hearns began to box and use his jab from the outside. Ray's left eye was swelling badly. After 12 rounds Hearns had a clear edge in points. It was during the moment between rounds 12 and 13 that Leonard's trainer, Angelo Dundee, said the now famous words of "You're blowing it, son! You're blowing it." In the 13th Leonard exploded pounding Hearns and nearly knocking him through the ropes. In the 14th Leonard was determined to finish his badly hurt opponent and did so with a flurry of punches to the head and body. Hearns was offering no resistance against the ropes when Ref Davey Pearl finally stopped the contest. Ray Leonard was undisputed Welterweight Champion of the World. Ray Leonard proved that he was as sweet as Sugar and a worthy successor to the title of "Sugar Ray".
After defending the title just once more it would be discovered that Leonard was suffering from a detached retina. After having surgery to repair the damage to Leonard's eye he retired from boxing in 1982. He would fight only once more in the next 5 years before making the most unlikely of comebacks.
In November 1983 Ray did the color commentary for the Marvin Hagler – Roberto Duran middleweight championship bout. Leonard revealed after the fight that he noticed Hagler could be hit with lead rights, and that he wasn't nearly as effective when he had to play the role of the aggressor for an entire fight. Frank Lotierzo wrote, "It is interesting that in the only two title fights where Hagler was forced to go the distance, against Duran and Leonard, he was forced to fight as the aggressor the entire fight."
On April 6, 1987 Ray Leonard was a 3-1 underdog against the undisputed middleweight champion Marvelous Marvin Hagler. 46 of 50 boxing experts polled picked Hagler to win, virtually all of those picked Hagler by knockout.
They were all wrong! Leonard demonstrated that he learned his lessons from the Duran fight well, as he proved that Marvin was not truly adept at cutting off the ring. Marvin simply followed Ray around instead of stepping in front of him to cut off his escape. Leonard avoided Hagler's right hand and boxed a smart fight. Ray swept the early rounds on the official cards building an early lead. By dancing, moving and controlling ring center Ray was the superior ring general who fought the only fight he could and did so effectively enough to win. Leonard did not just throw pitty-pat punches as some critics' claim. Hagler was not able to just walk through Leonard's punches. The fact is Hagler was not able to maintain a sustained attack as Leonard confounded him, out boxed him and continually beat him to the punch.
Leonard won a close, but deserved split –decision to become the Middleweight Champion of the world, making him a legitimate Triple Crown champion. Jim Murray writing in the LA Times said, "He just didn't outpoint Hagler, he exposed him. He made him look like a guy chasing a bus. In snow." Sports Illustrated called Ray Leonard's victory over Marvin Hagler "his finest hour."
Leonard would retire and un-retire several more times, winning a version of the light-heavyweight title against Donnie Lalonde, beating Roberto Duran for the middleweight title after Roberto's stunning victory over Iran Barkley, drawing with Thomas Hearns in their rematch and eventually losing to Terry Norris and in his last fight at age 40 to Hector Camacho.
Ray Leonard was rated by Ring magazine as the # 3 all time welterweight in their 1996 All Time Divisional Ratings, among the 20 greatest fighters of all time in 2000 and among the 10 best fighters of the last 80 years in 2002. The IBRO (International Boxing Research Organization) rated Leonard as the # 2 welterweight of all time in their 2005 member poll.
Sugar Ray Leonard Tribute