Cox's Corner Profiles
"Sugar" Ray Robinson…"Pound for Pound"
By: Monte D. Cox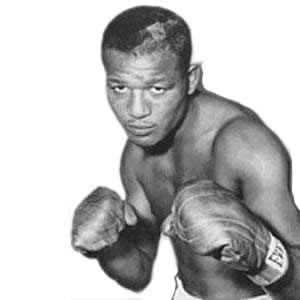 Many boxing aficionados have hailed Ray Robinson, born Walker Smith Jr., as the greatest pound for pound fighter of all time. As an amateur the young fighter had to hide the fact he was boxing from his mother and used the AAU card of one Ray Robinson, a fighter from his club who had retired, and Smith made a reputation under that name. Now forever known as Ray Robinson he won New York Golden Gloves titles at featherweight and lightweight, and built an undefeated amateur record of 85-0 with 69 knockouts including 40 in the first round! According to his autobiography, sportswriter Jack Case after seeing one of Robinson's amateur performances said he "sure was a sweet fighter" and called him "Sugar Ray" in one of his sports columns and the now famous moniker was born.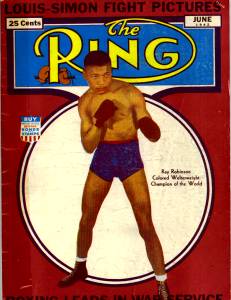 As a professional Robinson compiled one of the greatest records in boxing history going on a run of 128-1-2 with 84 knockouts while winning the world's welterweight and middleweight championships. Robinson won his first 40 pro fights before losing a decision to middleweight Jake Lamotta whom he beat 5 of 6 times. He then went on a 91 bout-winning streak. He had no peer for more than decade that included a span of 8 years unbeaten. Of the 76 welterweights he faced he knocked out 50 (34 in 4 rounds or less) of the 24 middleweights he knocked out 11.
His competition is possibly the best in boxing history fighting 18 world champions and defeating 10 Hall of Famers including; Sammy Angott, Fritzie Zivic, Henry Armstrong, Kid Gavilan, Jake LaMotta, Randy Turpin, Rocky Graziano, Bobo Olson, Carmen Basilio, and Gene Fullmer. Robinson was undefeated as welterweight champion from 1946-1951. He was a 5 time middleweight champion. He achieved a final official record of 175-19-6 2 NC with 109 kayo's. 16 of his 19 losses came after his first comeback at age 34, 12 after the age of 40. In a professional career with over 200 fights he was never physically knocked out, failing only to last the distance one time when he collapsed from heat exhaustion while leading the fight against Joey Maxim in vying for the light-heavyweight title.
Nat Fleischer wrote in the Feb. 1951, Ring Magazine, that in the year 1950 "Robinson hit the spotlight as the greatest all around fighter, pound for pound, in any division." They have been saying it about Robinson ever since. The term "pound for pound" has come to exemplify the stature of Ray Robinson as the greatest fighter in boxing history.
Robinson demonstrated that boxing wasn't only strength or power but like ballet emphasized skill, beauty, rhythm, co-ordination, timing, and balance. Like a great dancer he was always in position and moved with a progressive flow. His combinations were picture perfect. Perfect is one of the best words to describe Robinson in his prime. He was the closest thing to perfection boxing has ever seen.
Bertram Job penned, "An instruction film about boxing attributes should just contain shots of his best fights. Sugar Ray Robinson is no less than the Picasso of boxing. More than anyone else in the 20th century, he celebrated the sport as an art form. A puncher as well as a technical and stylish boxer, the outstanding champion in two weight divisions knew how to combine the strategic means of the sweet science almost perfectly."
Bob Mee wrote of his perfection saying, "Ray Robinson, the original Sugar Ray, was a flawless, graceful fighter who carried the old art form to fresh planes of achievement."
Gilbert Odd agrees saying, "If any man has been the complete boxer it is Sugar Ray Robinson, a superb artist and perfectionist. A smooth mover, precise puncher, with a thought reading brain and knowledge of anatomy that enabled him to place his blows where they did the most damage."
Ring announcer Don Dunphy said, "He could box, he could punch, he could take a punch, and he was as game as they come. He had plenty of heart and above all great desire. Any ingredient that any champion ever had, he had them all."
Fight doctor Ferdie Pacheco stated, "Sugar Ray Robinson was nearly too good a boxer to be believed. Sugar Ray was sleek and slick, with amazing reflexes and quicksilver legs. He was a dance master, capable of raining a storm of pinpoint punches from a bewildering array of angles."
McCallum noted, "Sugar Ray wasn't especially strong, yet he packed a punch like the kick if a misanthropic mule. The secret of his special stiffener, he said, lay in perfect coordination and the speed of delivery with which he unloaded on his befuddled victims."
Robinson was recognized as a great fighter long before he won a world title cutting through a swath of impressive contenders and former champions. He was the Ring's fighter of the year in 1942. He won the vacant welterweight title by decisioning the outstanding Tommy Bell over 15 rounds. He made 5 successful defenses before moving up in weight.
Wilfred Smith of the Chicago Tribune, wrote on Feb 14, 1951 "Sugar Ray, often praised as the best fighter of all time for his weight, has been sensationally successful since he won amateur honors in Intercity Golden Gloves more than a decade ago. He leaves the welterweight class because of increasing difficulties in reducing to 147 pounds, the division's maximum limit, where he now has no substantial rival."
After Robinson stopped tough Jake Lamotta for the Middleweight championship in Chicago, Smith repeated his acclaim of Robby writing, "Ray Robinson has been called the finest fighting man for his pounds in the history of pugilism. Few in the crowd (of 14,802) will deny him that praise. Sugar Ray fought with sharp stunning jabs. He knew exactly his plan of campaign. But most important he was prepared. He took Lamotta's best punches without weakening." By the fights end Jake was simply a target for Robinson's fast and well timed punches. Lamotta was helpless when the fight was stopped. Robinson was at the pinnacle of his career with a record of 121-1-2.
Robinson was always confident of victory he didn't believe anyone could beat him. Jimmy Cannon once asked him, "Sugar just before a fight everyone seems more excited than you are. Do you always feel you are going to beat the other man? Are you so sure you are going to win?" Ray said, "No. I never thought he could beat me. Why would I want to think negative for, whether I can beat him? I never thought that way."
Robinson's belief in himself was never more clearly demonstrated than after losing the middleweight championship to hard-hitting Randy Turpin on a decision. In the rematch the two great middleweights fought fairly evenly for 9 rounds. Referee Ruby Goldstein had it even with 4 rounds each and one even. While judges Agnello and Barnes had it 5-4 and 5-3-1 for Ray respectively. Then in the fateful 10th Robinson suffered a hideous cut over his eye from a head butt that threatened to end the fight. The moment had arrived where greatness is tested.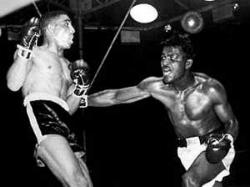 "In a savage, searing, deadly attack, we saw for the first time in the bout the masterly performance of a truly great fighter, one who will go down in ring history as one of the greatest of all time, and the best all around fighter of his era" wrote Nat Fleischer in the Nov. 1951 Ring Magazine. Robinson dropped Turpin with a viscous right to the jaw. "When he got to his feet. Ray went berserk. It was the fury of a seasoned veteran ring master. Ray bombarded Turpin from all angles." Turpin was defenseless against the ropes and the Referee wisely halted the contest. Robinson had regained the title for the first time.
In 1952 Sugar Ray beat Bobo Olson by decision and then knocked out former Middleweight champion Rocky Graziano in a thrilling three round fight. He then challenged Joey Maxim for the light-heavyweight championship.
The record book says that Robinson lost by a technical knockout in 14 rounds to Maxim. But the real story is the heat. It was so hot that day at Yankee Stadium the temperature was 104 degrees on the ring apron. Jim Jennings of the Daily Mirror wrote that the "conditions might have made Dante's Inferno seem like an air conditioner." Referee Ruby Goldstein on the verge of collapsing quit after the 10th round and was replaced by alternate referee Ray Miller. Robinson fought a great fight, using his speed he kept the clever Maxim off balance and was leading on all the judges cards when he wilted in the 14th round. Robinson retired from the ring later that year.
After a two-year hiatus Ray decided to make a comeback. He fought a number of tune-ups and struggled to regain his old form. When he faced Bobo Olson for a crack at his old title he was a 4-1 underdog. The odds makers were all proved to be suckers as Robinson annihilated Olson with a right uppercut-left hook combination resulting in a 2nd round knockout. Sugar Ray was back! Writer Jimmy Cannon called his comeback "the greatest in the history of sports."
Robinson lost his title again nearly two years later against the physically strong, brawny middleweight slugger Gene Fullmer. Robinson came in flat and lost a 15 round decision. Robby was out-hustled and out-punched by a younger opponent who dominated him. He was 37 years old now and it looked like his days as a champion had past. Someone told Ray at his age he had no business fighting the 25-year-old Champion, to which Ray replied, "Nobody has ever beaten me twice."
Robinson noticed on films that Fullmer reached with his right hand when going to the body and dropped his right hand. Robinson was ready for him in the rematch. When he saw his opening in the 5th round Robinson exploded with a left hook on Fullmer's exposed jaw. Gene's manager Marv Jensen described it as "a perfect punch." Fullmer never knew what hit him.
Gene recalled the event in an HBO video interview. As he was sitting on his stool and saw Robinson celebrating in the opposite corner, he turned to his trainer and said, "Ray must be in really good shape to be jumping up and down like that between rounds. What happened?" And then he was told, "It was the count of ten." Fullmer had never before been knocked out.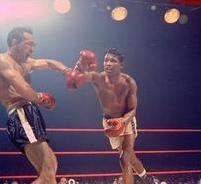 In his next defense welterweight champion Carmen Basilio on a 15 round decision upset Robinson. The decision was a controversial one. The Referee Al Berl had it for Robinson, but was over-ruled by the two judges Artie Aidala and Bill Recht. The majority of the audience booed the decisioned. In a rematch Robinson cut and badly swelled Basilio's left eye in winning the middleweight title for a record 5th time.
Robinson didn't have another title fight for almost two years and when he did he lost the title for good on a 15 round split decision to Paul Pender at age 38. He lost a rematch again by split decision. Robinson also drew with Gene Fullmer for the NBA title at age 39, this was a very controversial decision. The film clearly demonstrates that Robinson should have been given the decision. Robinson was rightly a 6 time middleweight champion, but was robbed of that distinction by the politics of boxing. Unfortunately Ray continued to fight for financial reasons up to the age of 44 when he was fighting for a little over 1,000 dollars a night. After losing a decison to Joey Archer he retired from the ring for good.
Robinson, suffering from Alzheimer's disease and diabetes, died at age 67 on April 12, 1989, in Culver City, California.
Robinson was at his peak at welterweight. Some revisionists have tried to downplay the ability of tough fighters like Fullmer, and Basilio. One must realize however, that had Robinson stayed retired after 1952 he would still be regarded as one of the greatest fighters pound for pound in his prime. The fact that he was able to win the middleweight title for the 2nd - 5th time at an age when most fighters are through with their career proves what a magnificent fighter Robinson was. His competiton was also superior to any middleweight one cares to name.
The Aug. 1980 Ring Magazine christened Ray Robinson as the greatest fighter of all time. In the June 1988 Ring he was tabbed as the greatest middleweight of all time. The Winter 1994 Ring named him as the "best fighter of all time" in their "Best of the Best of the last 100 years." In 1997, The Ring magazine nominated him "pound for pound, the best boxer of all time." In 1999, the Associated Press named him both the greatest welterweight and middleweight boxer of the century. The 2002 Ring Annual (Vol.2) rated him the greatest fighter of the past 80 years. Cox's Corner considers Ray Robinson to be the # 1 welterweight of all time.
References:
HBO Video Productions. 1989. Mike Tyson and History's Greatest Knockouts.
Heller, Peter. 1994. In This Corner 42 World Champions Tell Their Stories. 2nd edition. Da Capo Press. NY p 278
Job, Bertram. 2003. Boxing Feierabend. Berlin. p 106
McCallum, John D. 1975. Encyclopedia of World Boxing Champions. Chilton Book Co. Radnor, Pa. pp 172, 176
Mee, Bob. 1997. Boxing Heroes and Champions. Chartwell Book. Edison, NJ. p 278
Odd, Gilbert. 1974. Boxing The Great Champions. Hamlyn Publishing Group. London. pp 98-99
Pacheco, Ferdie. 2003. The 12 Greatest Rounds of Boxing. Sport Classic Books. Toronto. p 64
Roberts, James B. and Alexander G. Skutt. 1999. The Boxing Register. 2nd edition. McBooks Press, Ithaca, NY.
Robinson, Ray with Dave Anderson. 1970. The Sugar Ray Robinson Story Revised 1994. DeCapo Press Inc. NY.

Ray Robinson Tribute Video from Cox's Corner