Cox's Corner
This article appeared at East Side Boxing Sept 24, 2006
The Incomparable Sugar Ray Robinson Named Greatest Fighter Of All Time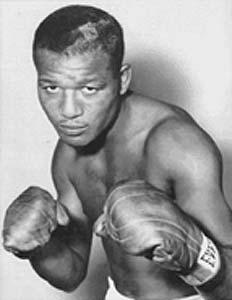 By: Monte D. Cox
Sugar Ray Robinson has been named the greatest fighter of all time, pound for pound, by the International Boxing Research Organization, a reputable association of boxing historians, analysts and writers. Robinson certainly has all of the qualifications to be titled as the greatest of them all. The Sugar man possessed every asset of a great boxing master; grace, speed, balance, fantastic skill, pulverizing punching power, an indestructible chin, and an indomitable will. Further his competition is among the best of any fighter in any weight class. Robinson also had longevity to go along with a great ring record.
There are a number of ways to rate fighters in an all time sense, but it boils down to two important considerations. One is to judge the ability of a fighter. That is to ask who brings the most attributes to the ring. Rating fighters on talent is one method. The other is to rate fighters strictly on their ring record by weighing their accomplishments and quality of opposition. In either case Robinson is difficult to compare.
ABILITY
What other fighter could beat you more ways than could Sugar Ray Robinson? Ray could out box boxers and out punch punchers. He could do it inside or outside, going forward or backward. That cannot be said of any other all time great that received a first place vote in the IBRO poll. Not Harry Greb, not Bob Fitzsimmons, not Jack Dempsey, not Henry Armstrong, not Sam Langford. Nor could it be said of 4-5th place finishers Muhammad Ali and Joe Louis. Runner up Greb and 3rd place finisher Armstrong were primarily pressure fighters. Dempsey, Louis, Langford and top 10 finisher Roberto Duran could box and punch, but they could not "outbox" boxers with speed and agility. Ali could outbox punchers but he could not out punch punchers. Ali was also one dimensional in that he was strictly a head hunter and not a complete fighter. In terms of all around ability, hitting power and versatility, Robinson deserves the top spot.
Although not as fundamentally sound as Joe Louis, Robinson was more multifaceted. Louis was an economically sound boxer who wasted no movement, had a tight structure and threw short compact punches with precision and power. According to the boxing book that is how it is suppose to be done. Robinson transcended that by adding fluidity of movement and grace to his ring style. Sugar Ray was not the first fighter to fight in the elegant style that he possessed. What made Robinson so special was that he combined speed, balance and flash with devastating explosive power.
Men like Louis, Langford, and Dempsey could knock you out with one punch from either hand. So could Robinson. Ray could do it with his powerful left hook as he did against Gene Fullmer or with his perfect straight right as he did against Rocky Graziano. Joe Louis could throw triple left hooks with speed, power and accuracy that could destroy a man. Robinson could throw triple left hooks and triple right hooks that could do the same. Who else could do that and maintain frightening power?
Punch for punch Ray Robinson was one of boxing histories all time best punchers. Robinson once knocked out Gene Fullmer with a picturesque left hook while moving backwards displaying the one shot shock power of an all time puncher. The Ring magazine rated him 11th among all the great punchers of history in their 2003 article the 100 greatest punchers of all time.
In terms of combination punching the two best fighters in history for speed, power, and accuracy are Joe Louis and Ray Robinson. Robinson worked some of the prettiest combinations ever seen and can be considered the best ever in this category. Robinson was also a great body puncher. In a comparison to some of the great Mexican body punchers of the recent era like Julio Cesar Chavez and Marco Antonio Barrera; who go to the body primarily around the opponents guard, Robinson punched up the middle as well as to the outside. Robinson was an aggressive, dexterous puncher with many weapons to choose from.
Killer instinct is the instrument the drives the wheel of destruction in many of the great fighters. Nat Fleischer once wrote that Robinson, for all his skill, could rip and tear like a Jack Dempsey. Some commentators have stated that Robinson was not a great defensive fighter. This is no doubt true. When one is aggressive and really goes after their opponent they are going to leave themselves open for counters. This is not always a bad thing. When Robinson was on the attack his opponents had to worry about his full battery of offensive weapons. Robinson's defense was his irrepressible offense, although he used his footwork, height and reach to get away from trouble when necessary.
Robinson had a great chin and his will to win is among the best. Sugar Ray was never physically knocked out in more than 200 pro fights. One can see Robinson's gritty determination in his films. He punishes his rivals as though he is upset that they would even think that they could compete with him. He was as determined and confident as any boxing champion in history.
Ray Robinson was the archetype of a complete fighter. If one combines his polished, grand boxing style with his powerful punching and cast iron chin with a will to win unsurpassed in the annals of boxing one has a perfect fighter.
RECORD
Five men can lay claim to having the best record in boxing history in terms of their accomplishments and quality of opposition. Those men are Harry Greb, Henry Armstrong, Benny Leonard, Muhammad Ali and Ray Robinson.
Harry Greb fought 14 world champions and 4 championship title claimants. He had wins against all of them. That means he faced and defeated 18 of 18 champions that he met in the ring at least once. Greb's record reads like a who's who of great fighters from the late teens and 20's. His quality of opposition is unmatched defeating five world middleweight champions, seven world light-heavyweight champions and one future heavyweight champion. The names include, Mike McTigue, Jack Dillon, Battling Levinsky, Tiger Flowers, Tommy Loughran, Tommy Gibbons Jimmy Slattery, Maxie Rosenbloom, Mickey Walker and Gene Tunney. Although not much more than a middleweight he also won dozens of fights against heavyweights including matches against Bill Brennan and Billy Miske both of whom fought for the heavyweight title. Greb came in second in the IBRO poll based primarily on his exceptional ring record.
Henry Armstrong's feats are amazing. During his peak run Hank was 59-1-1 with 51 knockouts against topflight competition, which included winning the featherweight, lightweight and welterweight world titles. Armstrong scored 27 straight knockouts during 1937-1938. He came within a hair's breadth of winning titles in 4 major weight classes when he drew for the middleweight title in 1940 against reigning titleholder Ceferino Garcia, a fighter he had already beaten. Hank also made 20 successful defenses of the welterweight title, a record that still stands to this day. Armstrong's accomplishments put him in the conversation when discussing the greatest fighter of all time. The one knock against Armstrong is that he lacked longevity and was at his peak for only a short time. Armstrong was a like a fire that burned so brightly that it quickly burned itself out.
Benny Leonard faced the greatest line up of lightweight challengers in ring history. Benny a master boxer of the first order is one fighter who could compete with Robinson in the area of boxing skill and all around ability. His competition was also fierce. He defeated featherweight champions Johnny Kilbane and Johnny Dundee, lightweight champions Freddie Welsh, Willie Ritchie and Rocky Kansas. He defeated some great challengers such as Lew Tendler still considered one of the best fighters to never win a title as well as tough competitors such as Ritchie Mitchell, Patsy Cline, Joe Welling and left hook artist Charley White. Leonard retired undefeated as lightweight champion after 7 years although he did benefit somewhat from the no decision rules of the time.
Muhammad Ali beat the best competition in heavyweight history. As a three time champion he defeated Sonny Liston, Floyd Patterson, Joe Frazier, George Foreman, Ken Norton, and Leon Spinks. He also defeated hard hitting contenders such as Ron Lyle and Earnie Shavers. Ali dominated nearly two decades of heavyweight boxing and must be considered among the best in the category of quality of opposition.
Ray Robinson's achievements are no less impressive. Robinson amassed a peak professional record of 128-1-2 while winning the welterweight and middleweight titles. The only fighters to surpass Robinson's peak won-loss record are Willie Pep's 134-1-1 and perhaps Rocky Marciano's 49-0, although neither faced close to Robinson's quality of opposition.
Robinson went 40-0 as a pro before losing a decision to Jake Lamotta, a middleweight who outweighed him by nearly 16 pounds. He was unbeatable for the next eight years going on a 91 bout winning streak. His career record against Lamotta, the only man to ever beat a prime Robinson is 5-1. Lamotta outweighed him by an average of 12 pounds in all of their fights.
Overall Robinson defeated 10 Hall of Famer's in his career; Jake Lamotta, Sammy Angott, Fritzie Zivic, Henry Armstrong, Kid Gavilan, Rocky Graziano, Randy Turpin, Gene Fullmer and Carmen Basilio. He also defeated some skilled challengers such as Tommy Bell who could have been champion in the modern era. Ray was undefeated as welterweight champion and won the middleweight title for a record 5 times.
Robinson should have won the middleweight tile for a 6th time but received a dubious draw against Gene Fullmer at age 39. The film clearly demonstrates that Robinson should have received the decision. Ray won the fight in the ring only to be robbed of the decision. Robinson's longevity puts him among the 5 best geriatric champions of all time with Bob Fitzsimmons, Archie Moore, George Foreman and Bernard Hopkins.
Robinson was absolutely outstanding in rematches. He won rematches against 11 men before finally losing twice to the same fighter. No one ever beat him twice until he was 40 years old and had over 150 fights and even then they were two split-decisions against Paul Pender.
One should also consider that Robinson's activity level made him sharper and more experienced than modern fighters. For example in 1946 the year he won the welterweight title Sugar Ray fought 16 times. In 1947 he fought 10 times. In 1949 he fought 13 times. In 1950 he fought 19 times. The other "Sugar Ray" Leonard only fought 40 pro fights in his entire career. Robinson's total record is 175-19-6 2 NC with 109 kayo's. 16 of his 19 losses came after his first comeback at age 34, 12 after the age of 40.
To sum it up, Robinson was the consummate professional fighter who possessed every physical asset; speed, agility, mobility, and tremendous punching power. He rates among a select few of the all time greats who could defeat fighters using their own best assets against them. Robinson, a true sharpshooter, easily rates among the best pound for pound punchers in history. Robinson is possibly the greatest combination puncher of all time. His quality of opposition is among the top five. Ray's peak won-loss record is among the top three. Ray's overall ring record and accomplishments also rate among the top three. Robinson is among the top five of all time in the category of longevity. Ray had all the intangibles, great experience, killer instinct, a tremendous chin and heart. When one adds it all up it is easy to see why the respected IBRO rated Sugar Ray Robinson as the greatest fighter of all time.
Thanks to Frank Lotierzo for his many contributions made to this article
Sugar Ray Robinson Tribute Video

Ray Robinson Tribute Video from Cox's Corner