MIKE TYSON: IRON and CLAY
By: Monte D. Cox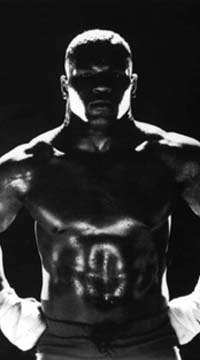 Mike Tyson is the most controversial heavyweight champion in boxing history. Fans and historians alike vehemently argue over whether Iron Mike deserves to be rated among the all time greats. Some fans insist that the young Tyson was perhaps the most dangerous if not the greatest heavyweight champion in history, while others argue that Tyson has been vastly over-rated citing that he lost all of his legacy fights. Both views have some credence.
How good was Mike Tyson? From 1986-1990 he was one of the most feared heavyweight champions ever. His unique melding of fantastic hand speed and shocking punching power made him a threat to any opponent he faced. Like Joe Louis and Sonny Liston before him Tyson's baleful stare and stunning power struck terror into the hearts of his opponents.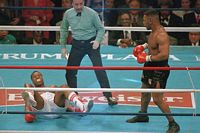 Because he scored some crushing one-punch knockouts some observers tend to think of Tyson as strictly a limited power puncher. However, in his youthful prime, he was much more than just a devastating hitter. Hank Kaplan, speaking of the young Tyson, wrote in Boxing Digest, "He has the best defense seen in the heavyweight division in many years." Tyson had excellent fundamentals, he showed good balance, exceptional head movement, kept his hands high, ducked and bent at the waist to remain in punching position and he slipped, blocked and countered punches very well. Tony Tucker and Bonecrusher Smith each managed to land only one significant punch in their entire fights against Tyson.
Iron Mike also was a fine combination puncher in his youth, an important skill that the later versions of Tyson abandoned possibly due to a lack of good work ethics. Famous trainer Angelo Dundee said after his fight with Trevor Berbick, "Tyson throws combinations I never saw before. When have you seen a guy throw a right hand to the kidney, come up the middle with an uppercut, then throw a left hook. He throws punches . . . like a trigger."
Tyson was also a debilitating body puncher. Watch the film of Tyson work over Jesse Ferguson; his body punching is incredible and just as workmanlike as that of a prime Joe Frazier.
The one legendary fighter that Tyson is most often compared to is Jack Dempsey who was one of his ring idols. Like Dempsey, Tyson was an aggressive bobbing and weaving perpetual motion machine that rushed his opponents from the opening bell. In the December 1988 Ring Magazine, Tyson and Dempsey: Is History Repeating Itself? writer John Reeves wrote about an incident in a bar while viewing the Tyson-Pinklon Thomas fight. Reeves had said to an old pug watching the fight, "A lot like Marciano huh?" "Not really" the old man replied, "I wouldn't say so. He fights more like Dempsey."
There are a lot of similarities between Tyson and Dempsey. Reeves noted, "Like Tyson, Dempsey fought out of a crouch, constantly moving in a bobbing and weaving fashion so taller men would be forced to punch down at a mobile target. Both learned to pressure their way inside and unleash furious volleys of head and body punches. Both ended a lot of fights early with devastating power."
Tyson was a bigger, faster, stronger and more powerful version of Jack Dempsey. Against the other 3 great swarming heavyweights that include Dempsey, Rocky Marciano, and Joe Frazier, Tyson is tops in size, natural strength, defense, hand speed, and raw power. It is difficult to imagine any man weighing less than or around 200 pounds surviving long against a rampaging Tyson. Although lacking the toughness and durability of the other 3, Tyson was naturally bigger and stronger and had so much speed and power he might just walk right threw them.
The one heavyweight of similar size that could match Tyson in hand speed, punching power and boxing skill was Joe Louis. Perhaps Louis, who was the epitome of the complete boxer-puncher, could frustrate Tyson by keeping him on the end of his ramrod jab and neutralizing Mike's aggressiveness. Louis was a master of dissecting an opponent's weaknesses such as Tyson's ducking left before throwing the hook. Louis would counter by setting up his perfect right hand. Louis counter-punching skill was superior to that of Evander Holyfield who defeated a comebacking Tyson and Louis definately had the power to discourage him. Louis also had greater mental toughness proving he could come from behind to win. It would be no easy fight and there is always a chance (albeit slim) that Tyson could end things early. The pick though is Louis by mid-rounds knockout.
The type of opponent who gives Tyson at his peak the most trouble are the bigger sized sluggers like Sonny Liston and George Foreman, or an exceptional quick handed out-boxer like Muhammad Ali. Foreman, in particular, is a bad match up for Tyson. Foreman was at his best against short, stocky pressure fighters who came to him. Although Tyson had superior, speed and power as compared to Joe Frazier he would still be right in front of George and few men in history would be able to stand up to Foreman in a slugfest and hope to survive.
Writer Frank Lotierzo was told by Ronnie Lott that Tyson used to watch the film of Frazier-Foreman (I) with his mentor Cus D'Amato, who had no idea Foreman could one day be a Tyson opponent. Cus used to tell Tyson that no heavyweight who ever lived could beat Foreman by going to him, and swarmers like Dempsey, Marciano, and Frazier couldn't beat him in a million years. Tyson never forgot it and when the opportunity came for them to fight in 1991 Tyson was not interested. Liston matches up similarly to Tyson and Mike once said that the only great heavyweight he ever saw that would intimidate him is "Sonny Liston." With the mental battle already won there is little doubt as to the outcome of a Tyson-Liston match up.
Tyson's weaknesses as a fighter were not physical but rather were psychological. If Iron Mike could not intimidate his opponent he tended to fade as the bout progressed. He had a front-runner mentality and became frustrated if he could not gain control of the bout in the early rounds. This was especially obvious in his defeats to Buster Douglas and Evander Holyfield. He would freeze up when his opponent's fought back aggressively. Tyson had fists of Iron enough to wreck many an opponent but if one could frustrate him he proved to have feet of clay and would begin to fall apart at the seams. Tyson's lack of mental discipline and focus was his Achilles heel.
The one fighter who would completely dominate Tyson is Muhammad Ali. Ali was the master of psychological warfare. He would get into Tyson's head and he would frustrate him with his own speed and lateral movement and lightning like strikes from the outside. After a few rounds Tyson would get impatient as Ali punished him with quick combinations. Ali would take Tyson to the later rounds and eventually knock him out in Buster Douglas like fashion.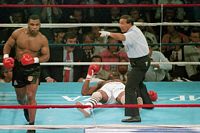 Tyson does fairly well when matched head to head with some of the greatest heavyweights who ever lived. From an accomplishments view point he unified the titles at a time when they were seemingly fractured beyond repair, which is something that Larry Holmes did not do. He was the youngest fighter in history to win a version of the heavyweight title at age 20 and the second youngest lineal champion in history at age 21. He made 9 successful defenses of the title (non-linear), which is more than either Dempsey or Marciano. His 91-second knockout of Michael Spinks rates with Dempsey-Willard, Louis-Schmeling 2, and Foreman-Frazier (1) among the most dominating performances of one heavyweight champion over another.
Tyson lost to Buster Douglas in his physical prime at age 23 and his skills rapidly deteriorated. In some ways Tyson is a lot like the great young champions Terry McGovern and Wilfred Benitez. McGovern won his first world title at age 19 and in a 10 month period knocked out the bantamweight, featherweight and lightweight world champions. He once won 10 fights in a total of 17 rounds. But by age 22 he was finished as a top fighter. Benitez was similar, at age 17 he was the youngest boxing champion in history in any weight class and a triple-crown champion by age 22, but by age 25 he was shot. Tyson lost 3 of his "prime" years to incarceration in Indianapolis for a convicted rape, a blotch on his record that is unforgivable in the eyes of many. During this time he was not able to work on his boxing skills at all and his deterioration was obvious to veteran Tyson watchers once he began fighting again. In fact he never defeated a real top heavyweight since before that time. His last major win against a live top contender was against Razor Ruddock in 1991.
A man of iron fists with a psyche of clay, Tyson was a great young fighter who could not stay on top of his game mentally. If he had the heart and toughness of Joe Frazier he might rank among the top 3 heavyweights of all time, but the simple fact is he didn't. Tyson took his beatings against Douglas and Holyfield in their first fight, as well as Lennox Lewis, but quit in the 2nd Holyfield fight by fouling, he later failed to beat the count against Danny Williams and quit against Kevin McBride at the end of his career. The fact that he did not come from behind to beat Douglas, or win against Holyfield or Lewis hurts his standing. Does Tyson deserve to be considered an all time great? Based on his physical attributes, speed, boxing skill and punching power the answer is yes. Like McGovern and Benitez he peaked at a young age and then faded quickly. Unfortunately he will be remembered more for his late career failures, when his skills and desire had long vanished, than for his early success. Mike Tyson was good enough at his youthful peak to be considered among the best heavyweights in history.
Cox's Corner rates Mike Tyson among the 10 Greatest Heavyweights of All Time