Cox's Corner
Nikolay Valuev: The Second Coming of Primo Carnera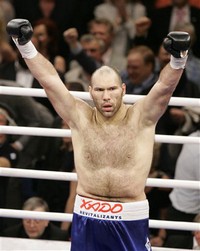 By: Monte Cox
Originally appeared at East Side Boxing Feb 1, 2007
Since the retirement of Lennox Lewis the situation in the heavyweight division is very reminiscent of the times that boxing faced way back in the 1930's after Gene Tunney retired as champion. Tunney had twice bested Jack Dempsey who was boxing's most popular heavyweight puncher and Tunney soon after retired. Lewis in a similar manner defeated Mike Tyson the most recognizable face in boxing for the past 20 years and then Lennox retired the following year. Since Lewis gave up the title to enjoy his legacy the heavyweight division has gone through a 1930's like era of "cheese champions."
After Gene Tunney's early retirement boxing did not have an undisputed champion for two years. It then went through a phase of some good, some mediocre, but certainly not great fighters who won and lost the title until the arrival of Joe Louis. One of those not so great champions was Primo Carnera. Carnera was the largest man to hold the heavyweight title until one Nikolay Valuev.
Valuev is the current WBA heavyweight champion. At 7' 325 pounds he is the largest man to ever hold a version of the heavyweight title. Carnera was also huge at about 6'6" and weighed 260 pounds of rock solid muscle and he had an incredible reach of 85 ½ inches. Carnera still has the longest reach of any heavyweight champion on record, a reach longer than Lennox Lewis, either of the Klitschko brothers, and a half inch more than Valuev's reported 85 inch reach.
When Carnera flattened Jack Sharkey with a crushing uppercut to win the heavyweight title there was talk that Primo was just "too big" for normal size heavyweights and that perhaps a new "dreadnaught" division should be created. This idea was proven to be a fallacy once Max Baer ended Carnera's reign with a display of power punching.
Ring records indicate that size and heft do not indicate ability. In most cases tremendous size has been a hindrance to the development of true boxing skill. Take a look at Jan Placke, the Dutch Blubber man (his Boxrec record is very incomplete), and Ed Dunkhorst who was called "The Human Freight Car." Those men weighed around 300 pounds. Yet Charles "Kid" McCoy hardly more than a middleweight destroyed Placke in perhaps what was the greatest weight disparity ever encountered in a boxing ring. McCoy told Placke, "your shoelaces are untied" and when the behemoth looked down McCoy staggered the giant with a massive uppercut in the opening session. Placke, the Dutch heavyweight champion, never recovered and was stopped in the following session. Dunkhorst was, by most accounts, a better fighter than Placke but Bob Fitzsimmons; a light-heavyweight destroyed him with fast, accurate punching. Mike "The Giant" White was 6'10" 275 pounds but most of his important bouts were losses to the likes of Pierre Coetzer, Mark Wills and Michael Moorer, although he did beat Buster Douglas. More often than not size and massive weight simply slows a fighter up and makes him a big target against a truly fast and skillful fighter.
Buddy Baer was 6'6", 250 pounds and he possessed good boxing fundamentals holding his hands up and keeping his chin down. Baer threw straight punches and possessed a powerful right hand punch -something that cannot be said of Valuev. Yet in two meetings Joe Louis who weighed less than 210 pounds annihilated him with quick, explosive and laser accurate punches. Steel like muscle density, quickness, dexterity, hand-eye coordination and a good sense of timing and distance are far more important attributes than size and bulk in boxing for generating punching power. Look at Mike Tyson. Iron Mike stood only 5'10 ¼" and weighed well under 220 pounds in his prime yet he is the most explosive and deadly puncher of recent times. It is quite possible for a man weighing only 200 pounds to hit much harder and with greater shock value than a man weighing 250 or 325 pounds. The lesson of history since the day that James J. Corbett bested John L. Sullivan is that skill overcomes strength in boxing.
There is a point when a giant simply becomes too big to be really great in terms of boxing skills. There have only been four fighters who stood 6'5" or more that had truly exceptional boxing skills and those four are Riddick Bowe, Lennox Lewis, Vitaly Klitschko and Wladimir Klitschko, and each of them had major flaws. Lewis and Wladimir had questionable chins, Bowe lacked a good work ethic and Vitaly broke down more often than a Vietnam era M-16. Valuev is the fifth such fighter looking to add himself to this list, but he is also flawed lacking both speed and punching power.
Valuev and Carnera have more in common than just massive size. Primo's primary weapon was his big left jab. Carnera on film moves fairly well for a big man using his jab to maximize his height and reach effectively. What Carnera did not have was a big punch. The same can be said of Valuev. His best punch is his left jab and like Carnera he lacks a real shock punch. Like Carnera Valuev has size and strength to his advantage but lacks real punching prowess. To his credit we have not seen him tire and he seems to take a good punch.
Nikolay is approaching Rocky Marciano's legendary milestone of 49-0. No doubt Valuev will dodge any meaningful competition until that record is broken. The achievement will be hollow though since Marciano set the record when he was the undisputed heavyweight champion and was considered the best heavyweight in the world at the time. Valuev cannot make that claim.
Valuev's competition is no better than that of Primo Carnera who, despite claims of some fixed fights, defeated the likes of Paulino Uzcudun, George Godfrey, Bearcat Wright, King Levinsky, Jack Sharkey and Tommy Loughran. Valuev's best wins are stoppages of Clifford Etienne, Owen Beck, Monte Barrett, and the latest fiasco against Jameel McCline but those wins hardly demonstrate greatness. Nikolay won close majority decisions over Larry Donald and John Ruiz and many think he should have lost those fights. If Valuev wanted to be a real champion he would be demanding unification matches with Wladimir Klitschko and the winner of Oleg Maskaev-Samuel Peter/Vitaly Klitschko matches. If he has not unified the titles then 49-0 or 50-0 will be meaningless.
The entire heavyweight division is at its lowest ebb since the post Dempsey-Tunney 1930's. There are no truly great heavyweights currently among the top 10. There are no stars below the age of 25. Most of the current "champions" and contenders are over the age of 30. Boxing desperately awaits a new exciting young heavyweight to explode onto the scene. We are told that history repeats itself every so often. With an era that is very reminiscent of Carnera's 1930's can it be long before the next Joe Louis arrives on the scene? We can only hope.
Update April 14, 2007 -Valuev upset by Ruslan Chagaev L 12.